What do you get when extensive scientific research on tens of thousands of trading accounts has been done to produce a highly advanced trade analytics platform? Well, we have PsyQuation, a bespoke piece of software all about 'powering trade decisions.'
Unlike other trade analytics applications only offering statistics, PsyQuation aims to provide alerts about detrimental behavior on a trader's account and how they can make better decisions.
Furthermore, PsyQuation also links to a capital allocation programme through a partnership with the Australian broker, Axi. Traders prove their talent and skills on their platform by meeting predetermined objectives before being selected to trade a fund worth up to AU$350,000.
This review will cover what PsyQuation is, how it works, the different packages available, the good and the bad of the platform, and finally, whether it is worth traders' consideration.
What is a trade analytics platform?
A trade analytics platform or service is software that traders connect their accounts with to display various performance metrics.
These typically include the P&L, account age, drawdowns, swaps, commissions, equity growth, and other investment objectives like the Sharpe ratio, Omega ratio, and annualized volatility, among other things. Such platforms have been useful to verify a trader's results to others and for personal introspection.
What is PsyQuation?
Founded in March 2016, PsyQuation clearly distinguishes itself as an AI and machine learning-powered trade analytics platform backed by years of qualitative and quantitative scientific research from at least 140 000 accounts and 51 million trades.
Using algorithms from this database, PsyQuation assesses behavioral patterns of a trader and whether they contribute positively or negatively to their growth.
Aside from providing sophisticated statistics through reading a trader's account, the application alerts users to potential mistakes before they are made (with actionable tips for improvement) and positive behaviors, almost acting like a private trading coach of sorts.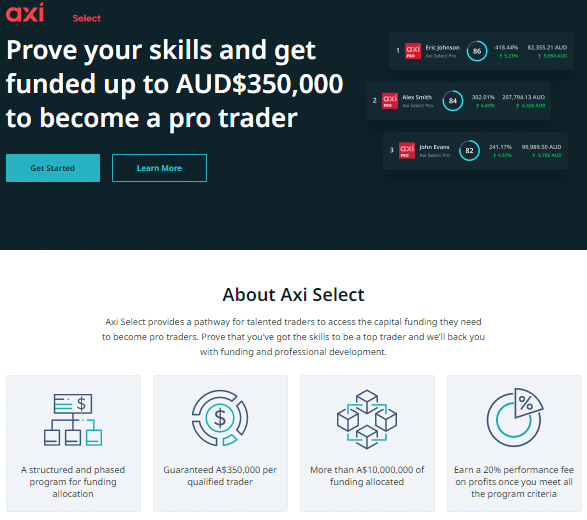 Through an ongoing collaboration with the Australian broker, Axi, PsyQuation leverages its software resources to pick the best trading talent to become part of the AxiSelect capital allocation programme free of charge.
So, who are the brains behind this innovation? Two Ph.D. holders in behavioral finance and mathematics, respectively, Australian-based Michael Berman (the CEO) and Ukraine-based Vladimir Krouglov (the CTO), co-founded PsyQuation. The company has offices in locations corresponding to those of its founders.
PsyQuation's mission
So, what inspired Michael and Vladimir to create PsyQuation? Both men desired to change the dismally low success rate of profitable forex traders by using science and mathematics to provide practical methods for improvement.
They believed that to change the proverbial '95% of traders lose money' narrative, traders only needed an edge and ways to avoid making costly mistakes. After traders can prove consistent profits over the long haul, they have also provided prop funding to recognize their talents.
How does PsyQuation work?
PsyQuation is a free service, although they offer two packages, the Standard and Premium.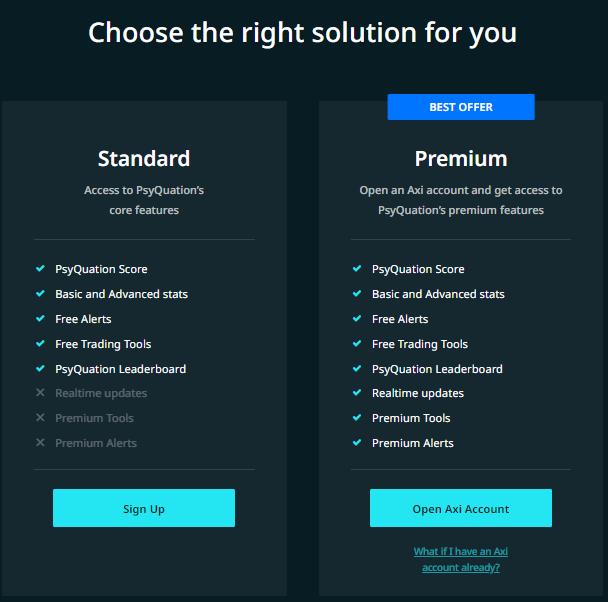 After creating a quick profile, clients only need to connect their existing trading account (whether live or demo) using any broker to access the Standard package. The Premium (also free of charge) package will require a live or demo account through the broker, Axi.
As we can observe in the above image, the Premium package contains three additional features. Whichever option a trader chooses, PsyQuation only reads MT4 accounts.
Real-time updates: Here, the trading account information updates in real-time.

Premium tools: There are mainly four tools in this regard, the Trade Open Close chart (reflecting entries and exits on a specific instrument), Price Journey chart (the journey of a symbol within a day compared to others), the Order Flow Sentiment Indicator (OFSI) chart & able, the latter of which are more pertinent.
The OFSI is an hourly-updated sentiment indicator reflecting the order flow or live positions of clients (at least 23,000) trading various instruments through Axi. PsyQuation can also provide this tool through the MT4 terminal, making it easier to use.
This indicator can provide useful insights into the sentiment of a small portion of forex traders.
Premium alerts: Based on their constantly updating score, PsyQuation generates alerts to advise a trader if a bad trading habit has reflected and methods to fix this. The application does also send notifications of good behavior. The point of these alerts is to minimize mistakes and maximize profitability.
Pros and cons of PsyQuation
Like any platform, there are some beneficial features and a few bits that traders may dislike. However, for the most part, PsyQuation can do very little wrong.
Pros
PsyQuation is free of charge.
Aesthetically, PsyQuation has an eye-catching, beautiful user interface. Despite the complexity of the statistics, this data is nicely condensed and sectioned to make it easy to navigate.
PsyQuation performs similar functions to applications like FX Blue and Myfxbook, although unlike these two, the founders designed the platform to provide actionable tips for traders to improve their performance.
PsyQuation offers a leaderboard feature where users can benchmark their performance metrics against hundreds of other traders worldwide registered on the software.
The Psyquation Score™ is yet another unique attribute of this platform. The score assesses a trader based on skill, behavior, risk, and history resulting from all-embracing research.
Another massive advantage with this application is the collaboration with the Australian CFD broker, Axi. Through the AxiSelect capital allocation programme, traders who successfully meet all their objectives using PsyQuation to verify their results gain access to prop firm funding of up to AU$350 000.
Although the programme takes between 6 to 12 months for qualification, there are no participation or joining fees, atypical of countless prop firms. Therefore, using this platform provides a worthwhile incentive for traders.
PsyQuation provides a thriving, growing, and interactive community where users can engage in their knowledgebase and blogs.
Cons
Compared to other services, it can take many hours for the platform to display all the statistics of a trader's account during the initial connection.
PsyQuation only works for accounts traded on MT4.
To access their premium features requires users to open a live account with Axi.
Conclusion
Overall, PsyQuation has very few downsides and offers one numerous benefits. Their value proposition is simple; they want to fund the best traders who have proven to be competent and also generally improve trading performance using actionable ideas.
Struggling traders should appreciate PsyQuation's mission as they provide data-based insights about improving their trading decisions, which ultimately impact their bottom line. Unlike other analytics services that only provide numbers, PsyQuation tells one where they are wrong and how to fix that.
If one is considering a trade analytics service, then PsyQuation should be number one on the list.
Would you like to try out trading with an Expert Advisor?
Learn more about the best forex robots.