In the world of Forex trading, an expert advisor is a tool that tells when to place trades or even automatically initiates and executes trades according to preprogrammed instructions. With the help of automated trading systems, traders do not need to monitor the market searching for the best trade opportunity. Expert advisors do all the hard work for them. Robo expert advisor is one of the automatic trading software that excludes any human interference, thereby taking the 'psychological element out of trading'. It promises to generate constant and 'sky-rocket income 24/7.
The robot was created by a group of friends (who are they?) five years ago, who decided to put it on the market only in 2021. We neither know their names nor where their office is located. The one thing we know is that they are 'software creators for MT4 & MT5 since 2016'. What are the other products they developed?
To get in touch with support traders need send an email to [email protected] There is also an online chat where traders can write their messages. For this, they have to enter their phone number (if they are from North America). In case they aren't, they need to enter their valid email address.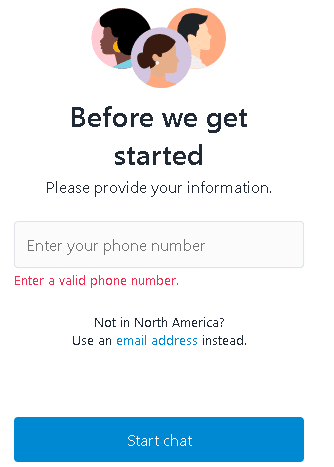 Features
What are the key features of this EA?
It can work on the MT4 platform
It's a 100% automated trading system that provided 90% accuracy
Suits both experienced traders and beginners
The robot constantly monitors the market searching for the best trade opportunity
It works with 10 special indicators (which ones?)
The system is compatible with 28 currency pairs
You can start trading with a low balance of $250

It has 10 special indicators that are used for spotting profitable trades (we do not know what these indicators are)
There is no word mentioned about the strategy this EA uses for trading. It's a major con
Traders are provided with full time 24/7 customer support

It is an easy to install EA
How to start trading with R0B0.1
ROBO.1 expert advisor is originally priced at $297, but currently, it is available with a discount and is sold for $147. By paying this, traders receive a lifetime license for the software. In addition to this, there are 2 subscription options available for $37/month or $67/3 months.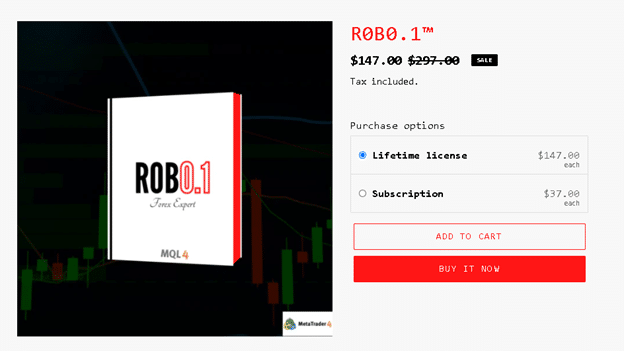 The developers also provide a 30-day money-back guarantee.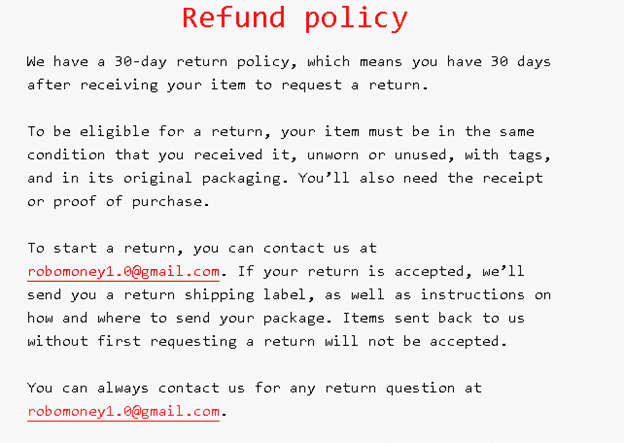 Backtests
On the Robo EA website, the developer has uploaded a video that shows the backtesting results of the robot being tested for 3 months! Really? It is ridiculous.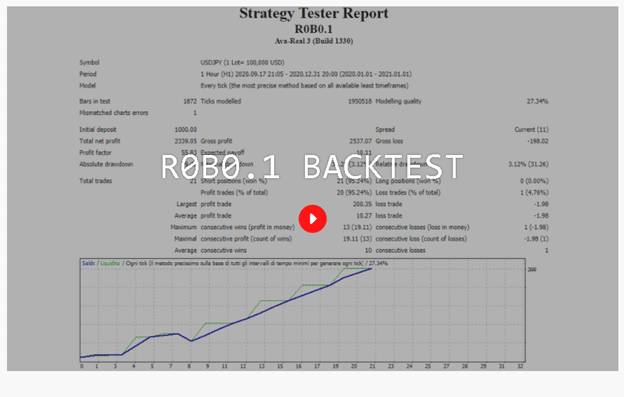 The robot traded USDJPY on the H1 timeframe. The modeling quality was incredibly low – 27,34% with 11 pips spreads. The robot was deposited at $1000 from which a total net profit of $2339.05 was generated. It traded 21 trades and won 20 out of them, which represents a win rate of 95, 24%. The robot lost only 1 trade during its backtesting period, a minor loss of $1.98. The robot is a scalper and the win rate for short positions was 95,24%. Its maximal drawdown was only 3.12%. The profit factor was great – 55,83%.
Trading Results of R0B0.1 Expert Advisor
Oddly, but the vendor failed to provide live trading results of Robo.1 expert advisor. This sort of information is highly important for every trader and although it is good that the vendor shared backtesting results of his robot, we'd like to see its profitability and efficacy in the present days. Nobody is interested in investing in a system based on backtesting data alone. It is important to know how the system performs in the live market.
We've conducted an additional myfxbook.com research and found 2 trading accounts of Robo.1 EA. One of them was broken.

Let's analyze the Real trading account of Robo.1 robot. It was created and added on myfxbook on March 11, 2021. Being deposited at €199,000, the robot has brought €18.33 of profit. Its total gain is +1.83%. The average daily gain is 0.15%. It trades with low drawdowns. The peak drawdown was 0.93%.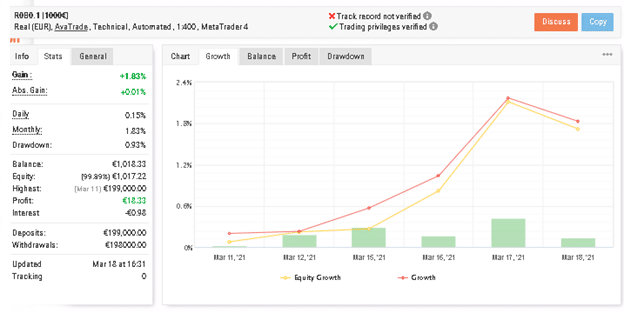 For less than 2 weeks of trading, the robot has traded 80 trades and 174.3 pips. This account has a win rate of 71%, having won 68% of long trades and 75% of short trades. Its average loss is higher than the average win: -24.38 pips/-€1.92 and 12.89 pips/€1.10 respectively. Its profit factor (1.42) is considerably lower than the one we see on the backtest report (55, 83). The average trade length is 4 hours and 35 minutes, which means that the robot is a scalper.

The robot has generated €18.33 of profit trading AUDUSD, EURGBP, EURJPY, EURUSD, GBPUSD, NZDUSD, USDCAD, USDCHF, USDJPY, and GOLD. The most frequently traded currency pairs are AUDUSD (15 trades), GBPUSD (13 trades), and NZDUSD (16 trades).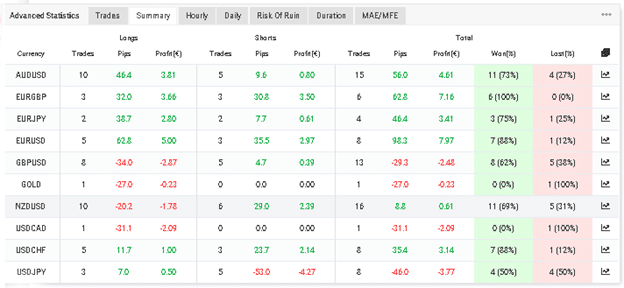 It trades 5 days a week. The highest trading activity is on Mondays and Wednesdays.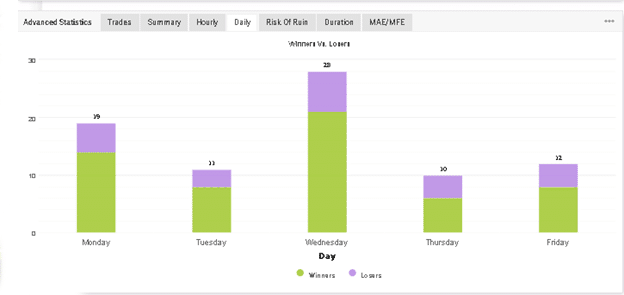 As you can see, the robot uses Scalping opening up to 26 trades daily. Its SL and TP levels are hidden.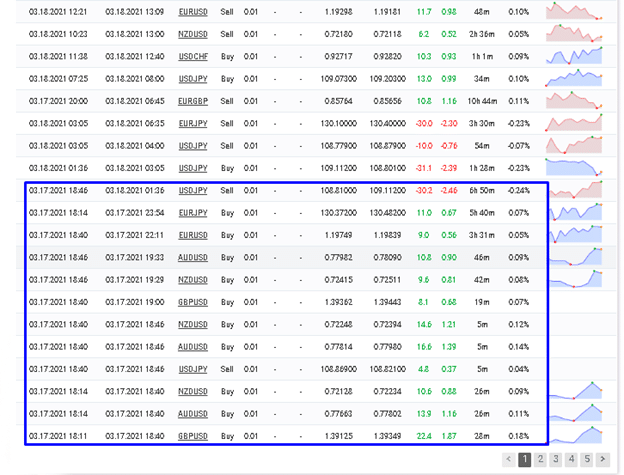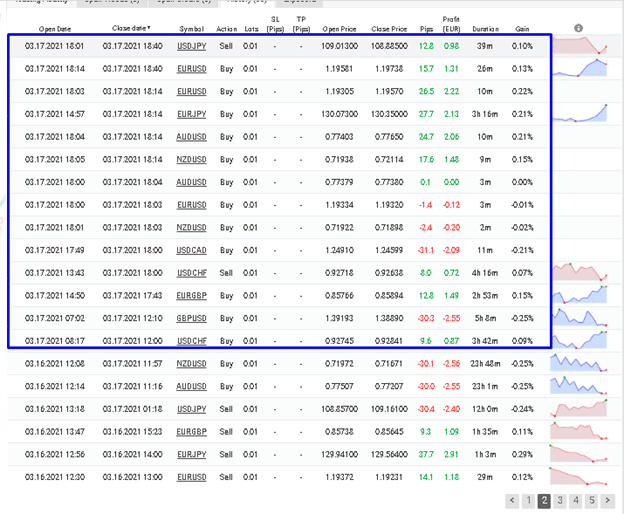 Customer reviews
We've reviewed many third-party websites to find at least 1 customer review, but unsuccessfully. The robot is too young and its developers have a long way to go to gain reputation and trust among Forex traders.
Is R0B0.1 a viable option?
Advantages
Backtesting report provided
Money-back guarantee provided
Affordable pricing
Disadvantages
Zero vendor transparency
No live trading results provided
Undisclosed trading strategy
No setting details provided
No customer reviews
Conclusion
Wrapping up our Robo.1 expert advisor review, we cannot say this EA is a good choice for traders. Not now. Although the backtesting report looks impressive, we cannot say the same about the live trading performance of the robot. It is a scalper, but this information is not mentioned on the website of the developer. If the vendor does want to gain a reputation among Forex traders, he needs to provide more transparency in terms of his team, trading strategy, and live trading results of Robo.1 EA. Until it is not done, we cannot recommend this robot to the public.
Would you like to try out trading with an Expert Advisor?
Learn more about the best forex robots.