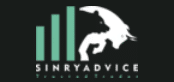 We've prepared a review of a Swing VIP forex robot that was designed by Sinry Advice company. From the main info, we know that it's "the first" EA based on Price Action strategy. Of course, it's a lie.
Features
The presentation looks semi-professional, so it's hard to find structured info in the same place:
The robot trades fully-automatically on the Metatrader 4 platform.
It performs, as was mentioned, Price Action and Trend trading strategies.
The EA trades AUD/CAD, CAD/CHF, EUR/USD, NZD/CAD, and USD/CAD on the M5 time frame.
It doesn't perform a martingale strategy.
It uses hedging to open several trades at once.

The EA's win-rate is 76%. It's a lie. It's 66%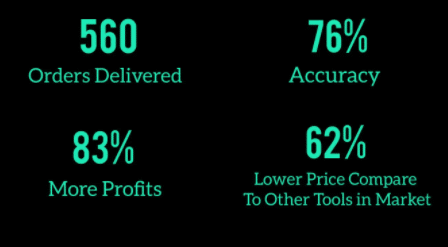 The same we have with unproved info about "more profits" and "less price." We haven't seen any comparison. So, this info is a lie too.
The EA performs with low drawdowns.
How to start trading with Swing VIP

The EA sells with a huge discount. Now, the offer is $98 instead of $250. The pack includes one demo and one real license. There's only a 14-day money-back guarantee if the EA doesn't make profits.

To get started, we have to follow the next stamps:
We have to purchase a product.
We have to attach the EA to the charts.
We have to send the vendor our MT4 account number.
As we can see, there's no onsite feature where we can change account numbers whenever we want.
Backtests
The developers didn't provide us with a backtest report. It could mean there are some problems and they didn't want us to know about them.
Verified Trading Results of Swing VIP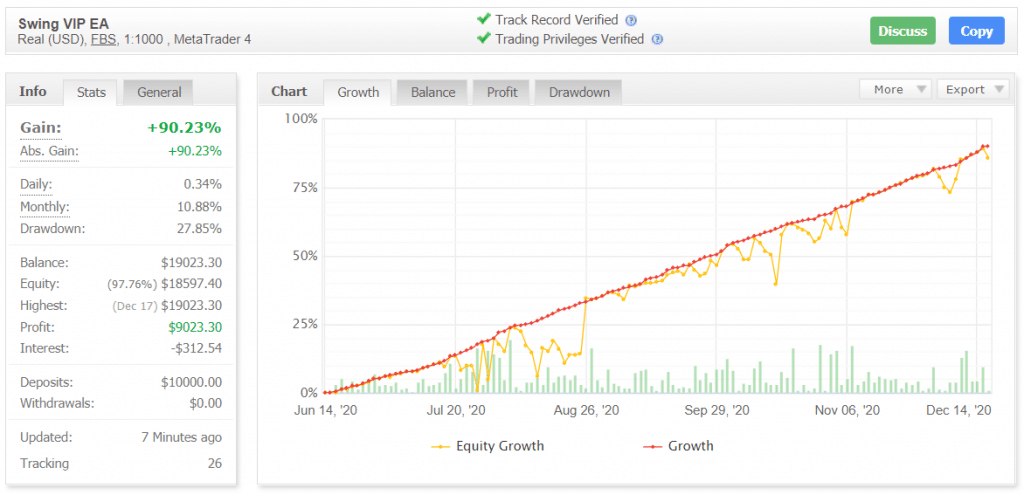 The EA runs a real USD account on an FBS broker with 1:1000 leverage on the MetaTrader 4 platform. The account has a verified track record. It was deployed on June 14, 2020, and deposited at $10000. Since then, the absolute gain has been +90.23%. An average monthly gain is 10.88%. The maximum drawdown is quite high – 27.85%.

Swing VIP traded 687 deals with 7003 pips. An average trade length is 25.95 pips when an average loss is -21.53 pips. Win-rate is between 66% and 67%. An average trade length is one day. The Profit Factor is 2.29

Most traded symbols are EUR/USD (157 deals) and USD/CAD (174 deals). The most profitable ones are CAD/CHF ($1929), EUR/USD ($2257), and USD/CAD ($1844).

Swing VIP trades the mid-day of the European trading session and American trading session until closing.

Wednesday and Thursday are the most frequently traded days.

The robot works on the account with low risks to the balance.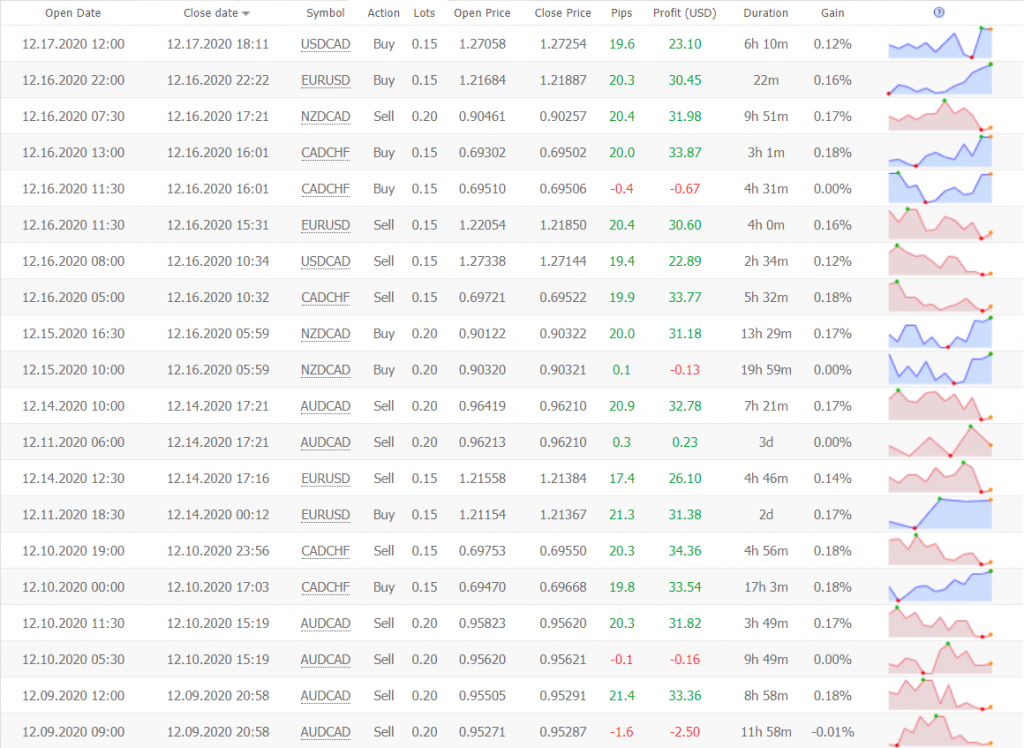 It practices opening Grids of two orders.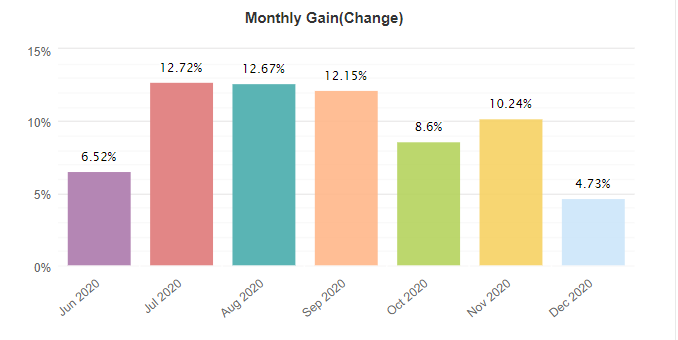 Every month has been closed with a profit in 2020.
People's feedback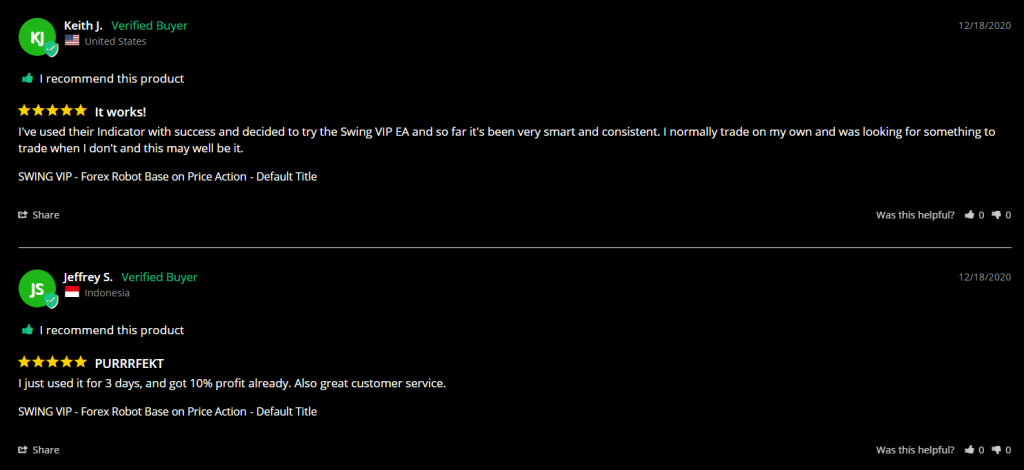 We managed to find only onsite feedback. Of course, all of them are positive. Most likely, the rest were deleted.
Other notes
We've contacted support via email. They have answered slowly and used English street slang to communicate with us. It's a huge con because few know it.
Is Swing VIP a viable option?
We're not sure after seeing these consistent and high drawdowns. We'd like you to keep checking their results for at least several months more.
Conclusion
The presentation of Swing VIP has many manipulations and lies. Trading results were okay. But the robot is so young to say something about it for sure. We haven't seen backtest reports that could be performed with different risks. It would give us an opportunity to compare trading results on the past data and on the live account. The developers provide only a 14-day money-back guarantee. It's impossible to test the robot well for this short period. Others provide a 30 or 60-day money-back guarantee.