We'd like you to read a review of Yeti Forex Robot.
The first page of the presentation is enhanced by the photo of a winter-monkey. The company works with affiliate sellers through a 2CheckOut company. Selling a copy gives a 30% payback to the seller. The company tells that they were not broker-independent, because the used Alpari.
Features
The robot is introduced as stable software that can make around +10% monthly. We've systemized all information about features in the list:
Forex Yeti works on the H4 time frame.
The robot focuses on long-term trades that are kept on the market for a while.
The EA is independent of broker conditions like spreads and slippage.
It has a High Spread protection feature that allows decreasing losses during moments of high market volatility.
There's a broker protection system on the board.
It's received 10-years backtests.
The robot was designed for trading through MT4.
It supports ECN accounts.
An unbuilt money-management system.
It works on Standard, Micro, and Mini accounts.
The robot works well with 4 and 5-digits accounts.
It can work with any NFA-regulated broker.
How to start trading with Yeti Forex Robot
We have to open a Standard or ECN account and fund it for the minimum required money.
We have to buy an EA and activate the account on the site to trade.
We have to download EA and install it on the MT4.
We have to attach the robot to proper charts and set the time frame at H4.
Backtests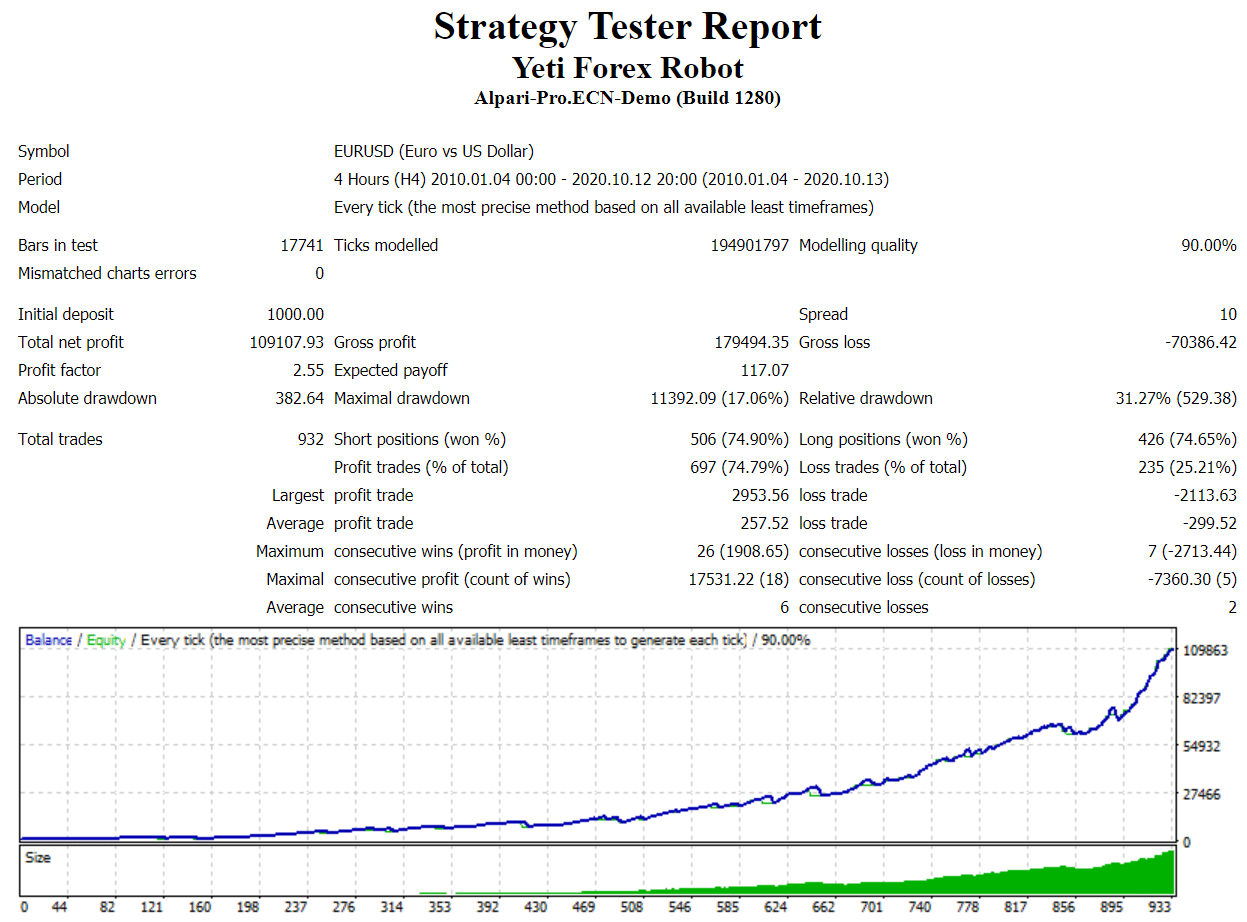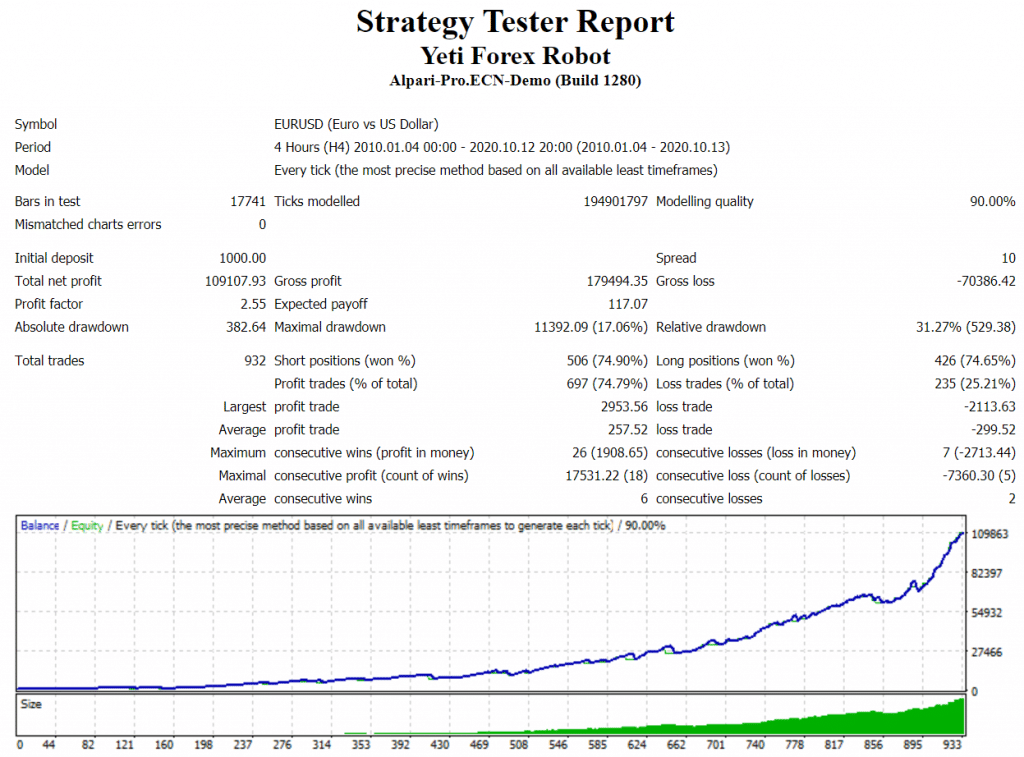 It's a EUR/USD backtest on the H4 timeframe. The modeling quality was 90.00%. An initial deposit was $1000. The total net profit after ten years of testing became $109.1k. The Profit Factor was high and equaled 2.55. The maximum drawdown was 17.06%. It traded 932 deals with a 74%-75% win-rate. An average consecutive win was six deals. A loss one was two deals.
Demo Account Trading Results of Yeti Forex Robot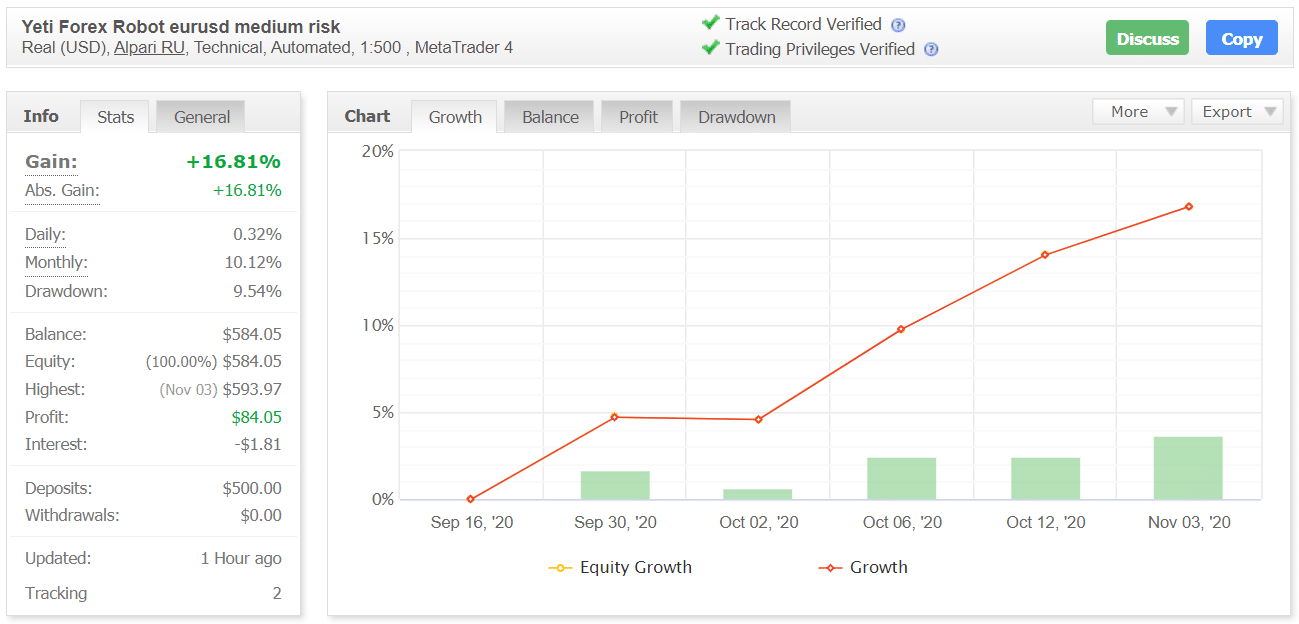 It's a real USD low-activity account.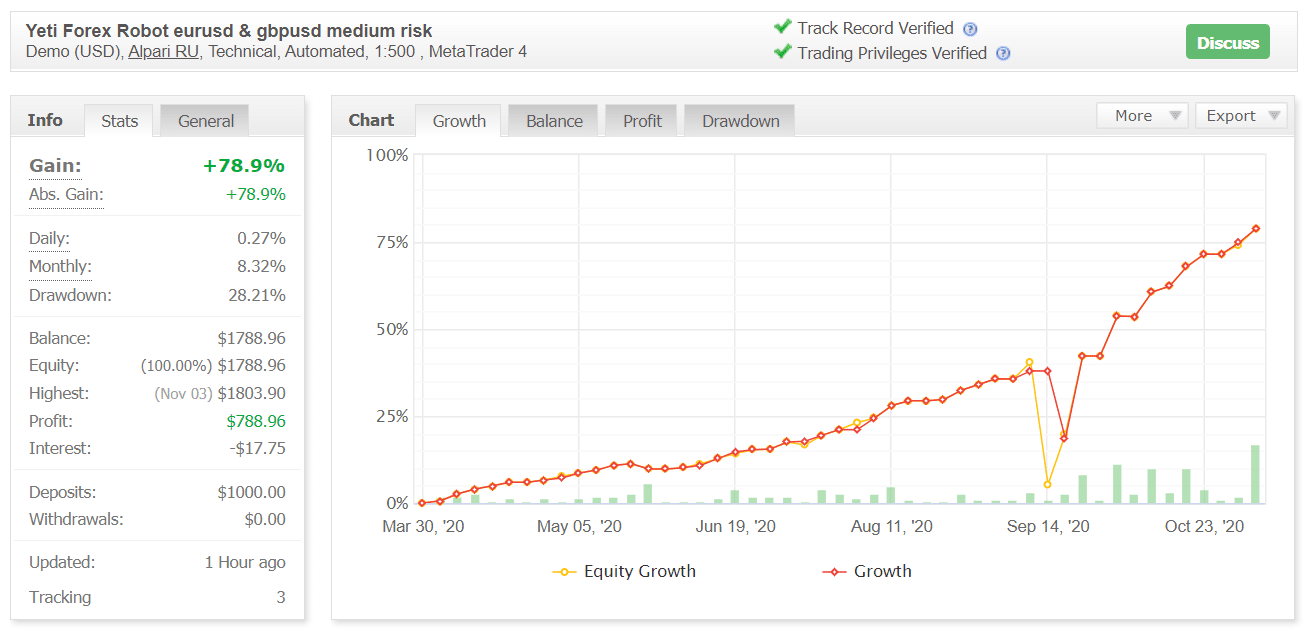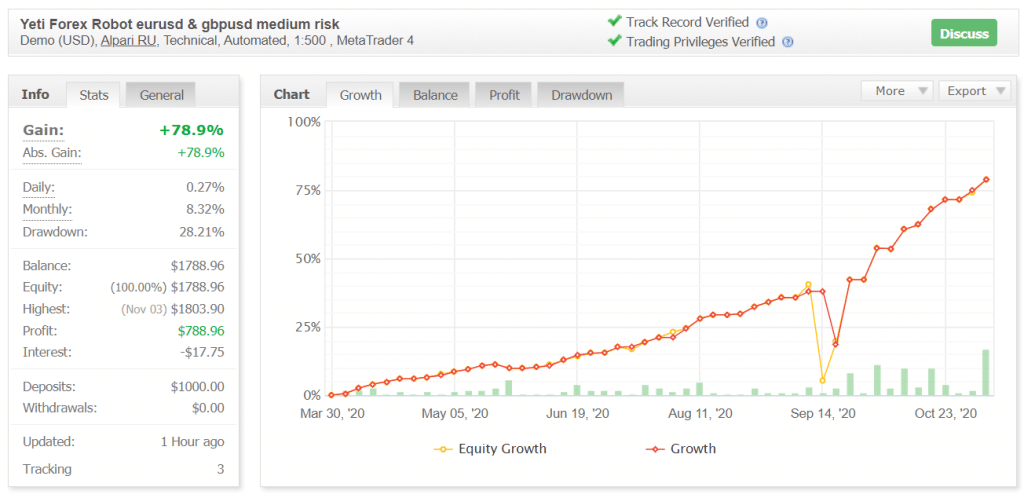 It's a demo USD one that unites trading on EUR/USD and GBP/USD. There's an Alpari Ru broker. The robot trades automatically, using Technical indicators with 1:500 leverage on MT4. It was created on March 30, 2020, and got a deposit of $1000. Since then, the absolute gain has become +78.9%. An average monthly gain is +8.32%. The maximum drawdown was very high (28.21%).


The robot traded 134 deals with a huge number of pips (2570.9). It's rare to see when an average win (35.52 pips) is 30% higher than an average loss (-27.02 pips). The win-rate for Longs (72%) and for Shorts (75%) is the same as on the backtest. An average trade length is one day. The Profit Factor is 3.69.


The robot focuses on trading two symbols: EUR/USD and GBP/USD. EUR/USD deals have a 91% win-rate.


It looks like the EA tries to trade medium and high-impact news.


Because of the Thursday activity, the weekly chart looks weird.


After a big period of medium risk trading, the risks were decreased in a big way.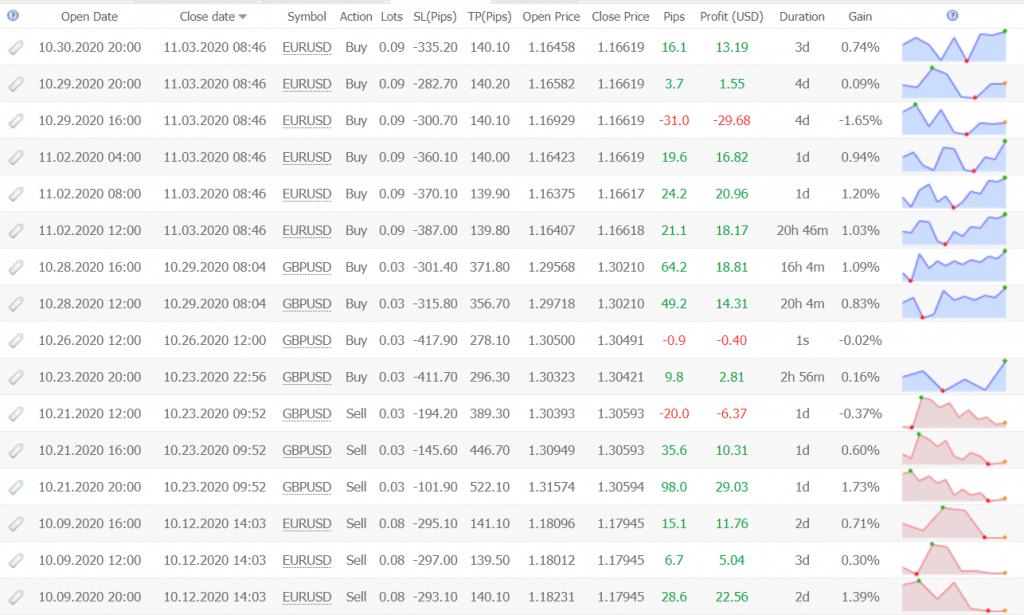 As we can see, different symbols have various Lot Sizes, SL, and TP levels. The robot uses short trades to check market conditions.
The last full three months were closed with solid profits.
People's feedback
The company doesn't have onsite feedback.


Its profile on Forex Peace Army has no reviews.


FPA's test was started five weeks ago.
Pricing
Yeti Forex Robot was introduced in three packages. The Single License package costs $200 and allows trading on one real and one demo accounts. The Full License package will cost $300. It includes two real-account and two demo-account licenses. The Unlimited License package costs $3000. We can rely on unlimited demo and real account licenses. In addition, there'll be skype support instead of email one. A 60-day money-back guarantee features all packages.
Is Yeti Forex Robot a viable option?
Now pros and cons are equal. From the pros side, we have backtests, real-account trading results, and a money-back guarantee. There are several cons like a strategy is not explained. We know only the time frame. We don't know what settings there are and which one we can customize. The robot is so young but has got almost 30% of the maximum drawdown. The robot doesn't trade frequently. Most of the trades were opened from Monday to Wednesday.
Conclusion
Now, Yeti Forex Robot is not an option to go. Everything we know about it is that it trades on the H4 time frame EUR/USD and GBP/USD symbols. The most important part of what strategy the robot uses, minimum deposit requirements, margin requirements, and so on, the developers decided not to tell us. There are no people's testimonials across the web. Forex Peace Army and TrustPilot don't have a profile of Yeti Forex Robot. The EA has been trading since March, so there'd be some feedback about it.