About ATS
Action Threshold Software (or ATS) is a manual trading system available for the MetaTrader 4 trading platform. It is developed by Trade ATS and it can be found at www.tradeats.com. It is a trend following trading system that works on all markets and it can be applied to all time-frames. It is easy to understand with clearly defined trading rules so it can be used by both beginners and by experienced traders.
ATS trading software is available for rent for $150 on a monthly subscription that can be canceled at any time. It includes ATS chart mapping software, ATS assistant expert advisor, license for two MT4 accounts, online course, educational material and access to a weekly webinar. The installation process is easy and straightforward, you just need to run the installation file, and the indicators with the template will be placed into your MT4 instance. It is important to know that indicators do not have entry parameters, so you will not need to adjust them, and after the installation, they are ready to use.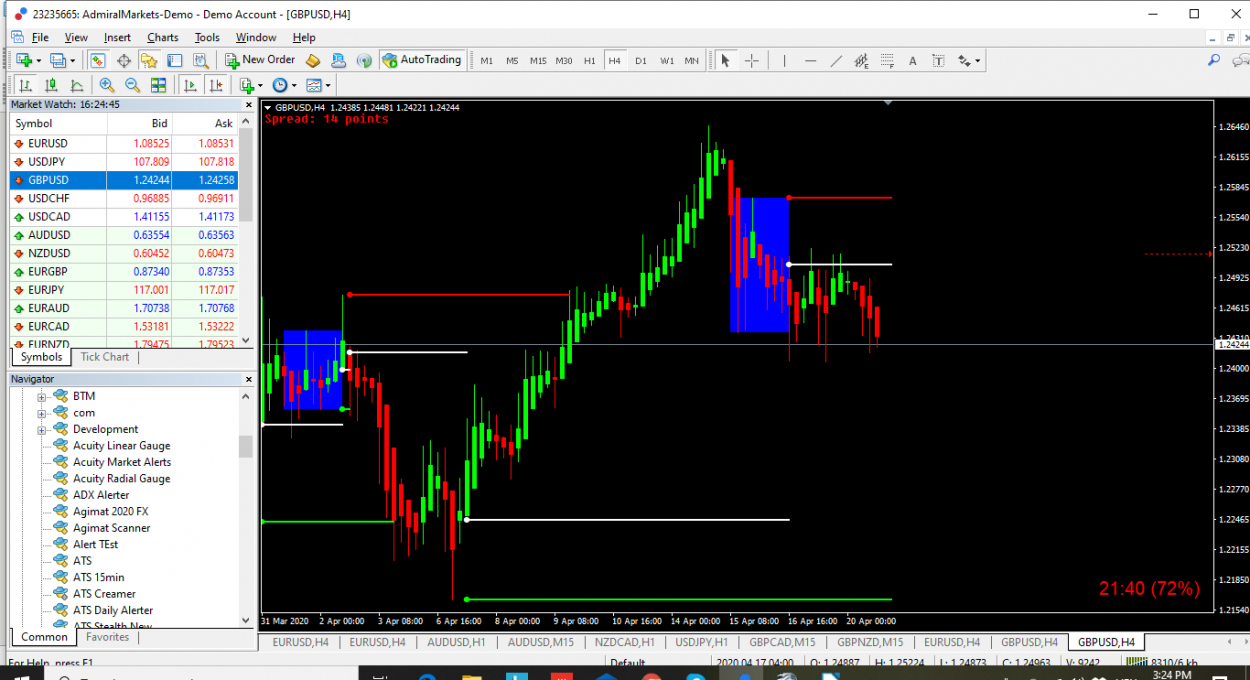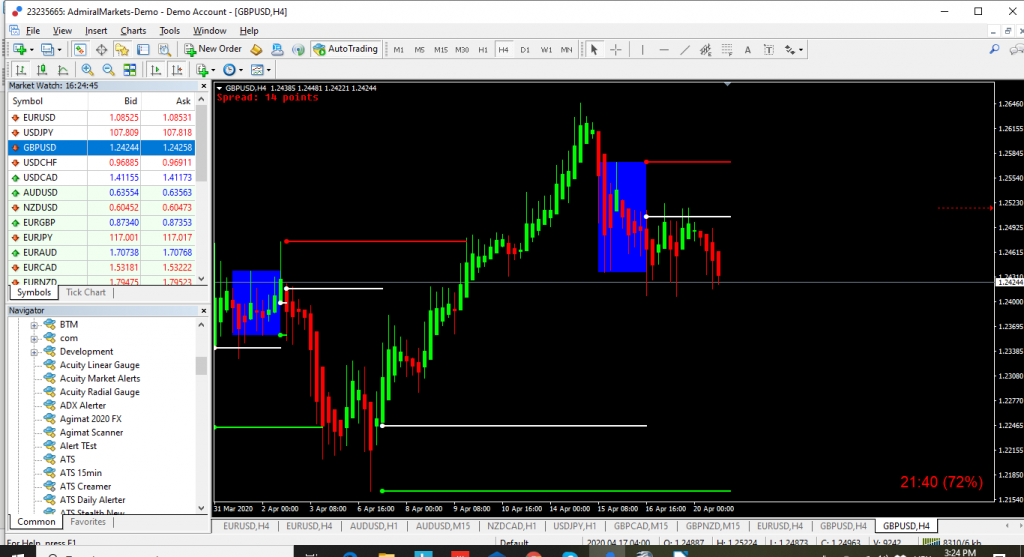 Trading rules
The strategy uses a combination of custom proprietary indicators and Heiken Ashi candles. For entering the trade it is important to check the trend on the higher time-frame. You are not entering the trades that are not in accordance with the higher time-frame trend. You always need to follow the trend. Blue boxes represent no-trade zones. If the price is in the blue box you do not enter the trade. If you are in the trade and a blue box appears you will exit the trade. At this moment the market is ranging, so you are waiting for a new trend.
Red and green lines are called liquidity lines and they represent the level where there is larger liquidity in the market. They can be used as target levels and as the stop-loss levels. These are the levels with higher trading activity and they have the potential to become a support and resistance level.
White lines are called expansion lines and they tell us that there is a new trend. These lines are the most important in this trading system because you can consider entering a trade. So, when this line occurs you are looking for a trading opportunity in only one specific direction at the time. If this direction matches a higher time-frame trend you can enter.
Money management is an important part of every trading strategy. You should know that a high win rate will not help you if your money management is poor. To avoid this, the authors provide these rules as a fundamental part of the course. Moreover, the majority of trading opportunities generated by the system will have a risk-reward ratio greater than 1:1.
Weekly market analysis webinar is provided where the authors will comment on the market. They will also give you recommendations about the pairs that will be interesting to monitor. Generally, the authors are putting a lot of emphasis on education, so they are providing many videos. They are also delivering a free online course about the MT4 platform. Online customer support is also provided.

My experience
When I tried to trade using the strategy I managed to earn good profits I was monitoring all majors, minors, and crosses. I decided to trade short-term 15-minute time-frame and long term 4-hour time-frame and I managed to trade them both profitably. I liked that entry and exit rules are clearly defined. Basically in most cases, when I have entered the trade I set a take profit and a stop loss level and waited for either of two to be triggered. I also like that the risk-reward ratio is very good. I did not like that I have to constantly watch the markets for a trading opportunity. For that purpose, a Market Assistant expert advisor, a strategy alerting tool is really helpful because it helps you to spot trading opportunities very quickly.

Final Thoughts
So, Action Threshold Software is a profitable manual trading system for the MetaTrader 4 platform available on a monthly subscription basis. It can be applied to all trading instruments and it can be used on all time-frames. The entry and exit rules are clearly defined and the system is suitable for both beginners and more experienced traders. A good winning rate and the risk-reward ratio will guarantee you good profits. Weekly market analysis is included in a subscription.

Would you like to try out trading with an Expert Advisor?