About Myfxbook
Myfxbook.com is a well-known and well respected online service and Forex traders community. It allows you to analyze trading accounts, share the trades, publish the statement, audit results, find money manager and review brokers, expert advisors and trading systems. It was launched in 2009 and since then it established a partnership with hundreds of brokers. Today, it has become a standard as a reliable tool for measuring trading performance.
The online service is completely free, the only thing you need to do to start using it, is to register. The registration process is fast, you will need to enter just basic details like verifiable email address, username, and password to start. When you complete the process you will be able to access many useful features that Myfxbook provides.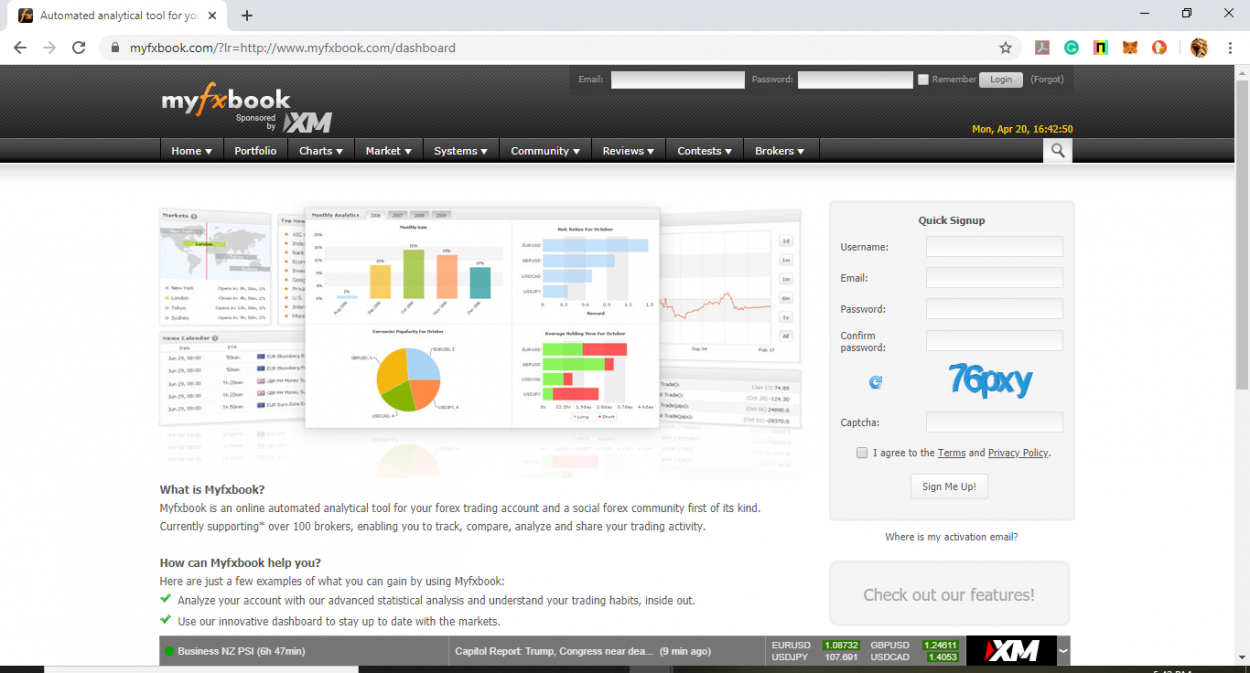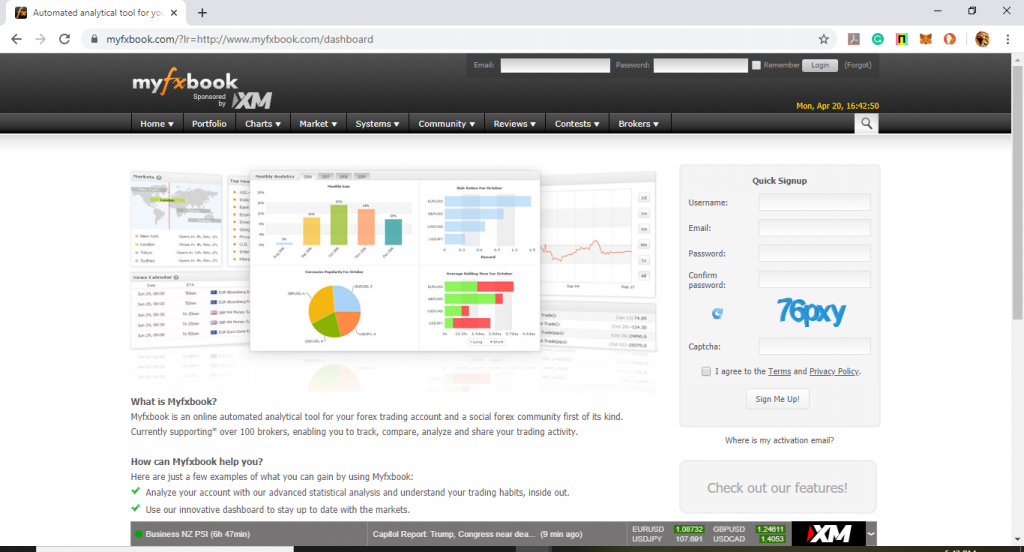 Features
Probably the most important feature and the main reason why traders use this service is that it provides complete and very detailed statistics about trading accounts. It very reliable, impossible to manipulate and displays the information starting from the trading account opening date. For this reason, commercial exert advisors and trading strategies share the Myfxbook trading account report as it is a very strong proof about its trading performance.
Even if you do not plan to sell the robot and or trading strategy I encourage you to connect your trading account with this service not only because it is free but also because it provides great statistics which you can keep private (not need to share). The connection process is explained in detail as it is possible to connect MetaTrader 4, MetaTrader 5, cTrader, fxTrade and Trading Station trading platforms. After you have connected your account you will see general information about the account, balance, equity, growth and draw-down charts. General stats include gain, absolute gain, daily and monthly profit, drawdown, balance, equity, highest equity, profit, interest, total deposits, and withdrawals. Daily, weekly, monthly and yearly gain, profit, pip gain, win percentage, a number of trader and number of lots are displayed in a separate section. Advanced statistics provide many more additional performance parameters and charts. It also includes a complete trading summary.
Your system trading performance report can be kept private (you are the only one who can see) or public (shared with other community users). Publicly shared systems can be followed and they are ranked by popularity in the community. Copy trading is also available in partnership with the Signal Start online service.
Myfxbook offers a standard news release calendar with previous, foretasted and actual readings. In addition, streaming news will help the trader to get a better fundamental picture. Community outlook displays traders' market sentiment. Fibonacci (entrancement and extension), pivot point, margin, pip and position size are included, forex calculators. Market section informs when different candle patterns are formed over various trading instruments and time-frames. It includes a correlation matrix, heat map, and volatility for many forex pairs. COT data is also provided.
The community section is a user forum about various topics divided into nine different categories. Reviews section includes reviews and scoring by community users about brokers, expert advisors, signal providers, VPS services, EA programming services, PAMM broker services, rebate program services, and trading platforms. Broker section includes a respectable list of brokers that can be researched by hundreds of different criteria. In separate tables, you can see all brokers spreads, quotes, swaps and volume by trading instrument. All tables have a sorting option.
As we can see Myfxbook is a very wide online service that is providing data that different types of traders will find useful. The abundance of analytical tools and other trading data in a user-friendly environment will interest experienced traders. Beginners will be more interested in reviews, educational materials, and community section. The service should be definitely consulted prior to EA or trading system purchases. On the other hand, EA and trading system sellers can improve their credibility by sharing the Myfxbook trading account report.

Final Thoughts
Thus, Myfxbook in the past decade has become a standard tool in the forex industry for providing detailed statistics about trading account performance. It is free to use and it supports connection to all leading forex platforms. It is definitely not one tool service as it provides reviews, market insight and it has a large user community. Experienced traders will be more interested in analytical tools while beginners will find educational tools more interesting.