Agimat Trading System is a Forex EA that runs on the MT4, MT5, and TradingView platforms. The vendor claims that its signals are highly accurate, owing to the advanced neural network that is built into the system. It is marketed as a robot that can adapt itself to changing market conditions and take the necessary actions to make sure a continuous flow of profit is maintained.
On the official website, we have a highly detailed presentation, where the main benefits and features of the system are highlighted. A lot of emphasis has been put on the neural network and how it can be of help to you. We also have the live trading results and the pricing package details. There is also a tab called support desk where you can open a ticket with the Agimat Trading System Team, and an FAQ section where the answers to some common questions are answered.
This system is a brainchild of Dennis Buchholz who founded F.X. Tech Group Ltd., an organization with offices in Hong Kong and Spain. The brand is approved by the USPTO, which is the authority for patents and trademarks in the USA. Other members of the company include Victor Lori, the head of support, Kim Ji Yeon who works in Admin, and Saharah, who is the head of accounting.
Features
Agimat Trading System deals in all the major and minor currency pairs. It has apps for both Android and iOS devices and using these you can trade using your smartphone. The vendor claims that the signals provided by the system are 90% accurate.
This trading system has money management settings that you can copy to your trading account. The Agimat Trading System will help you set up the software and also a VPS if required. A PDF manual and a tutorial video are included with the product, so you easily work with it without any problem. The license fee also includes all patches and updates for the mobile apps and the MetaTrader versions.
The trading strategy is explained clearly on the official website in video form, from what we can gather, Agimat Trading System uses a scalping strategy that looks to take advantage of minor price differences in the market. While this won't let you earn huge profits overnight, it is a decent way to maintain a steady win rate in the market.
How to Start Trading With Agimat Trading System
Agimat Trading System can be purchased for $174 and it supports multiple payment modes. Support is provided via email, and you can get a guaranteed reply within 24 hours of sending your query. Here, we should mention that the vendor does not offer a money-back guarantee, which is slightly disappointing.
This Forex trading system is based on a neural network that the vendor started developing back in April 2016. It used a methodology similar to the topmost hedge funds and trading firms, and this allows it to make profits with heightened accuracy. The neural network feeds information to the system in real-time.
Backtests
We do not have any backtesting results published on the official website. Backtesting data is considered vital by most Forex traders since it pits the system against adverse market conditions, thus testing its robustness. Also, it is important to compare the backtesting data with the live trading results to get an idea about the overall reliability of the system.
Verified Trading Results of Agimat Trading System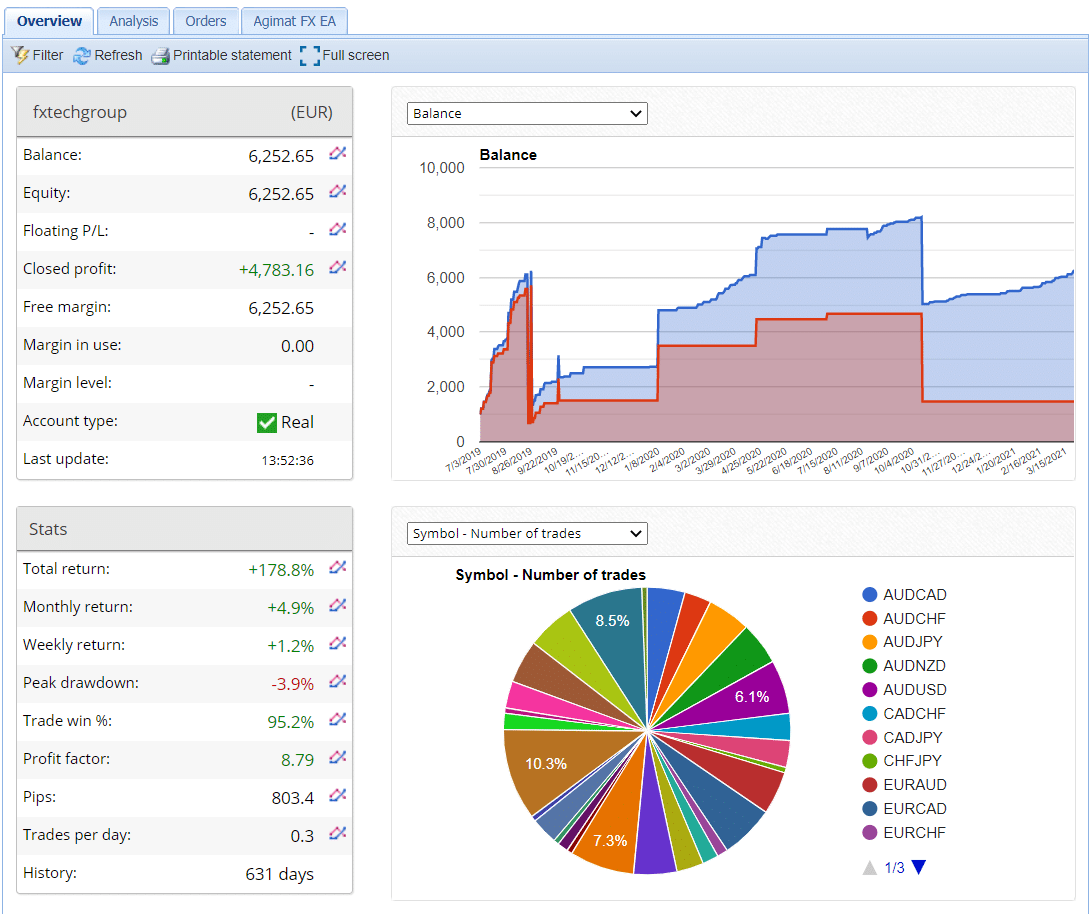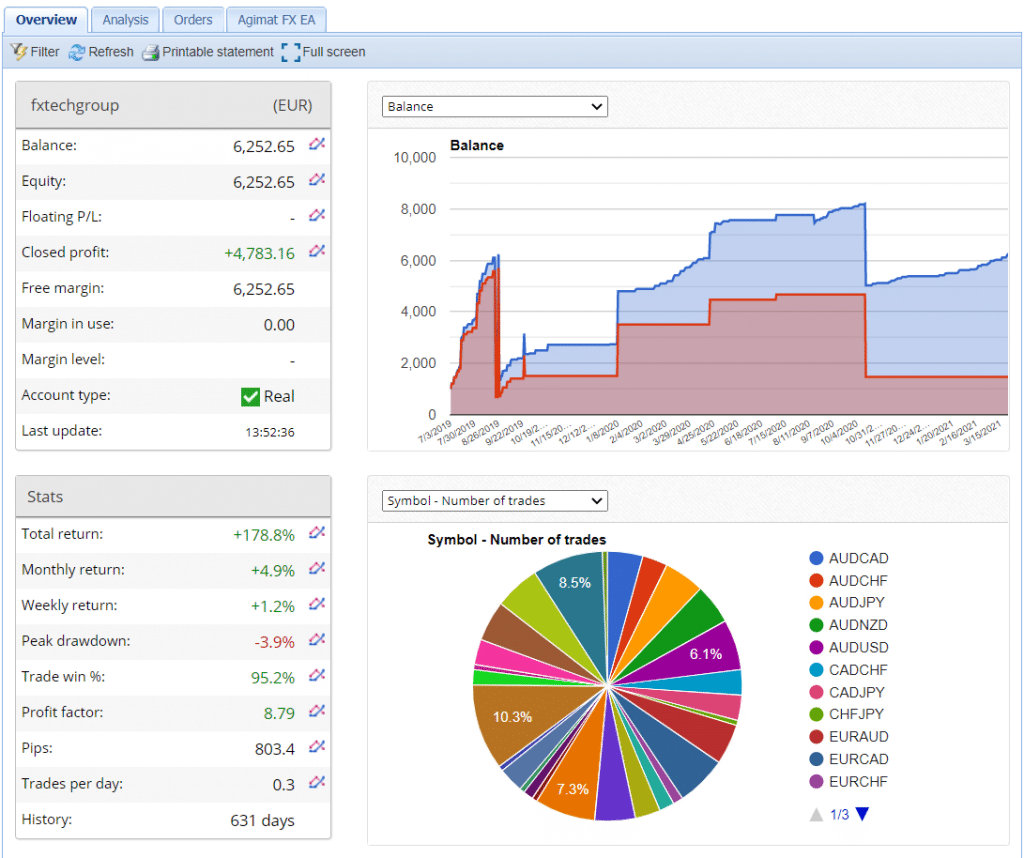 Here we have the live trading results for an account on the FXBlue website. Launched in September 2020, this account has a trading history of 631 days, during which it managed to close a profit of 4783.16 Euros. While the total return is 178.8%, the monthly and weekly gains are 4.9% and 1.2%, respectively.
The most notable thing about this trading result is the incredibly high win rate of 95.2%. It has a 0.0% risk of ruin, so it is evident that the robot does not suffer from huge losses too often. The risk/reward ratio of 2.73 is satisfactory for a serious Forex trader, while the profit factor of 8.79 is much higher than what most Forex EAs have.
Customer Reviews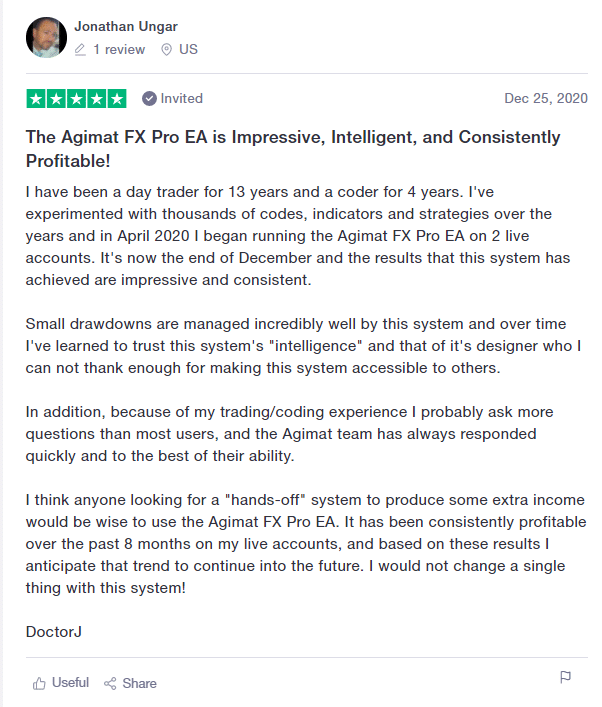 This trading system has a rating of 4.1 on Trustpilot, and we found several positive user reviews that praise its functionality and features. One user has mentioned that the system gives you consistent results and that the support team always answers any queries the users might have.
Is Agimat Trading System a Viable Option?
Advantages
Live trading results verified by FXBlue
Positive customer reviews
Neural-network based system
Disadvantages
No money-back guarantee
No backtesting data
Summary
After investigating the various aspects of the system, we came to the conclusion that Agimat Trading System is a legitimate Forex EA that will let you win profits on a consistent basis. The trading results are quite impressive and the positive customer reviews tell us that many individuals place their trust in it.
Would you like to try out trading with an Expert Advisor?
Learn more about the best forex robots.