Easy Forex Pips is a provider of Forex signals that are generated after careful analysis and using which you can achieve satisfactory results in the Forex market. The vendor claims that these signals are 95% accurate and that they are more effective due to the fact that they are analyzed by real human beings as opposed to an AI or a bot. As per the information on the website, this system has more than 4 years of trading history.
Would you like to try out trading with an Expert Advisor?
On the official website, we can see the main features being outlined by the vendor, along with the latest results and the Myfxbook performance. There are sections detailing the pricing plans, user reviews, as well as FAQs. The vendor has also provided us with the link to the YouTube channel for Easy Forex Pips, and also recommended a broker by signing up with which you can win a welcome bonus.
There is no information available on the official website about the company behind Easy Forex Pips. It seems the vendor does not wish to reveal the identity of the traders and the developers. We don't know what kind of background this company has or whether it has enough experience in developing these kinds of systems.
Features
With Easy Forex Pips, you can deal in all the major and minor currency pairs. Signals are sent via the Free and VIP Telegram channels having 90,000+ and 5,500+ members respectively. The vendor claims that the analysis and signals provided by this system improve the user's ability to monitor their positions and they make sure no lucrative chances are missed.
Easy Forex Pips has a team of seasoned traders who make sure all the trades offer high chances of making profits. Both long and short-term signals are provided so traders with various trading styles can benefit from them. The Easy Forex Pips team places emphasis on accuracy, completeness, and technical analysis while generating the signals.
It is mentioned that this Forex signals provider uses manual trading strategies and uses technical indicators for market analysis. But the vendor does not tell us which indicators are used specifically, and what these strategies are. The absence of technical knowledge about the strategy is something that the majority Forex traders would not appreciate.
How to Start Trading With Easy Forex Pips
There are four distinct pricing plans for Easy Forex Pips, and the duration of these are 1 month, 3 months, 6 months, and 12 months. You can purchase them for $45, $75, $105, and $150, respectively. With all of them, you get 4-7 signals every day and 1-3 targets for each trade, along with money management tips and chart analysis. There is a 14-day money-back guarantee offered by the vendor.
Signals are sent to the users for all trading sessions, and you can receive them whenever there is a trading occasion in the US and UK sessions from 8 AM to 5 PM. The trading targets, stop losses, and entry points are clearly outlined in these signals.
Backtests
We couldn't find any backtesting data on the official website, so maybe it is something that is provided to the members only. Nevertheless, we think a reputable Forex signal provider should present backtesting information so that we can get an idea about the system's profitability.
Verified Trading Results of Easy Forex Pips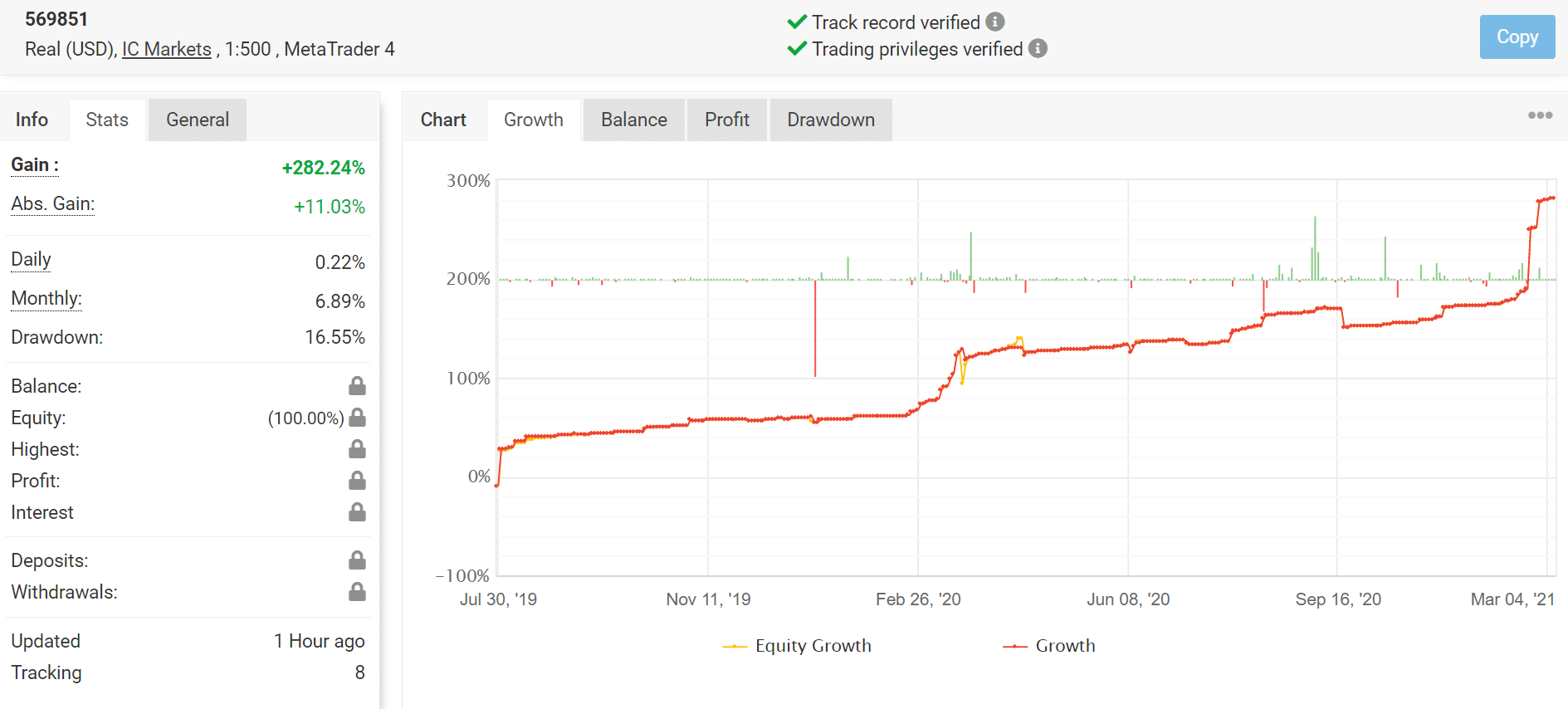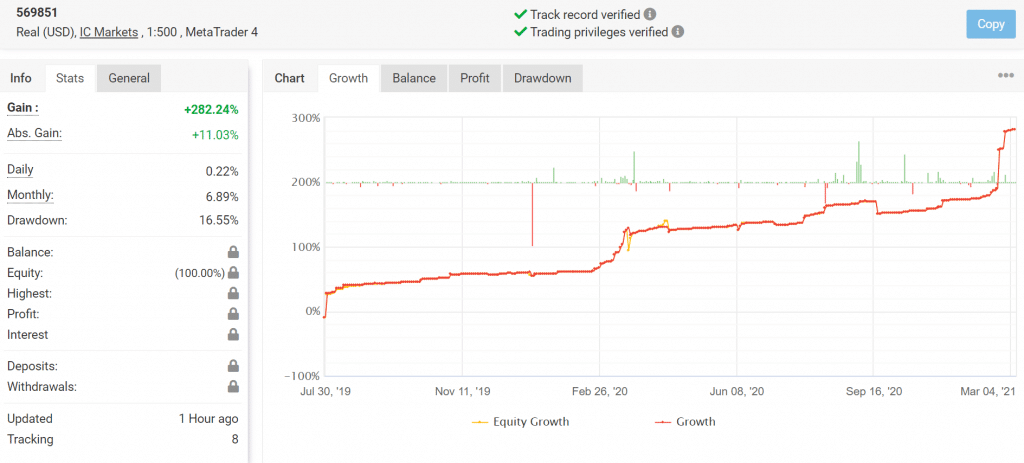 On the official website, we have the link to an Easy Forex Pips live trading account that has been independently verified by Myfxbook. Here, we can see that a time-weighted return of 282.24% has been generated after completing 15024 trades. It is odd, however, that the vendor has chosen to conceal some of the key figures like net profit, interests, deposits, withdrawals, equity, balance, etc.
70% of all trades placed through this account have been closed in profit, which is an impressive win rate. If we look at the pairwise trade summary, most of them have high win rates, so we can say this system does not often suffer from big losses. It has a profit factor of 1.52, which is quite satisfactory.
Customer Reviews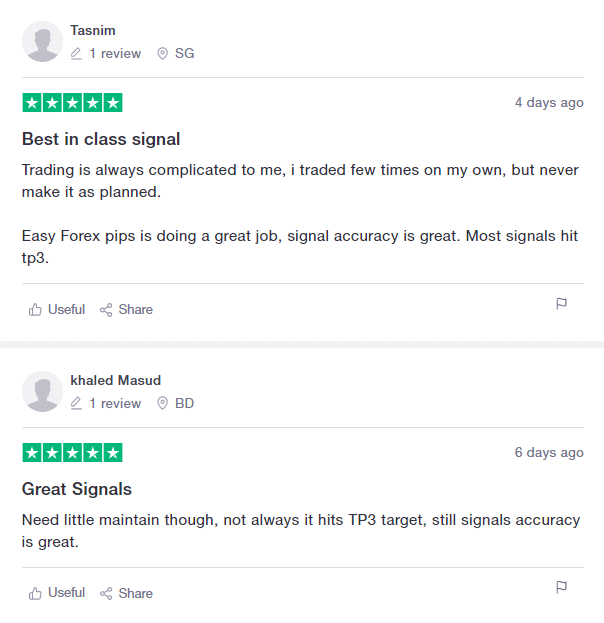 We came across several customer reviews for Easy Forex Pips on the Trustpilot website, and most of them are quite positive. The users have praised the high accuracy of the signals and have stated that most of them hit their targets. Judging by these reviews, it can be said that Easy Forex Pips has a good reputation and that many traders trust them.
Is Easy Forex Pips a Viable Option?
Advantages
Verified live trading results available
More than 4000 monthly pips
Positive customer reviews
Disadvantages
Lack of vendor transparency
Strategy not explained
No backtesting data
Wrapping Up
In the end, we would like to say that Easy Forex Pips is not a scam service and this is evident from the trading outcomes. You can choose to purchase it if you are okay with not knowing about the trading strategy or the vendor.
Would you like to try out trading with an Expert Advisor?