The forex market is known to be the largest financial market in the world with daily trading volumes exceeding $5 trillion. Such market conditions require a system of risk management that can minimize your capital loss.
If you are just starting out with forex trading, you need to be well versed in the utilization of orders in forex. Although there are numerous such orders, there is a handful of them that are fundamental to brokers, and in this article, we go through them and the way they can be utilized on a live trade.
Importance of using orders in the forex market
Even with dozens of order types known to traders and these tend to depend on brokers, there are only a few basic types of orders that are widely accepted by all of them. These enable them to minimize their capital loss due to market volatility and fluctuations in rates that could otherwise be quite challenging to control and predict. Having a thorough knowledge of these order types will benefit traders to enter and exit the market at the right positions.
Different Types of forex orders
Here are the order types that all traders must have a basic understanding of.
Market order
This is an order that relegates to your broker to enter or exit position at a particular time at a current market price. However, given the dynamic nature of the market, sometimes there can be quite a difference between the actual price and the price when the order is given.
As a result, such an order can lead to gains or losses of multiple pips. It is important that the trader utilizes the right strategy and the market conditions aren't fluctuating too rapidly for when the order is placed.
Limit Order
There are two main types of limit orders that you'll need to know, those that open trade and those that close it.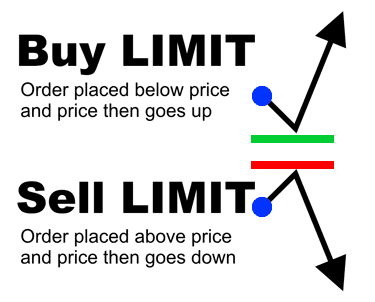 The first type of limit order is utilized to gain entry at a better price than the current one. For instance, if EUR/USD is trading at, let's say, 1.283 and you believe it would go down to 1.200 before rallying any further, you'd place your limit order to open trade at 1.200. In this type, you will open trade at only the price that you have designated or a better one.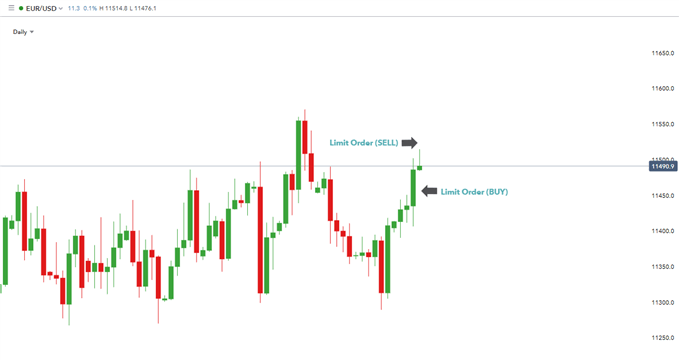 In the second type of limit order, you can close a trade once the market has moved a particular amount in your favor. For instance, if you bought the same currency pair at 1.1300 and want to have a profit of 100 pips before exiting, your exit would be marked at 1.1400. On the other hand, if you sold the pair at 1.1300, then your order limit will be placed 100 pips below entry. The graphical representation for both is given in the image above.
Stop entry order
This type of order essentially keeps the order from being executed until the price has reached the stop-level. This would be ideal in situations when you are looking to buy only when the price reaches up to the stop-price level; or sell only when the price falls to the stop price.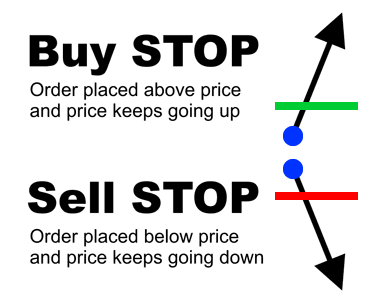 Of course, you could stare at your computer and wait until the price reaches your preferred level. But, nobody has so much time, not to mention there is no telling when the market price is going to reach that level. In such cases, placing a stop entry order is the best possible method.
Stop loss order
This is the most crucial order type that you would be frequently using. It is an order that lets you close out when the market reaches a particular price level. This may indicate either profit or loss. This order type is linked to a trade and prevents the trader from incurring additional losses in case the price moves against the trader.
There are two main positions to take note of:
Sell Stop order in a long position.
Buy Stop order in a short position.
For instance, let's say that you are buying EUR/USD at 1.2220. To effectively minimize your loss, you go ahead and place a stop loss order at 1.2200. What this means is that in case you are completely wrong and the rate dips to 1.2200 rather than rallying up, the trading platform will execute the sell order at the point and close out your position.
These orders are very important if you don't want to sit before your computer all day worrying about losing money.
Trailing stop order
This order type is one that links to a trade and moves with the moving price. It is a buy or sell order that is given to the broker in case the rates move in an unexpected direction. It is also known as a stop order for protecting profit and is not unlike the stop-loss order. However, the chief thing that differentiates trailing stop order is that it allows you to protect your profits while minimizing the capital loss in unfavorable circumstances when a trade doesn't work out.
Recap
There are only a few basic order types in forex, which what most traders use most of the time. To open positions, you would use the following orders:
For a long position at a higher than the present price, 'Buy Stop.'
For a short position at a lower than the present price, 'Sell Stop.'
For a long position at a lower than the present price, 'Buy Limit.'
For a short position at a higher than the present price, 'Sell Limit.'
A trader just starting out would do well to stick to these basic order types. For those of you who want a cheat sheet, here's one with the blue dot as the current price.