We've got one of the weirdest presentations. It's a Forex Real Profit EA and half of its designer head.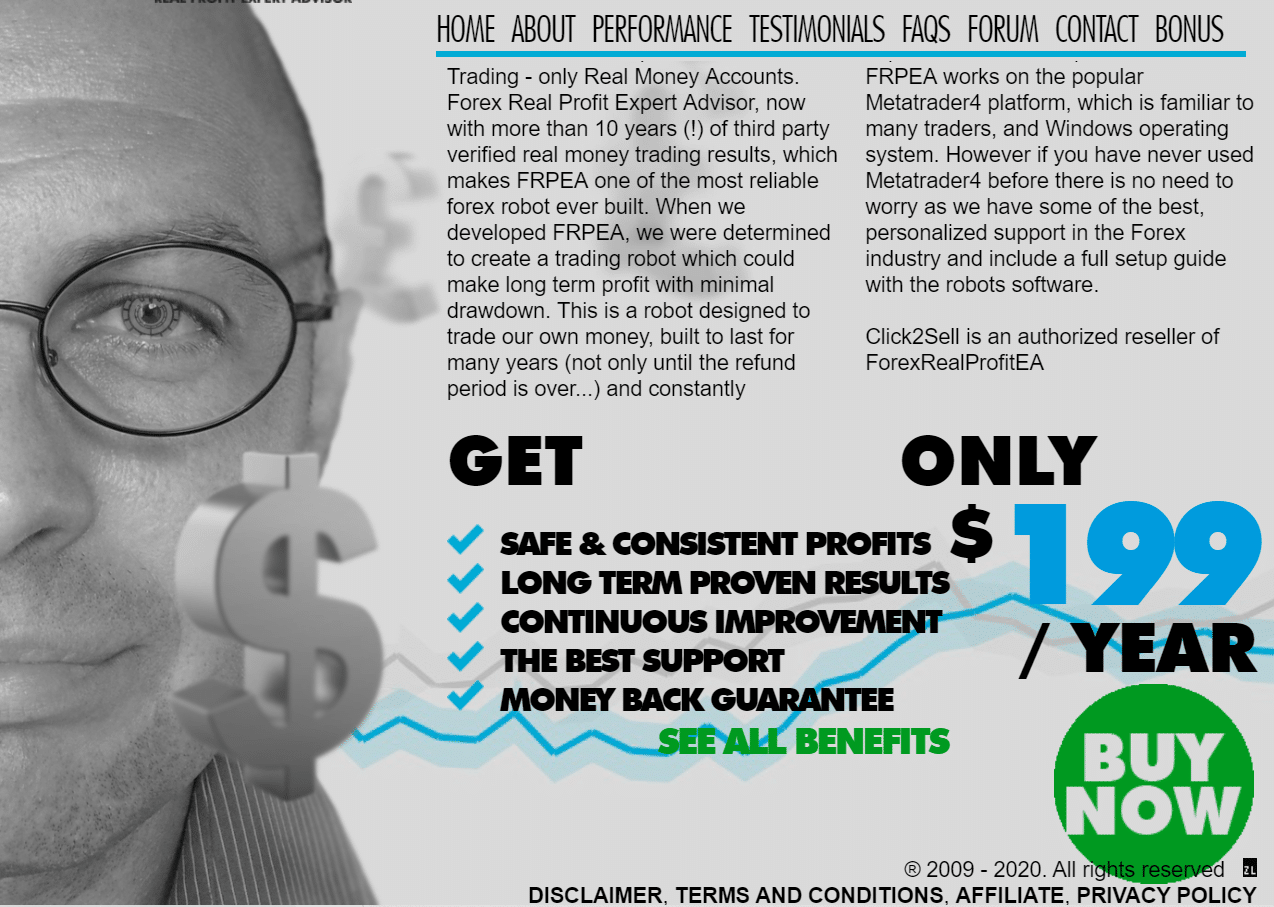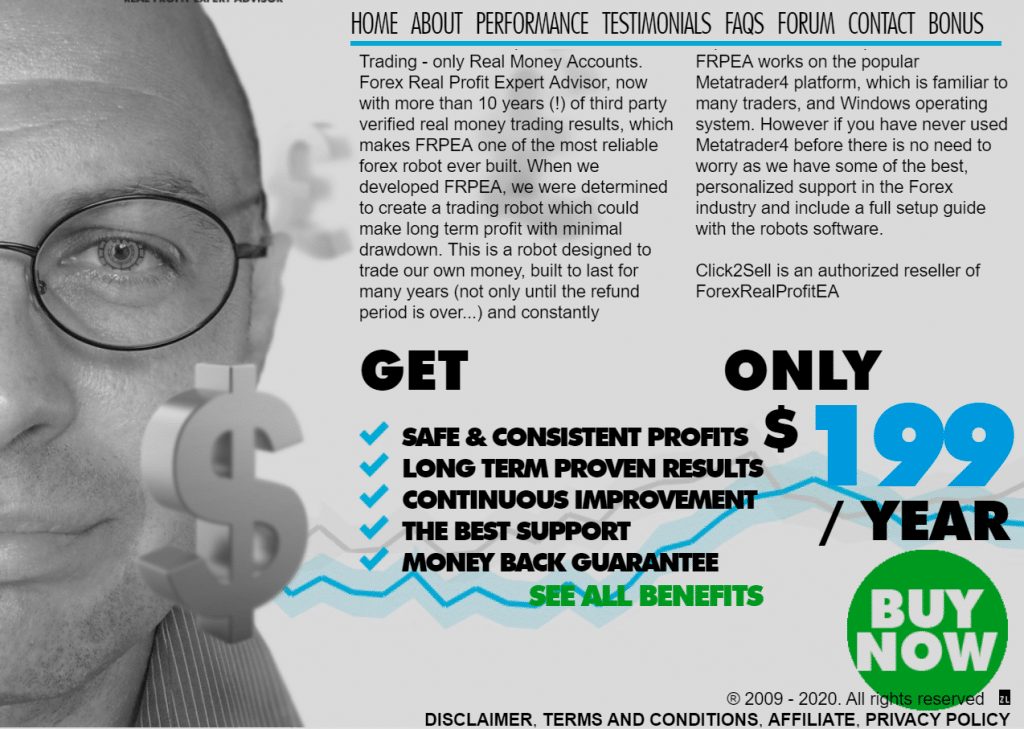 Features
The robot executes trades automatically.
It works only on the MetaTrader 4 platform.
The EA can provide safe and consistent profits.
The robot runs six strategies Asian scalpers, Trend trading, and three Breakout strategies.
It trades two Breakout symbols: EUR/USD and GBP/USD.
ECN for tight spreads is a good option.
The system sets dynamic Stop Loss and Take Profit levels.
The Stop Losses are from 50 to 200 pips depending on the strategy.
The system calculates dynamic a Lot Size for every deal.
There's a High Impact News filter to avoid wild market conditions.
There are Spreads and Slippage protections.
The system doesn't perform risky strategies like Grid, Martingale.
It doesn't keep trades over the weekend.
NFA and FIFO-compatible software.
It works with 4 and 5 digits brokers.
The minimum margin requirements are $1000.
How to start trading with Forex Real Profit EA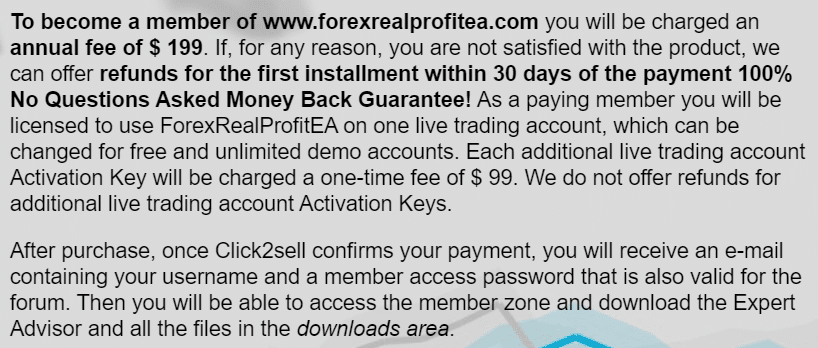 For starting trading, we have to purchase an annual subscription for $199. We can get our money-back guarantee if we're not satisfied within 30 days. We can buy additional live trading account access for $99 each. The purchase is supported by Click2Sell. After paying, we'll get access to the member area.
Backtests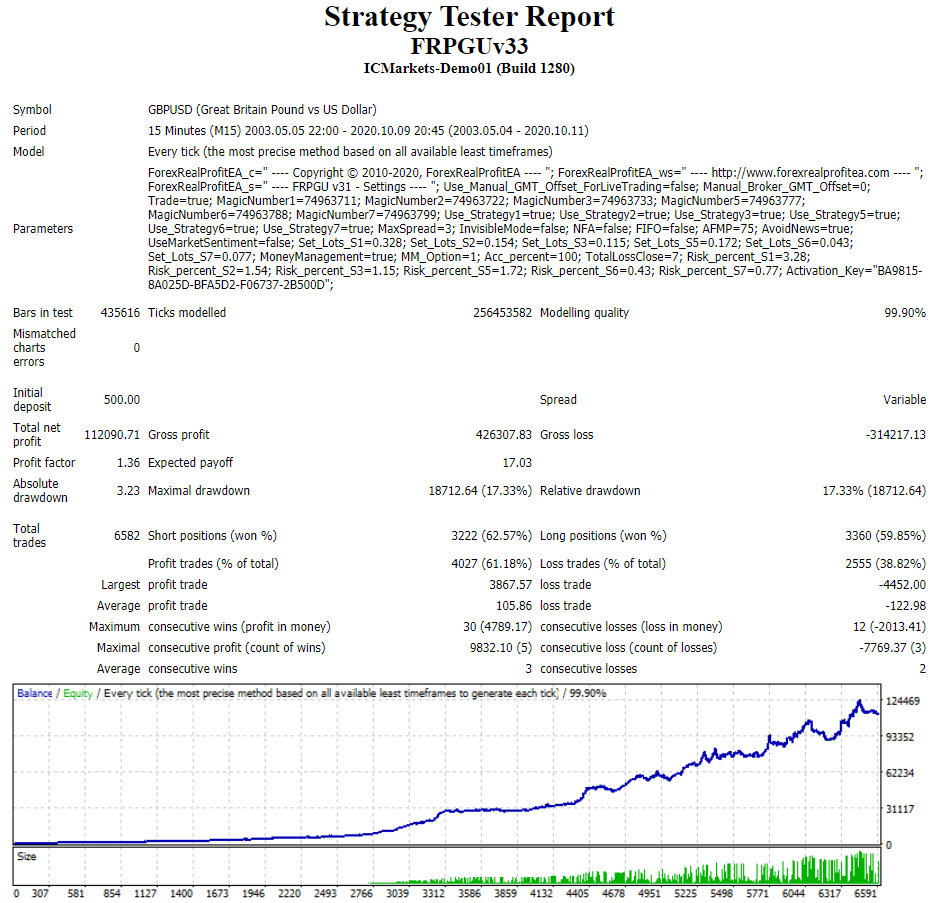 It's a GBP/USD backtest. It united data between 2003 and 2020. The test was performed on the M15 time frame. The modeling quality was 99.90% with variable spreads. An initial deposit was $500. The total net profit was $112k. The Profit Factor was 1.36. The maximum drawdown was 17.33%. The EA traded 6582 trades. The win-rate was between 59% and 62%.
Verified Trading Results of Forex Real Profit EA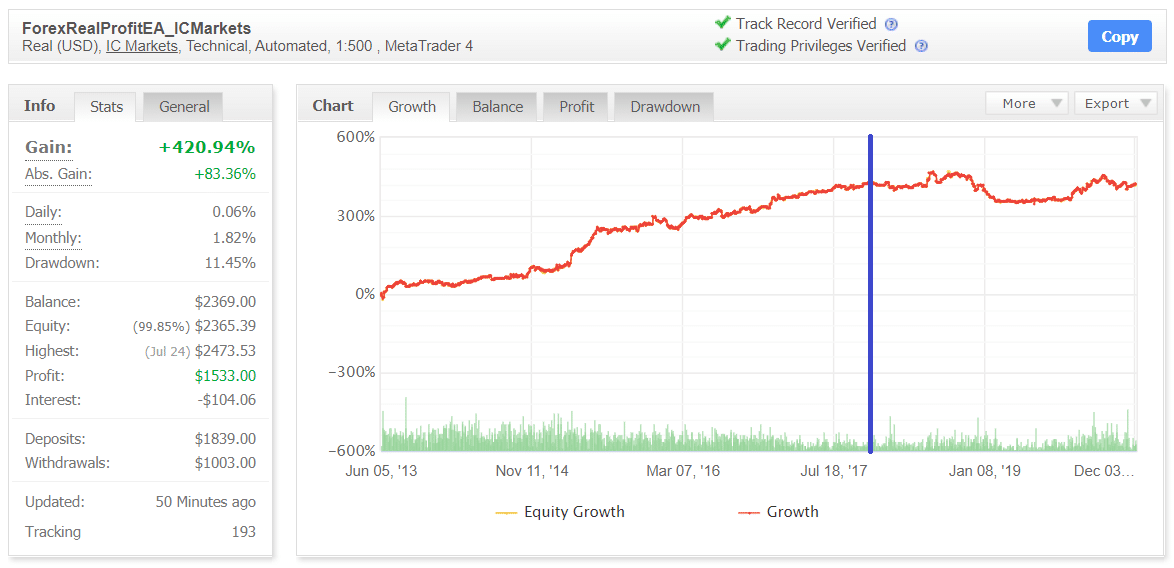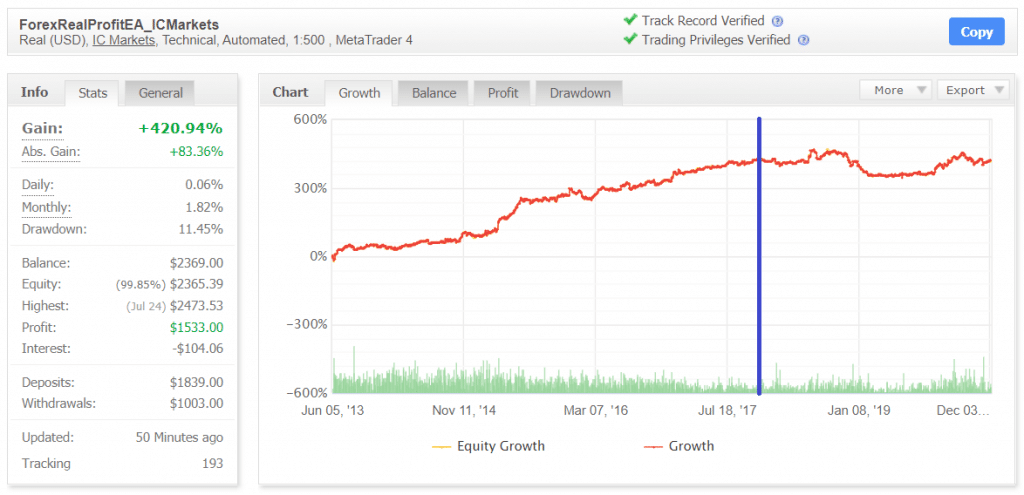 The robot runs a real USD long live account on IC Markets. It uses technical indicators and trades automatically with 1:500 leverage on MT4. A track record is verified for this account. It was created almost eight years ago on June 05, 2013. Since then, the absolute gain has become +420.94%. The blue line showed the same amount of nowaday's account gain in the past. It was over three years ago. So, the account didn't grow at least in the last 3-4 years. An average monthly gain is +1.82%. The maximum drawdown was 11.45%. The account was deposited at $1839 and withdrawn once at $1003. It's tracked by 193 traders.


There 7626 deals with 13561 pips were traded. An average win (12.35 pips) is a little bit lower than an average loss (-17.55 pips). The win-rate is 66% for Longs and 63% for Shorts. An average trade length is over three hours. The Profit Factor is incredibly low (1.16).


The robot trades many more symbols than EUR/USD and GBP/USD, about which the dev said. Five from twelve currency pairs are not profitable. The most traded and profitable symbols were EUR/USD 1783 deals and $962, GBP/USD 1257 deals and $435, and USD/JPY 1065 deals with $222.


It opens trades during hours when the market calms down.


The EA trades all days, almost equally excluding Monday.


The robot runs the account with medium risks to the balance (2.25% chance to lose 10% of the account).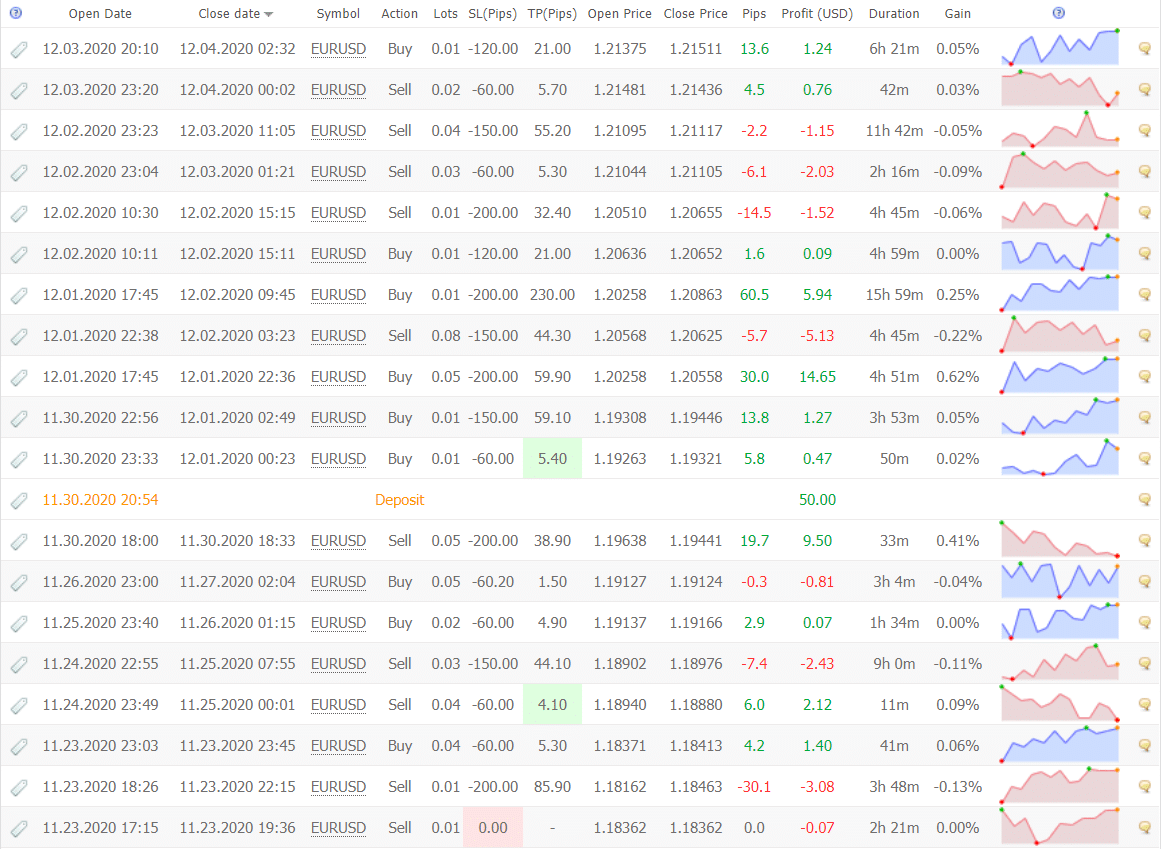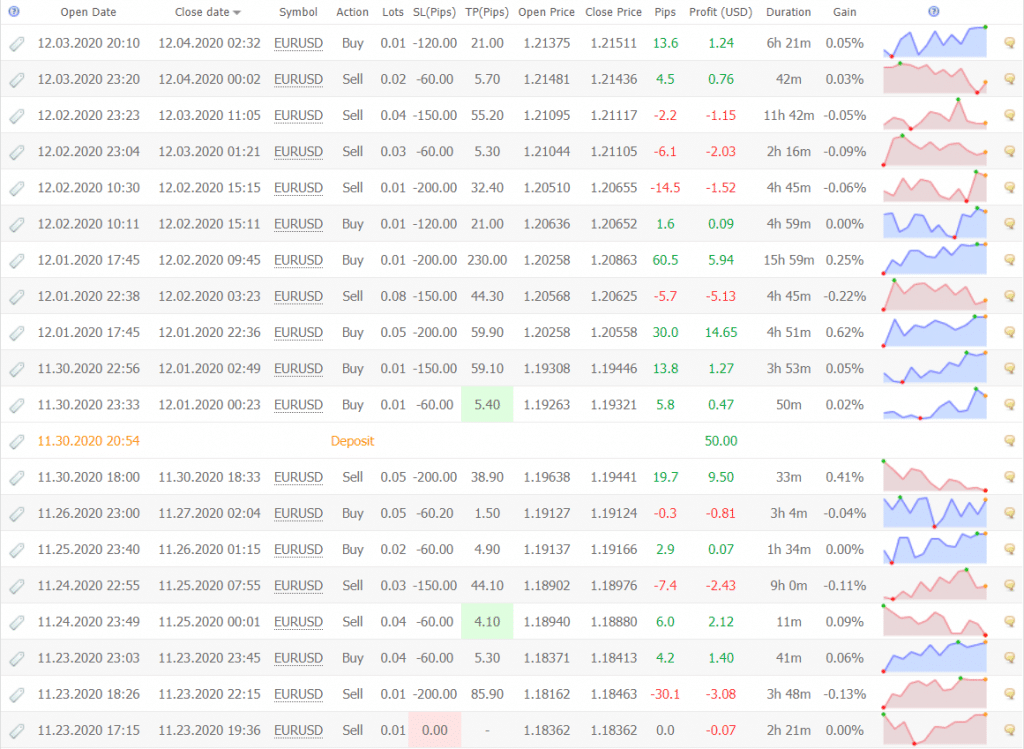 The EA jumped with Lot Size from 0.01 to 0.08 without big reasons. It can mean that the money-management system didn't work properly.
People's feedback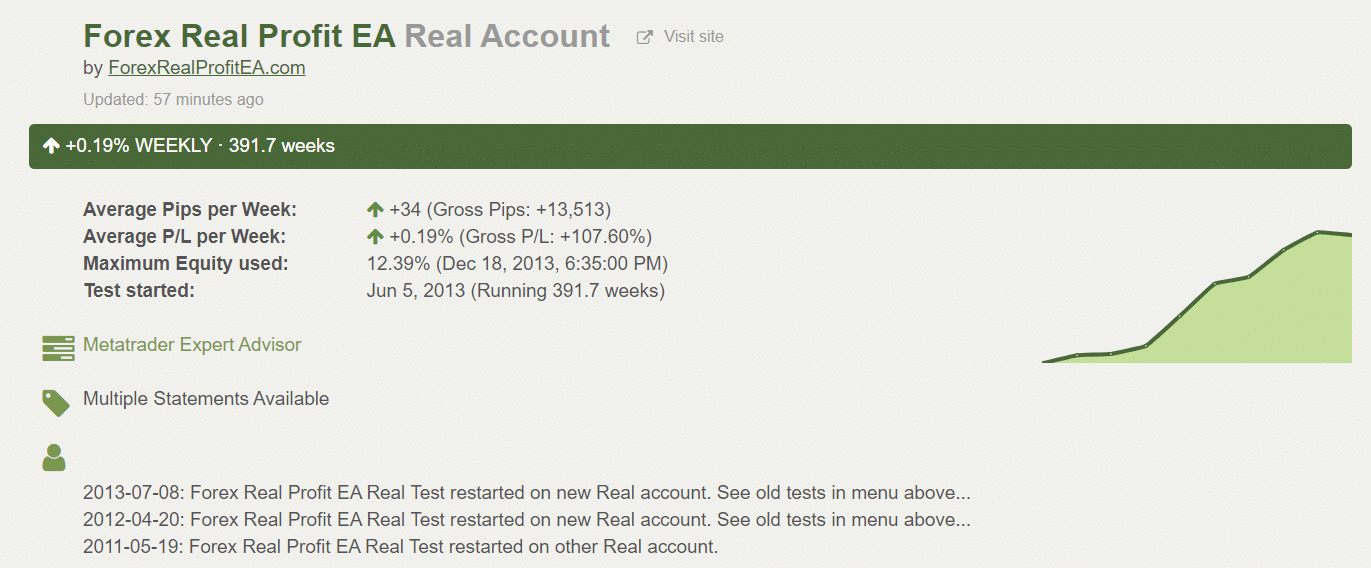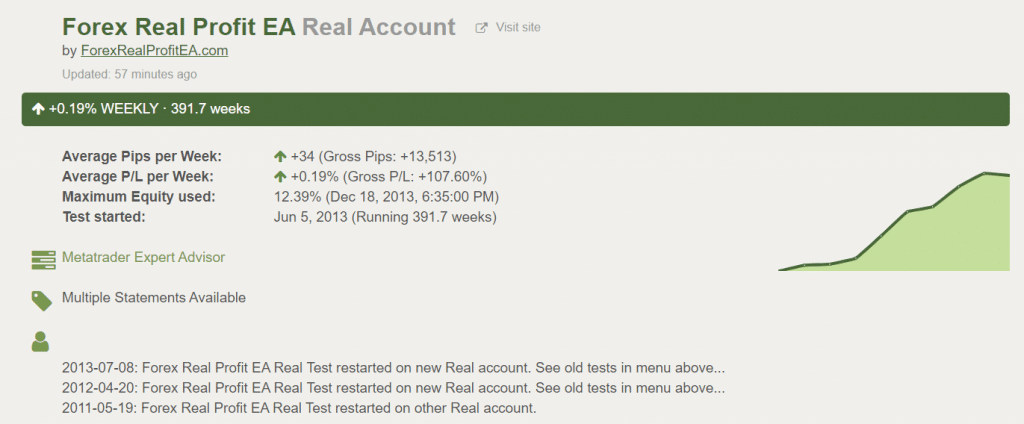 Forex Real Profit EA has a page with connected backtest on Forex Peace Army. As we can see, there were two more tests that were removed from the listing.


The single comment was posted many years ago and didn't receive any answer from a developer.
Other notes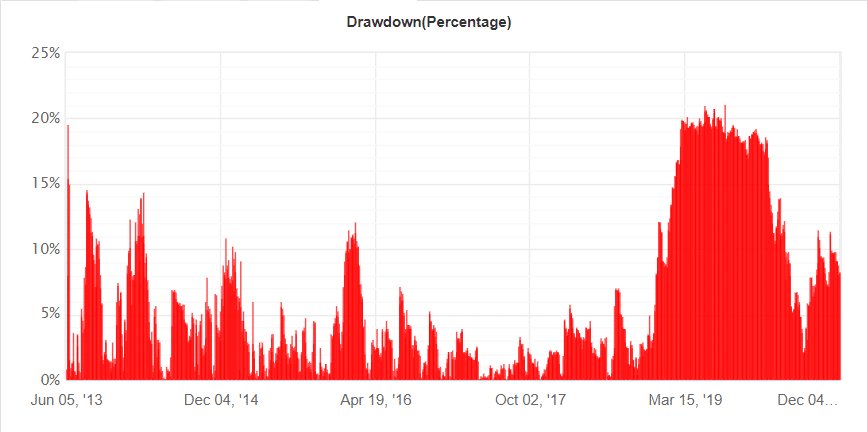 The robot has been trading much worse since March 2019. It doesn't look like the developer wants to fix it.


From open trades, we can see open Hedge deals that sit in drawdowns.
Is Forex Real Profit EA a viable option?
We don't think so. The last three years and a half were stepping on the same absolute gain. For that long period, the EA made solid profits, but not Forex Real Profit EA.
Conclusion
Forex Real Profit EA is not a scam, but so close to become one. It started trading much worse in the last three years. Profitability and monthly gains decreased drastically. The developer insisted that the EA runs only two symbols, but we could see many others that so often are not profitable. 2018 showed that the EA started experiencing huge and long-term drawdowns, and the developer didn't know how to fix this. Paying for $199 for an annual subscription will be a mistake.