Happy Way is a Forex expert advisor, developed by a well-known Happy Forex group. The developers say that this robot 'trades with the direction of the market' and places trades on behalf of the trader. Happy Way EA does not use any indicator but uses Grid strategy without Martingale. For us, the Grid trading approach has nothing in common with safe and risk-free trading, as it is not a secret that trading with Grid may be too dangerous for a trader's account.
In this Happy Way review, we are going to analyze trading performance, risk factors, vendor transparency, price, influence of the Grid on trading, and the other important factors to decide whether it is a good robot to be trusted.
Features
The devs point out the key features of Happy Way EA:
It is easy to setup
Works on the MT4 platform, H1 timeframe
Operating system: Windows 7, 8, 10, Mac OS and Linux
Fully automated EA
Supports ENC brokers
Performs Grid strategy without Martingale
Auto-quotes detection 4 or 5 digits
Supports USD/CAD, AUD/USD, AUD/CAD, CAD/CHF, and AUD/CHF currency pairs.
Trades 24/7
Recommended minimum deposit for Micro Account (0.01 lot) is $1000, for Mini Account (0.1 lot) – $10.00, and for Standard Account (1 lot) – $100.000 for 1 currency pair
30 days money-back guarantee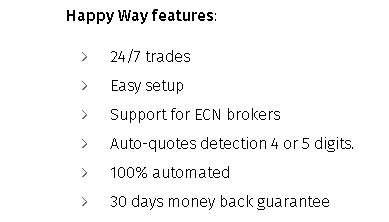 This robot does not use any indicators. Instead, as its developers claim, this EA uses Grid without Martingale money management. The main goal of grid strategy is to "trap" the price and provide profit in whatever direction it moves in. However, unfavorable market conditions can negatively affect trade positions and the grid strategy can play not for you. As a result, the grid can lead to high drawdowns, trading risks, margin call, and stop-outs.

How to start trading with Happy Way
All you need to start trading with Happy Way is to set up the robot using the provided instructions by the vendor. The software is advertised as a good choice for both experienced traders and beginners. To start trading with Happy Way you will need an account with a Forex broker.
The software is available to buy in 2 different packages, which include the same EAs, but have a different amount of licenses: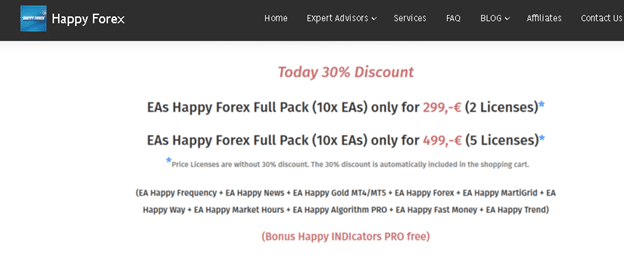 If you want to get 2 licenses, you will need to pay €299, for 5 licenses the price will be higher – €499. Both packages include a 30 days money-back guarantee.
When you pay for this EA, you get:

Backtests
Unfortunately, the Happy Forex team failed to provide backrests of Happy Way on their website. Therefore, it makes it impossible to analyze the past trading performance of the EA with the one we have today.
Verified Trading Results of Happy Way
A good thing about Happy Way is that its developers have placed live trading results on their website.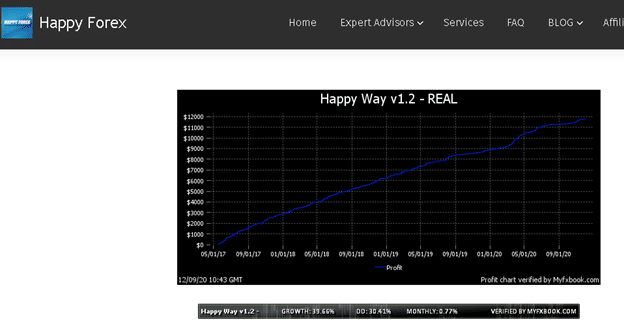 It is a Real USD account that is working on the MT4 platform and trading with Fort Financial Services brokerage with a 1:500 leverage. It started trading on May 15, 2017.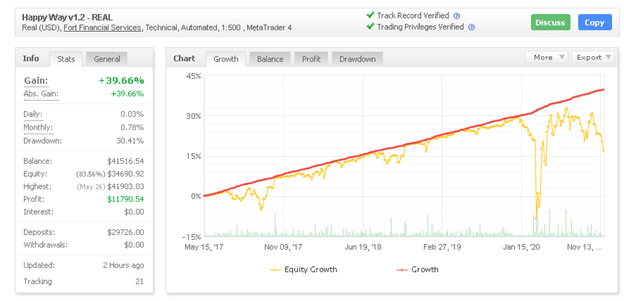 The initial deposits were $ 3070, $ 2856, and $ 23800 on May 15, 2017. Over 3 years of trading the total gain has grown up to +39.66%. The average monthly gain is 0, 78%, daily – 0, 03%. The peak drawdown was 30, 41%. High drawdowns are very risky for any trading account and may increase the risk of ruin. Since March 2020 we have noticed vicissitudes in terms of drawdown performance from 5% up to 15%:
Robot trades smoothly and predictably:

It has already traded 763 trades (won 517 out of 763 trades, which represents 68%) and 21861, 6 pips. The average win is lower than the average loss: $48, 57 vs $54, 14. The average win rate is between 65%-69%. The best trade ($452) is mostly equal to the worst trade (- $443, 82). The average trade length is 19 days. Its profit factor is 1, 89.

The robot trades every day, from Monday to Friday: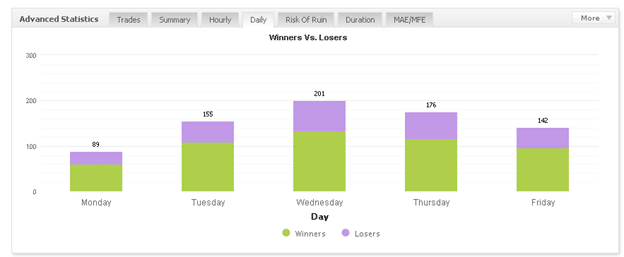 The most trading day is Wednesday (201 trades) and the less trading one is Monday (89 trades).
The robot trades with low trading risks:

Years went by, but the EA shows stable monthly gain: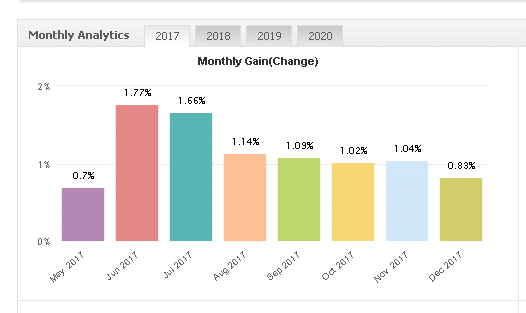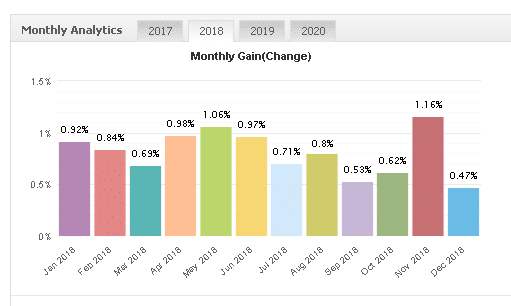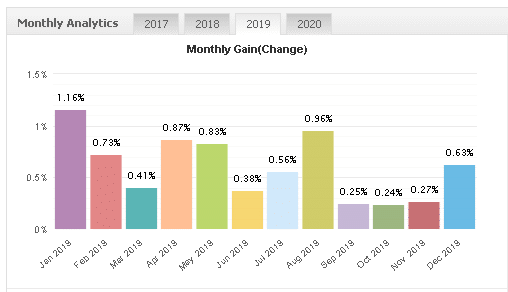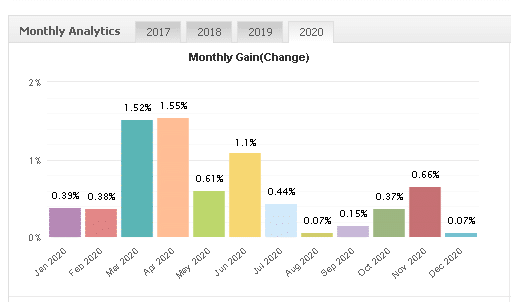 Customer reviews
Happy Way started a real test in the mid of 2011.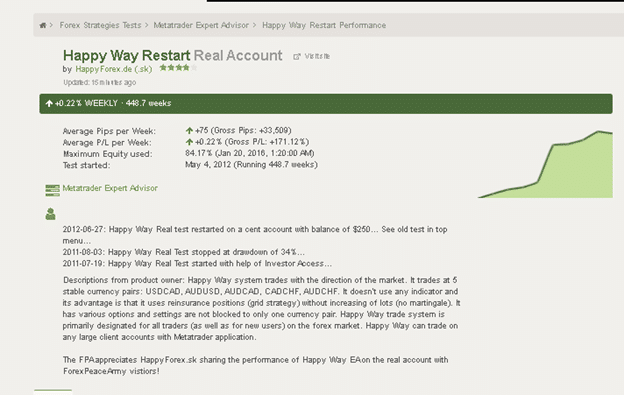 Happy Forex has a 3.75 out of 5-star rating on FPA. There are only 5 reviews, with the last one written in October 2019.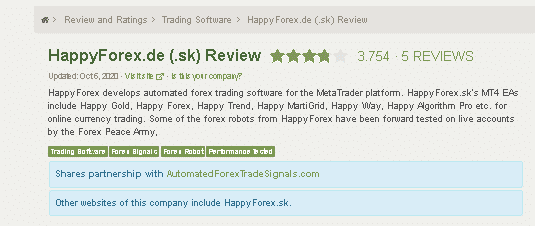 We have only 1 customer review telling about the Happy Way robot:
However, it was written in 2011 and cannot represent a current picture.
Is Happy way a viable option?
Advantages
Myfxbook results provided
Stable profit
30 days money-back guarantee
0,01 risk level of trading
Disadvantages
High drawdown
Hidden trading activity data
Grid trading approach
High deposit required
No backtests provided
Summary
We find Happy Way to be a dangerous and risky trading software. Firstly, it's because of the Grid trading strategy it uses. Secondly, the robot requires high deposits for smooth trading (the developers have deposited over $29K to obtain a smooth profit). Thirdly, the devs failed to provide backtesting results of their robot. In addition to this, Happy Way has a high drawdown performance, which in conjunction with the Grid approach are too dangerous for trading.