We'd like to talk about PZ Grid Trading EA for the MT4 platform. It's been designed by Arturo Lopez Perez who's designed 168 products. This one like the rest is listed at MQL5. He provides a lot of robots for free, so, they work exactly as they cost: you pay nothing you get a good-for-nothing EA.
This robot, as we can see from the name, is a grid one. It was published in February 2019. The current version is 18.0. "Grid trading is an efficient mechanical trading strategy which has no reliance on direction, profits from volatility and uses the intrinsic wavy nature of the market. It uses fixed price levels to enter and exit trades in one or both directions. Such trades, generally spaced at 20-200 pip intervals, create a trading grid," the dev described the robot.
Traders are free to use any of the time-frames.
No indicators needed.
Trades priced ranges, not trading setups.
Trades long, short or bidirectional.
Works with many symbols.
Implements directional and bidirectional profit targets.
Doesn't trade open-ended grids, exposure is limited.
Risk and exposure are pre-calculated and displayed.
Three different patterns behind the robot.
Works with Forex, CFDs, and Futures.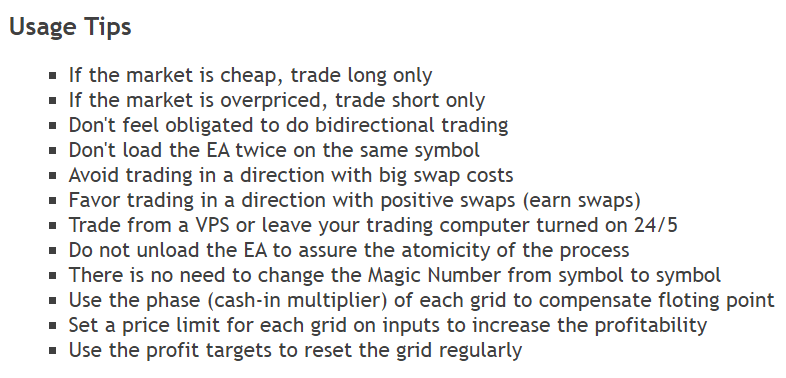 As we can see from the tips list, it's not a robot for beginners.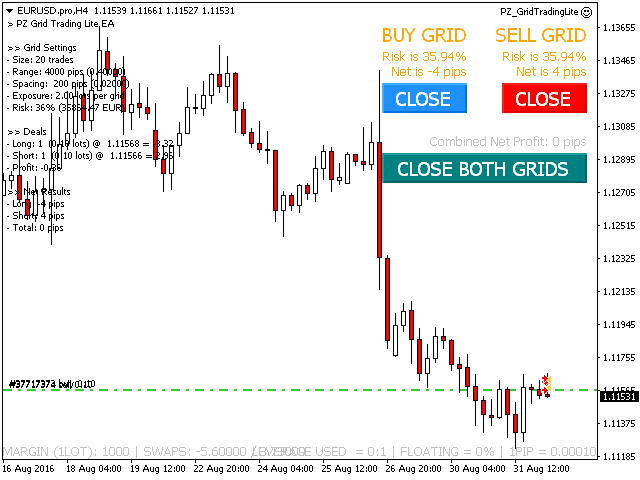 The dev provided a screenshot of how EA looks like when it's attached to a chart.
Backtesting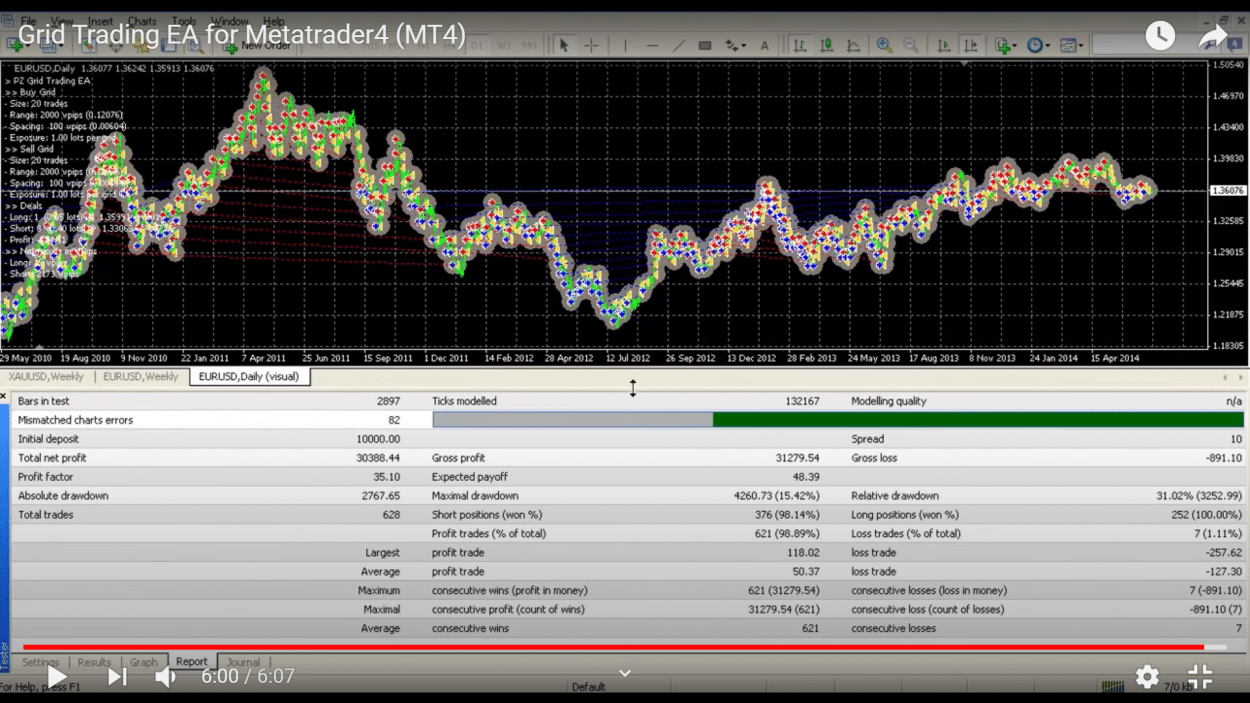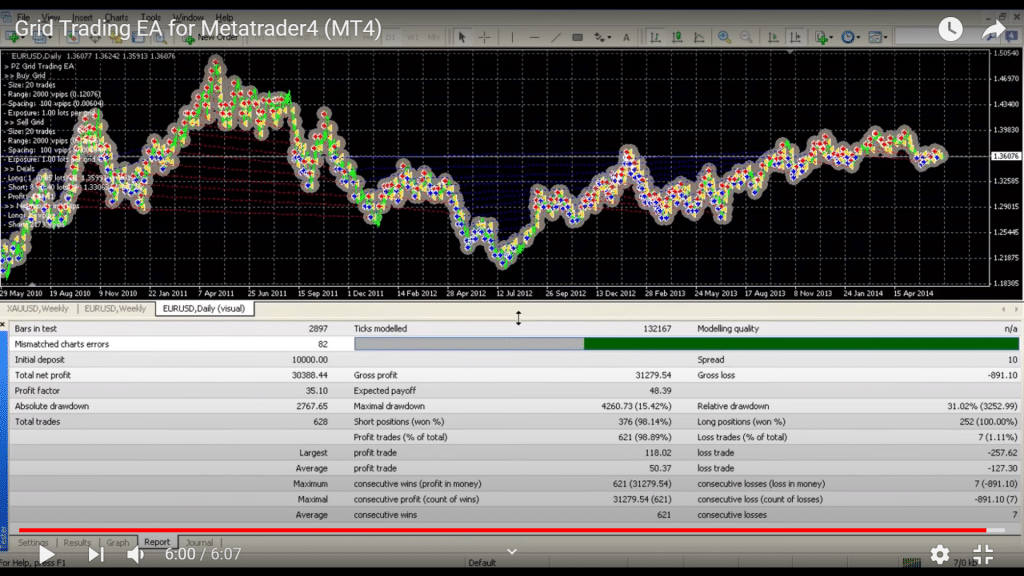 Having used a video, Arturo Lopez showed the process of backtesting. This video is 6 years old and has got 53 likes, 23 dislikes.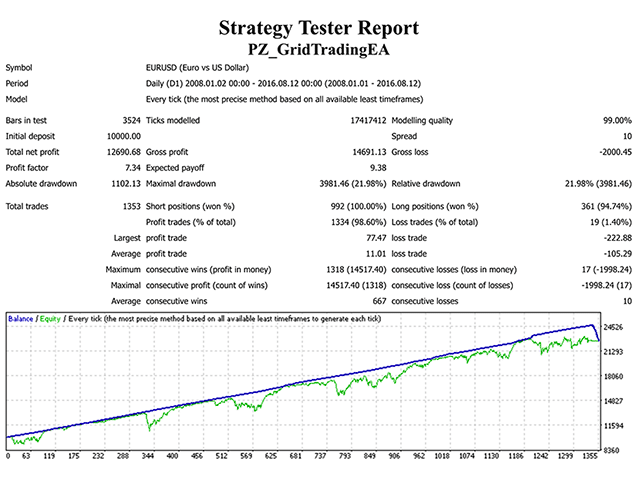 It's a EUR/USD symbol on the D1 time-frame. The modeling quality is 99%. The period was between January 2008 and August 2016. The initial deposit was $10000. Total net profit equaled $12690. The profit factor was extremely high and equaled 7.34. Shorts position win-rate is 100% longs one is 94.74%.
The offer
PZ Grid Trading EA costs $250. There are also rent packages: For one-month, it costs $50, for 3 months costs $100, and for 6 months $200. There's a free download option for demo accounts. There were 100 activations of the product and 628 demo downloads, according to MQL5.
How good PZ Grid Trading robot is?
Pros
Well-known designer
Robot features explained
Settings well explained
Usage tips provided
Backtests provided
The robot sells through MQL5
Rent is available
The current version of the robot is 18.0
A free demo copy of a product provided
Cons
No live account trading results provided
Lack of people feedback comparing to 100 activations
No risks settings provided

It's a grid EA that was designed by Arturo Lopez Perez. The robot is an 18.0 version. It means that it receives many updates during a year, so, the dev carries about it. At the same time, we've seen any trading account to check how good the robot is on a demo or real account. It doesn't mean it's not good, but seeing trading results will increase our trust in it. Providing a free demo version is a good move, so, people can check everything themself. Option with renting is quite a good idea to, because of the cheap monthly payment.