Today we've got a very expensive robot on the plate. The robot called MC Brain Synchro. The robot has been introduced like "a multicurrency EA where several currency pairs interact simultaneously in trading." "MC_Brain_Synchro uses 4 different Ligaments in trading (8 completely different currency pairs), with 2 Ligaments being directly correlated, and 2 inversely correlated for maximum diversification. Even the factor that each currency pair moves up and down with different strengths is taken into account. That is, upward and downward trends (their strength and movement itself) for each currency pair are DIFFERENT. Therefore, it is wrong to use the same parameters for BUY and SELL orders of the same currency. At MC_Brain_Synchro, this is all taken into account," devs explained.
The robot performed hedging trading: "a hedging trade will open only if the open position goes into minus. Moreover, if the hedging phase comes into effect, then the second trade from the Ligament will be opened according to the same type of order as opened, that is, full synchronization: if Pair_1 (BUY), then Pair_2 will also enter the market (BUY)." If an open trade goes into drawdown, the adviser begins to work in the search for opening a hedging trade.
The list of settings and features:
Set 1: USD/JPY, EUR/AUD, EUR/JPY, AUD/USD, EUR/NZD, NZD/JPY, NZD/USD, and GBP/JPY.
Set 2: GBP/USD, CHF/JPY, EUR/CHF, GBP/CAD, USD/CHF, AUD/CHF, GBP/AUD, and AUD/CAD.
Set 3: EUR/USD, AUD/JPY, CAD/JPY, NZD/CHF, USD/CAD, EUR/CAD, CAD/CHF, and GBP/CHF.
H1 time frame trading
Set 2 and Set 3 we can receive only if we satisfied with trading Set 1 currency pairs on the real account.
"I will not provide additional kits if you have not tested EA well enough and/or you are not satisfied with the trading results," they said. It's very strange for a $1250 price not to share all robot features.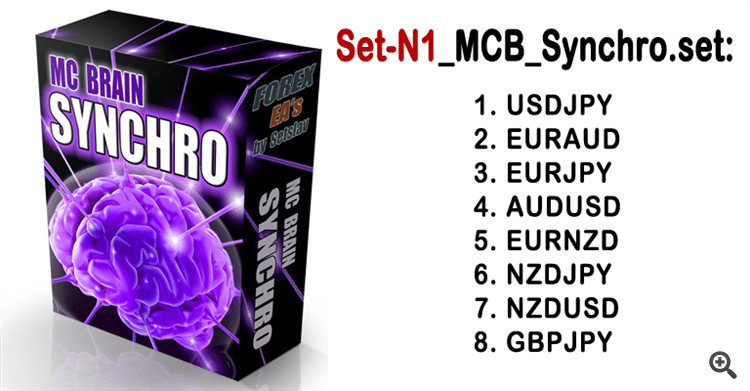 The dev explained how to install all sets. Let's take a look at the Set 1. To trade 8 symbols, we have to download the .set file and attach the robot to just one currency pair: USD/JPY at the H1 time frame. That's all.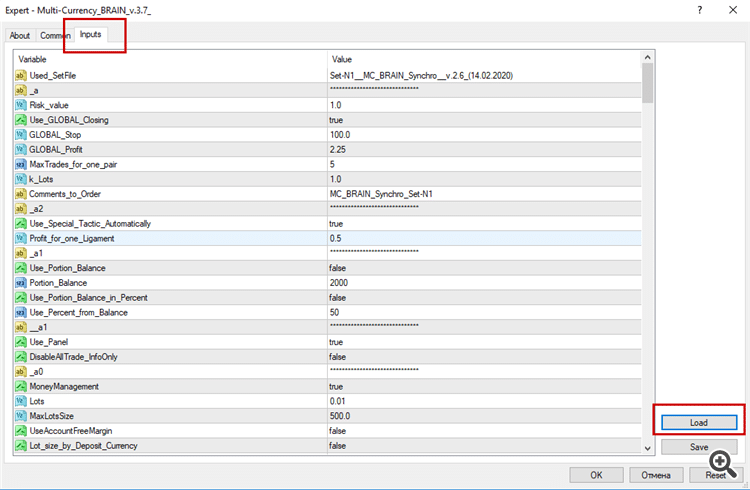 It's a screenshot of how the .set file should be loaded.
Backtests
The product is allowed to free download for backtesting.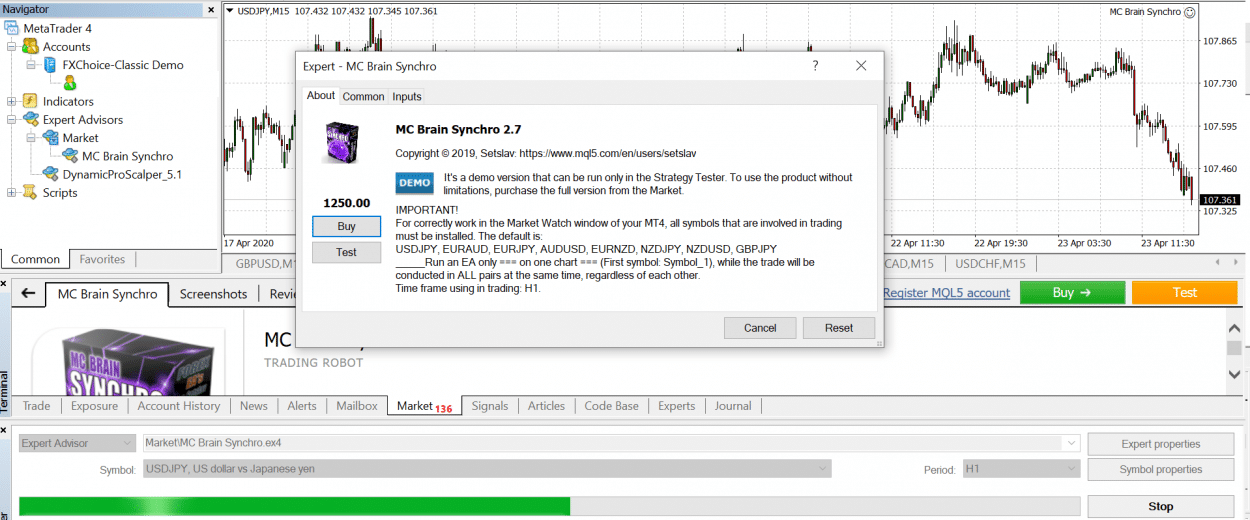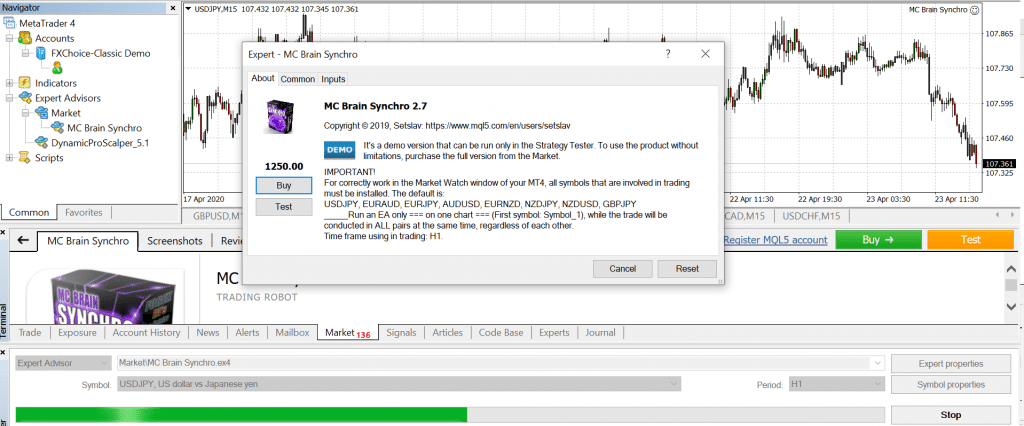 After installation and setting it up, we can perform backtest on our own.


It's the official backtest of the .set file.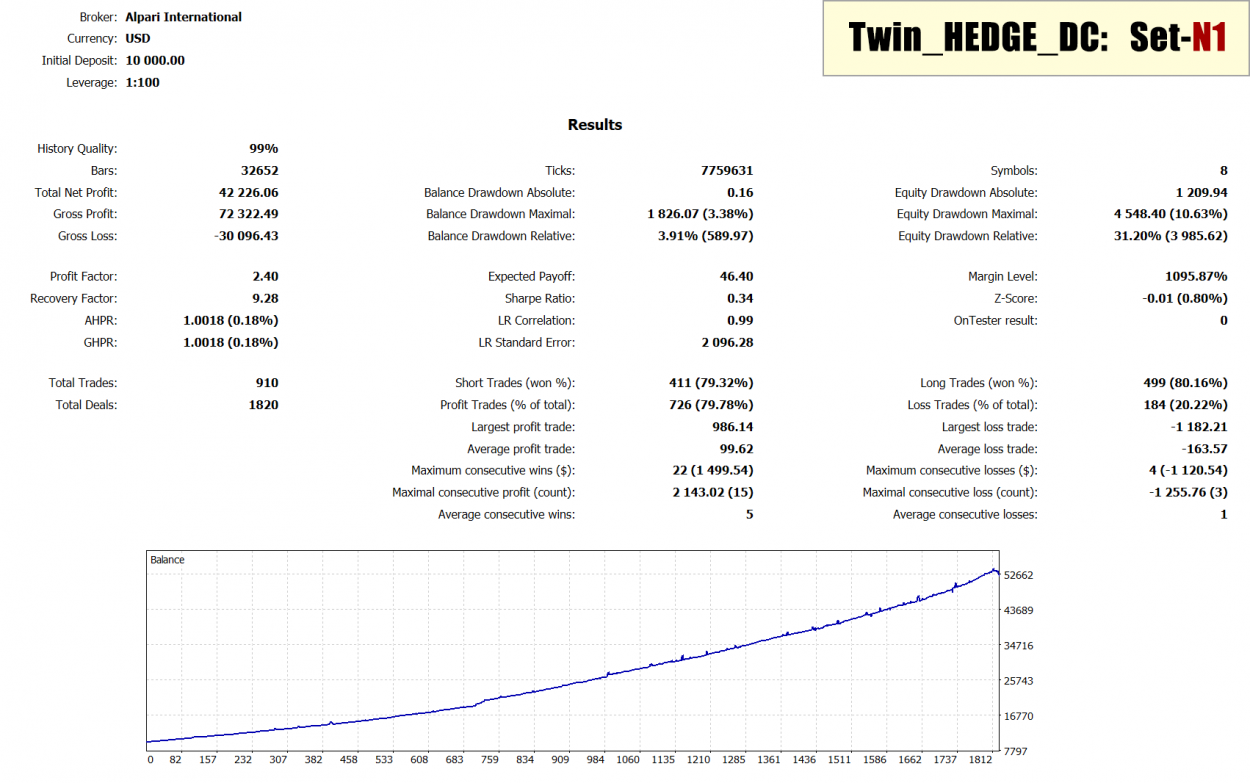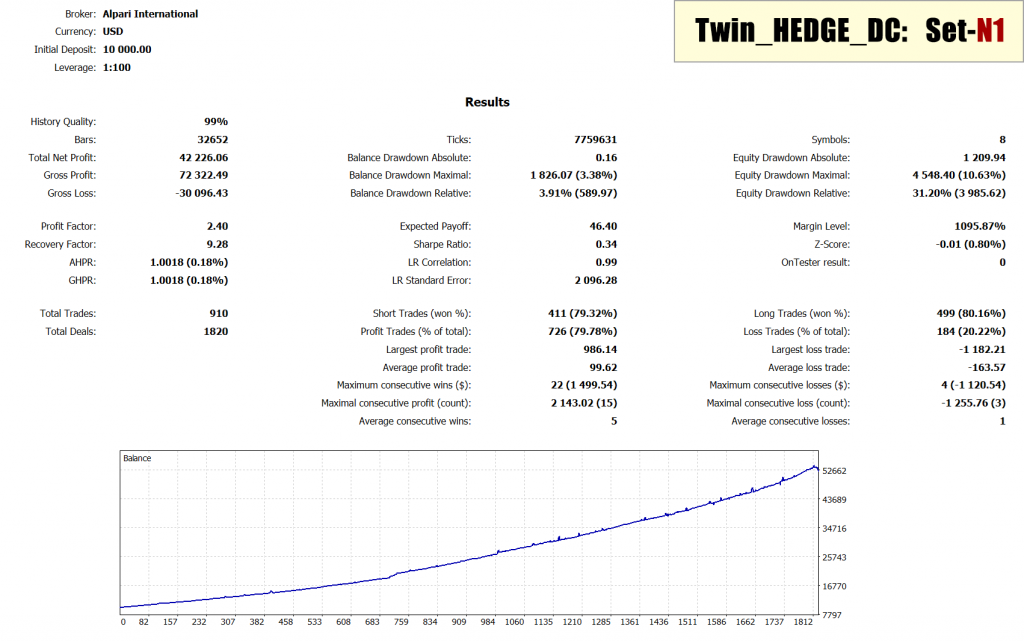 So, we've got backtested 8 currency pairs. The initial deposit was $10000. The total net profit was $42226. The win-rate was 79.32-80.16%. The max drawdown was 10.63%.


Our backtest (January 2018 – April 2020) showed different results.

Trading results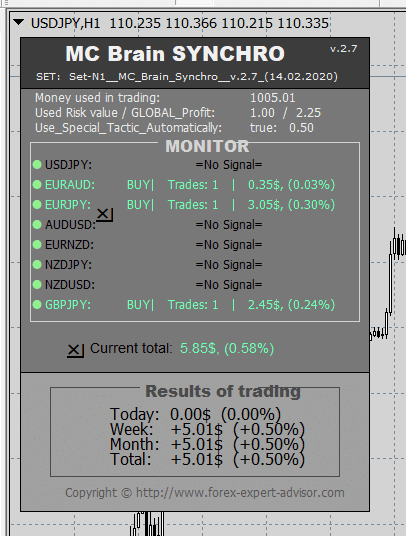 The dev provide a screenshot of trading results. During the first week, the robot grew at +0.5% to the account balance with 1% risks, having traded EUR/UAD, EUR/JPY, and GBP/JPY symbols.
As you can see, out of 4 ligaments of 3 deals have already been opened, and deals are single, not paired:
1. Of Ligament_1 (USDJPY + EURAUD) deal open only by EURAUD.
2. Of Ligament_2 (EURJPY + AUDUSD) deal open only by EURJPY.
3. Of Ligament_4 (NZDUSD + GBPJPY), the transaction is only open by GBPJPY.
Pricing
The first price has been $5000. Nowadays one is $1250. For this money, we'll be allowed to trade Set 1 currency pairs. The dev told nothing about the refund policy, updates, and support. The robot has been activated at 20 accounts, according to the MQL5 data that we may see through MT4.
How good this hedging robot is?
Pros
It's a hedging robot
Well-explained strategy
Well-explained settings
Well-designed user manual
Allowed to backtest for free
8 currency pair in every of three .set files.
The low requirement to the minimum deposit
Cons
No 3rd-party verified trading results
High price
No refund policy
Nothing has been told about support

It's a very expensive hedging robot. We don't know how good it is. We just saw that there are 9 positive reviews from 20 activations. So, it can mean the robot is good. The price shows that it not for the average trader.