About
Forex Signal Factory is a free signal providing service available at www.signalfactory.com. The trading signals are provided through three different channels: Telegram, Facebook, and Twitter. According to the website they claim that they are serving over 45 000 traders. The service was founded back in 2009 and since then it has been in business.
They promote themselves as a bridge between professional Forex and retail traders that are searching for prompt and professional trading signals. Their signals can be delivered directly to the trading platform. All providers are trading live accounts with their own money so they are motivated to provide the best signals and low-risk trades. However, they never mention who their signal providers are, and also they do not have many reviews.
Forex Signal Factory does not say where are they headquartered as they do not have any contact information. On their Facebook page, I have found a contact number and it reveals that the service is based in the UK. They do not provide customer support. Their website looks professional at the first glace, however, a deeper examination reveals that a lot of information is missing. I like the fact that as free service their website is completely ad-free.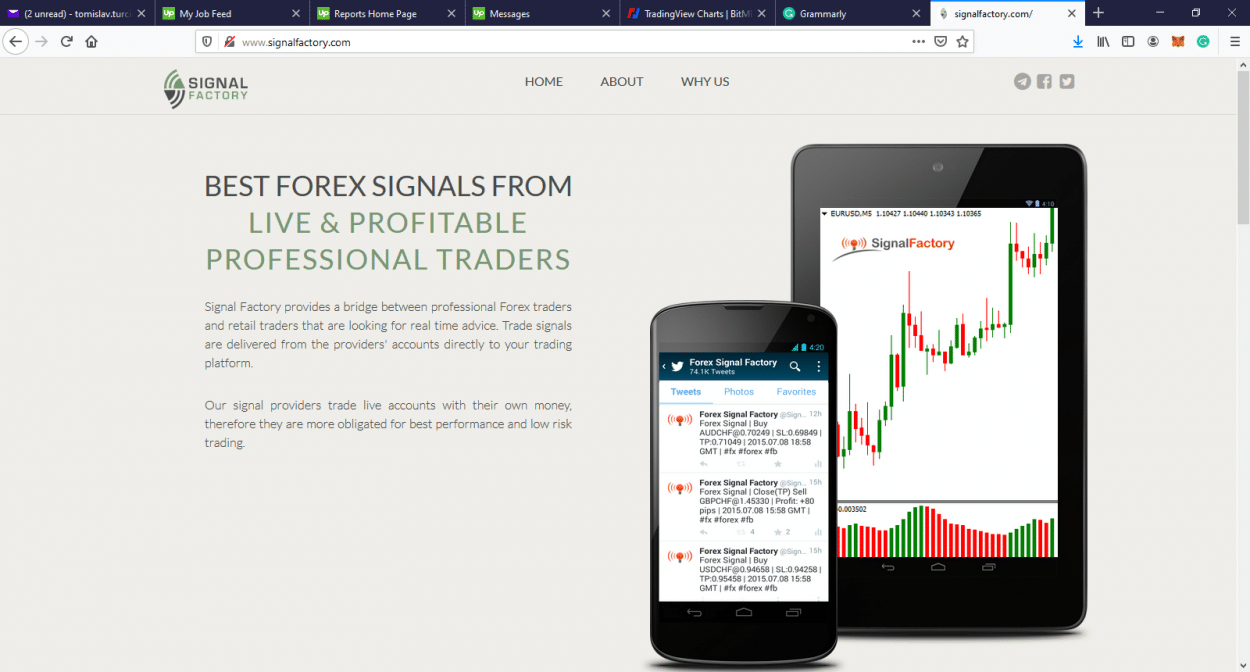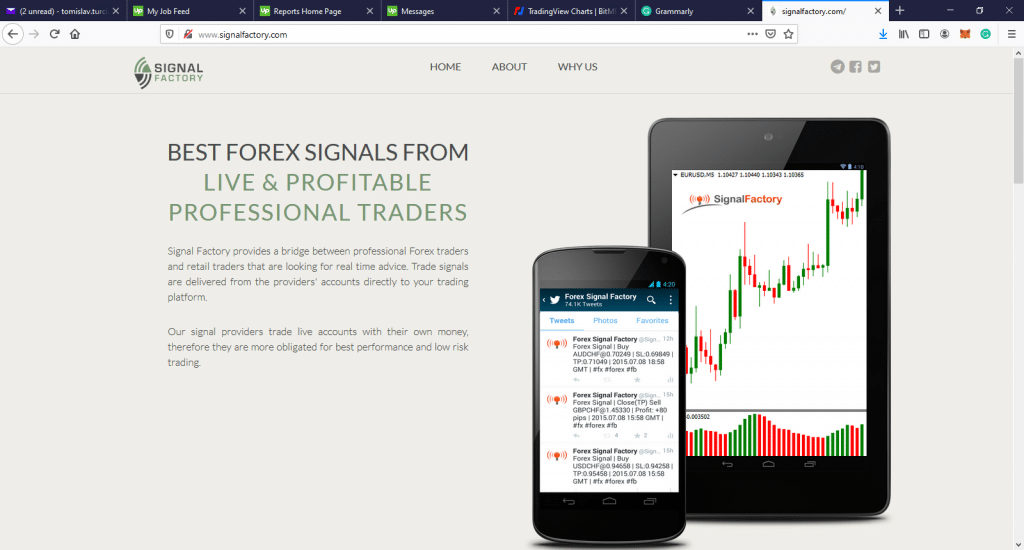 Trading strategy and results
The signal provider claims that it has 45 000 users. This number is impossible to verify but since their telegram channel has 1328 members, Facebook page 14.1k like and Twitter account 96.3k followers claimed number should be correct. On contrary to other Forex signals providing services this one free. I have checked their website and I have found no money grab, no upsell, no money request, or anything similar. Moreover, unlike many Forex signals providing services, especially those that are free, they did not force you to use any specific broker.
Forex Signal Factory does not provide results on its website. They do not have the signal providing account connected to online trading history analyzing services like MyFxBook or FX Blue. Well, it is a huge miss and for that reason, I cannot say anything about the quality of their signals and whether they would help you to trade profitably. They do provide the list of the trades on portfolio.signalfactory.com with the reasoning behind the trade. However, I cannot say whether all their trades are listed here or just the best ones. On their Tweeter account, you can see their past trade entries.
The service does not tell you anything about the trading strategy they use. I have examined the available data on social media and portfolio site and I have noticed that they are trading all Forex pairs, commodities, and indices. They are providing between 10 to 20 signals per day. The time of the signal varies they issue it when it occurs and you may use it if you can catch it. I have also noticed that the do not manage the open trades. When they issue a signal they set stop loss and take profit levels and wait for either of those two to be hit. Also, I have noticed that for all forex pairs they put stop loss level 40 pips away from the entry price and target on 80 pips gain. This fact raises big doubt about the quality of their signals since they are ignoring the volatility of the market strong support and resistance levels and volatility of the trading instruments. You cannot simply put the stop loss and take profit on the same levels all the time.

Verdict
So, the advantage of Forex Signal Factory service is its price, actually the fact that it is completely free (no hidden costs) and for that reason, you may consider using it. The quality of the signals is suspicious since that the do not provide any track history. They trade all forex pairs, commodities, and indices using an unknown strategy. They provide tens of signals a day. It is very awkward that they are always putting stop loss and take profit on the same distance from the entry price for all forex pairs. On the other hand, their social media account have a huge following, they have a large user community, and they have been in business for more than 10 years. Frankly speaking, if you need a Forex signal provider stay away from this service and look somewhere else.

Would you like to try out trading with an Expert Advisor?
Learn more about the best forex robots.