Is FxDiverse a viable option?
The robot has been introduced as a very flexible system. It's enhanced by a risk management system and allows to trade from 3 to 28 currency pairs. Previous trading experience doesn't require to run this EA.
Would you like to try out trading with an Expert Advisor?
The FxDiverse robot is a cutting edge adviser that is completely flexible and can fit any requirements of yours. You can choose the kind of prefer trading, how often you'd like to trade, expected profitability, and such setting as currency pairs to trade and a risk level.
Fx Diverse introduced as a robot with proven profitability and stability, allowing to set profit expectations, can work with from 3 to 28 currency pairs, and provide a knowledge-free start.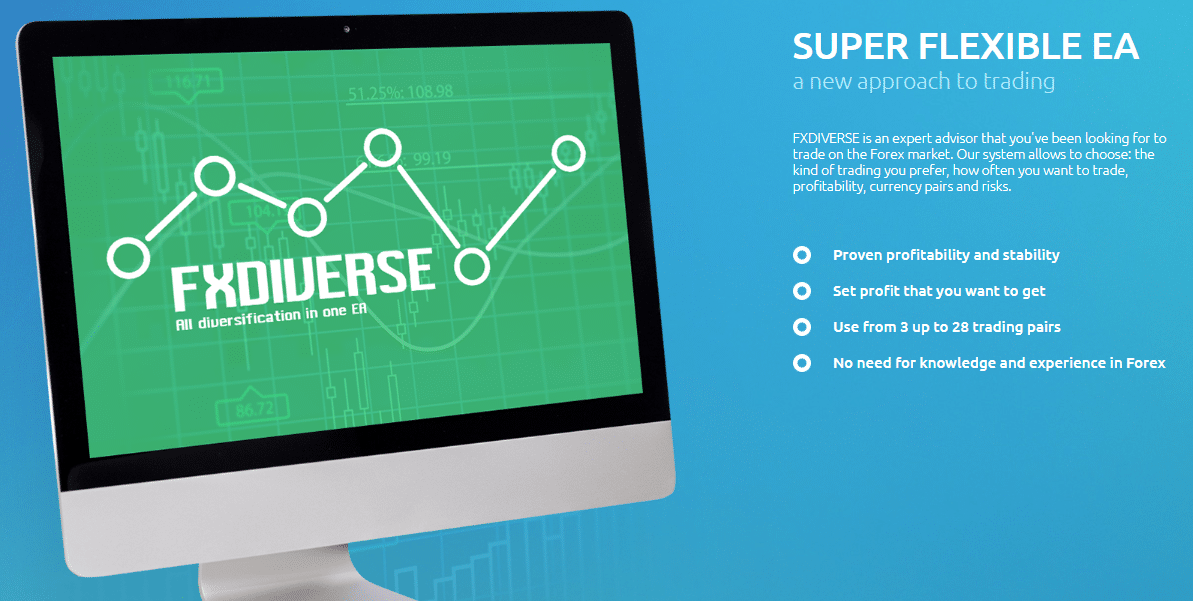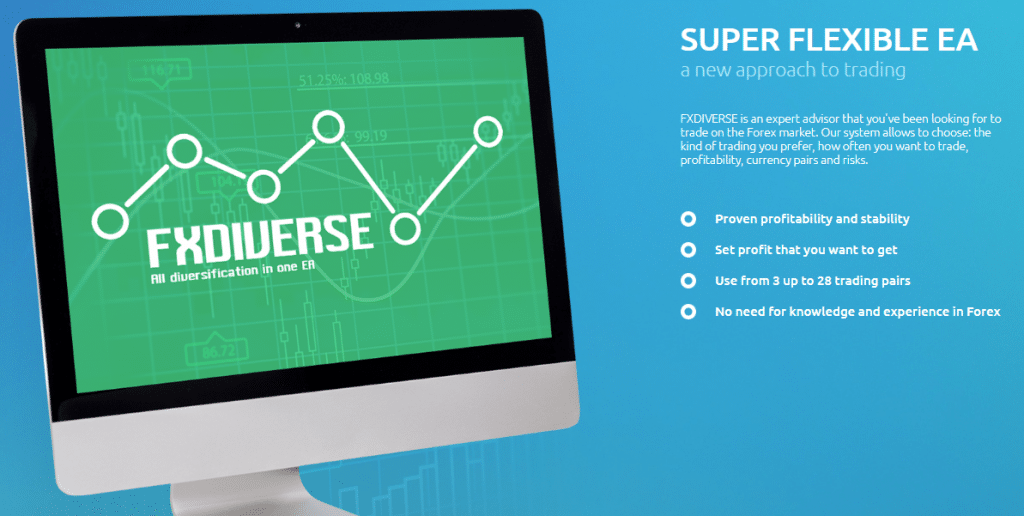 The presentation short and simple. The next block is the official myfxbook account.
FXDIVERSE is not sensitive to requotes, spreads and swaps, so it allows you to trade with any broker that you prefer, devs said.
The Set profit settings allow deciding what amount of profit you want to get from every deal in money or in %.
Real trading results from myfxbook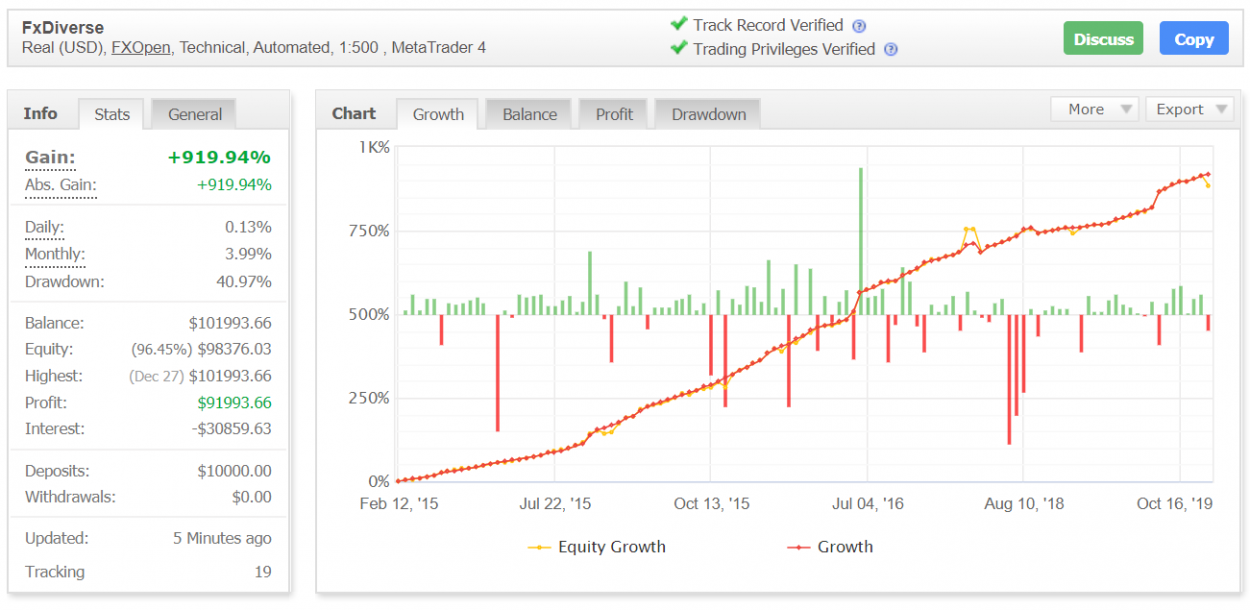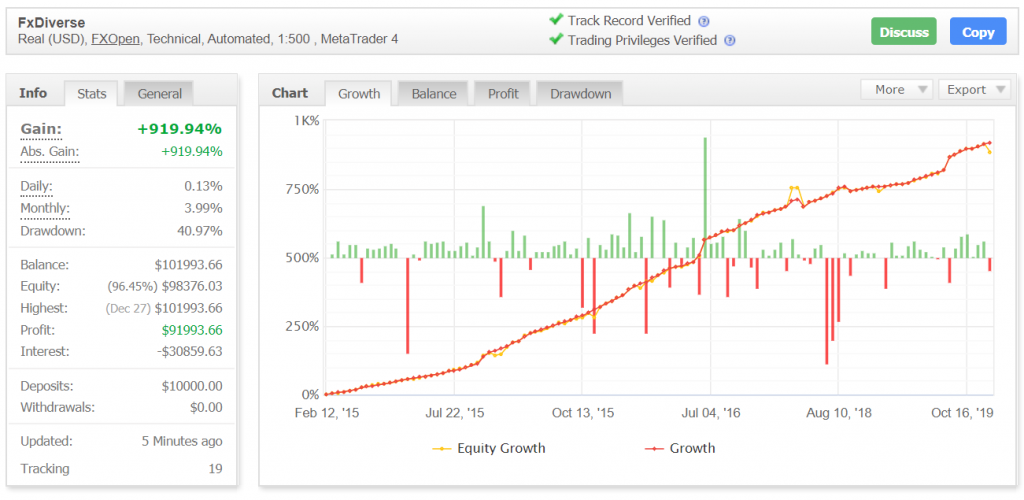 We've got one of the oldest account across the robot sellers. The robot has been deployed February 2015 (!). The account has been funded for $10000 instead of the average $1000. The robot uses services of the FXOpen brokerage company, runs with 1:500 leverage on the MetaTrader 4. The average monthly gain is 4% with huge drawdowns (41%).


The robot provides mediocre win-rate (54% for shorts and 58% for longs). Totally, there have been traded 1928 trades with almost 10000 pips. The average win ($397) equals the average loss (-$401). It means stop-loss and take-profit are so far from being in good shape. The average trade length is so large and equals 18 days. The profit factor is quite low (1.27).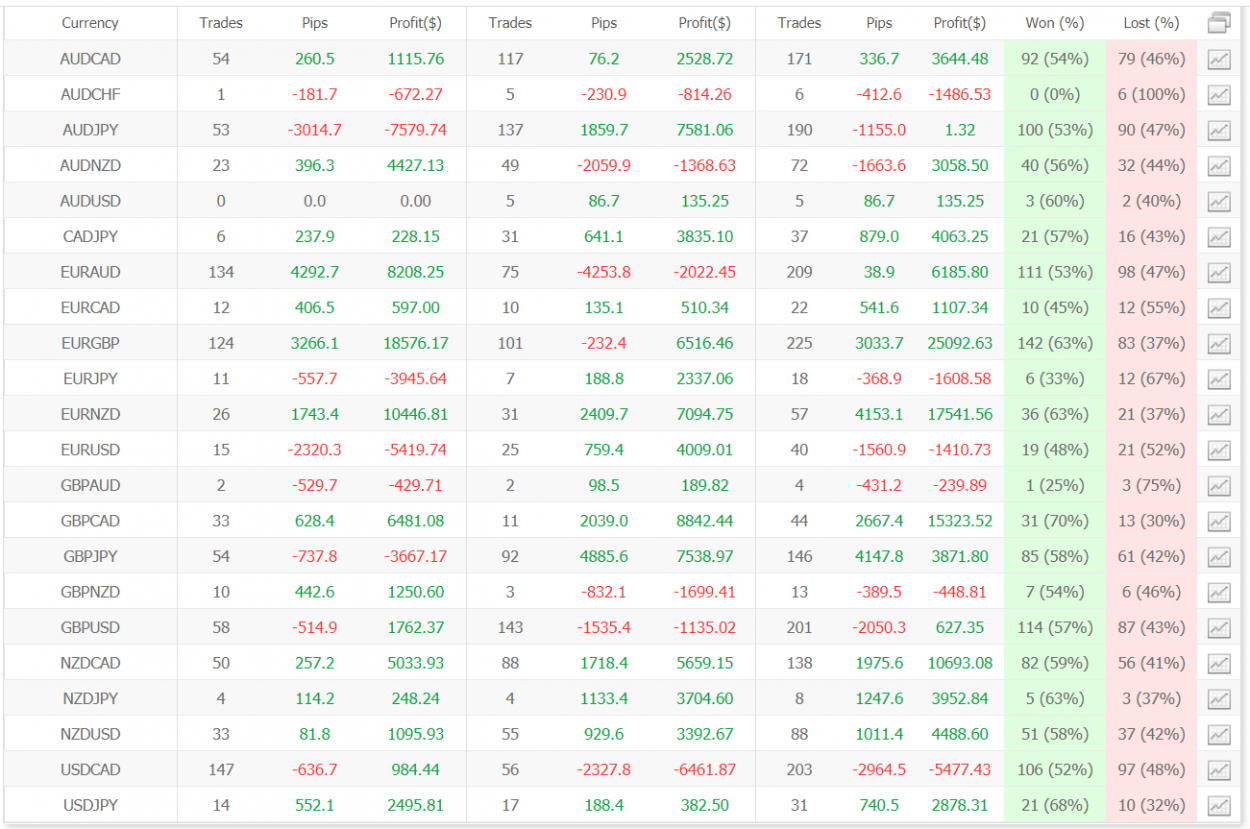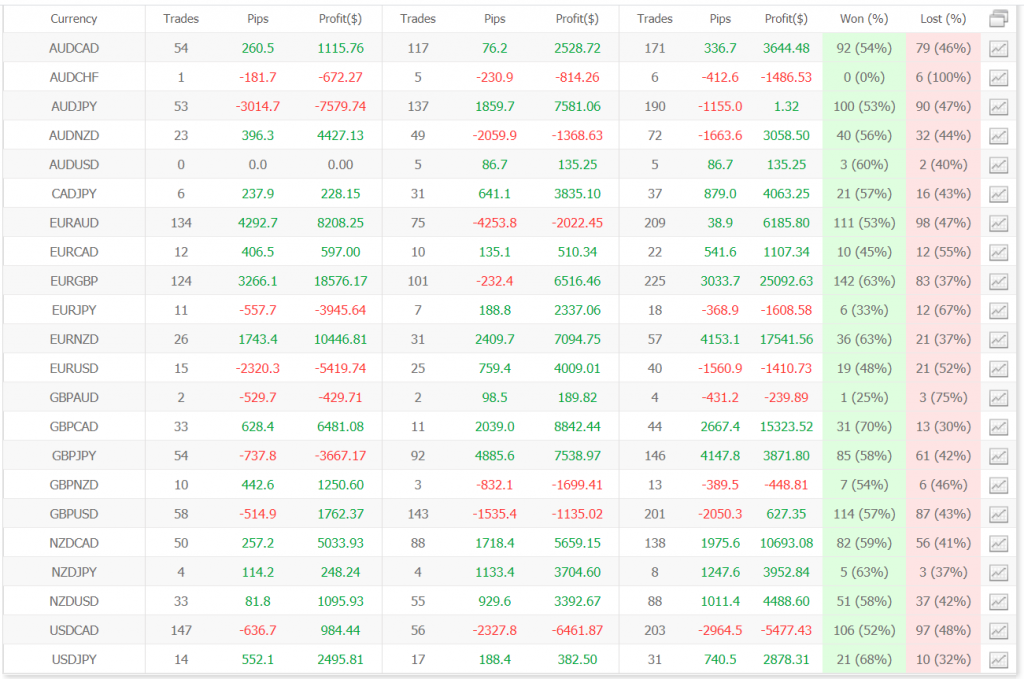 FxDiverse works with almost all available trading pairs. The best results have been shown on these CAD/JPY, EUR/GBP, EUR/NZD, GBP/CAD, CBP/JPY, NZD/CAD. The worst ones were AUD/NZD, EUR/USD, GBP/USD, USD/CAD. So we can notice that the robot can't trade successfully the main trading pairs: EUR/USD (-$1560), GBP/USD (-$2050).

The robot trades with a very high risk of ruin.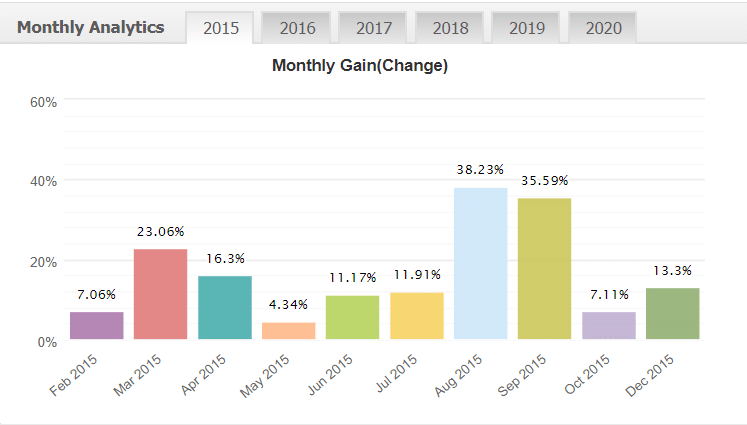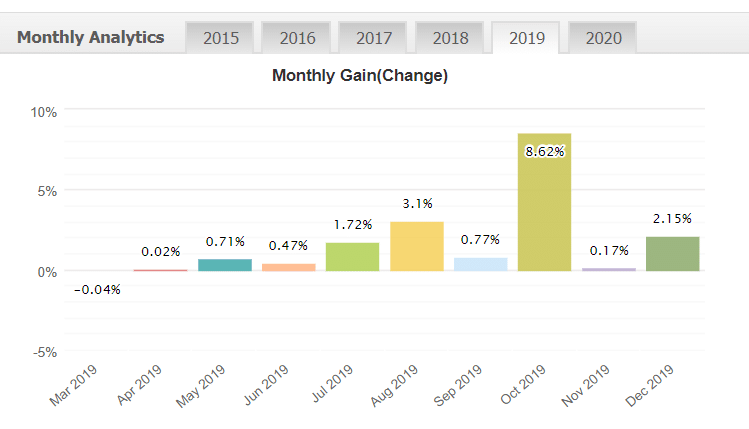 How you can see, the robot trades vary in 2015 and 2019.
What's the price?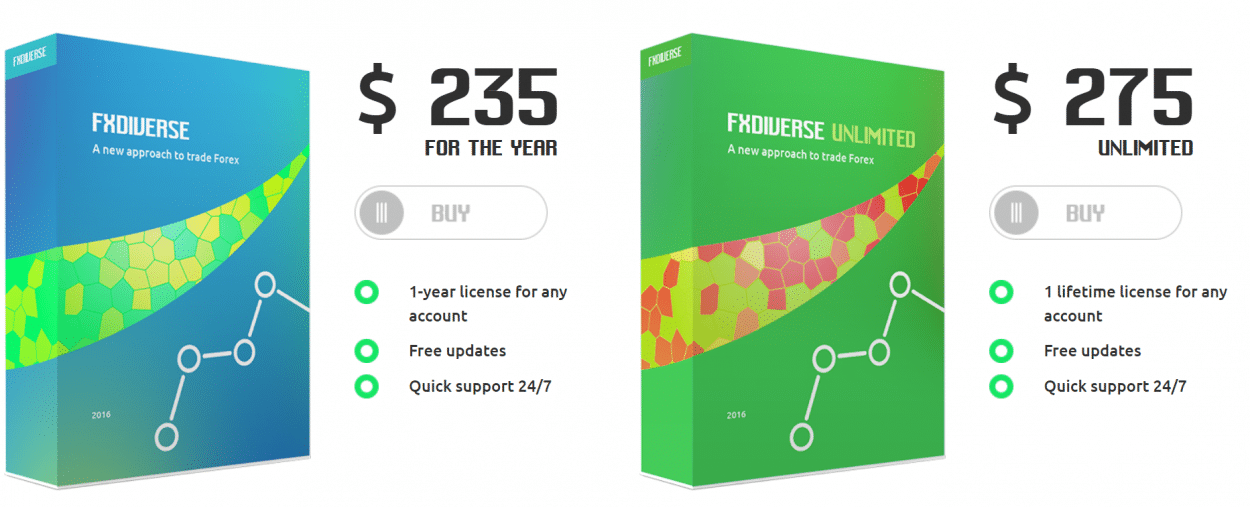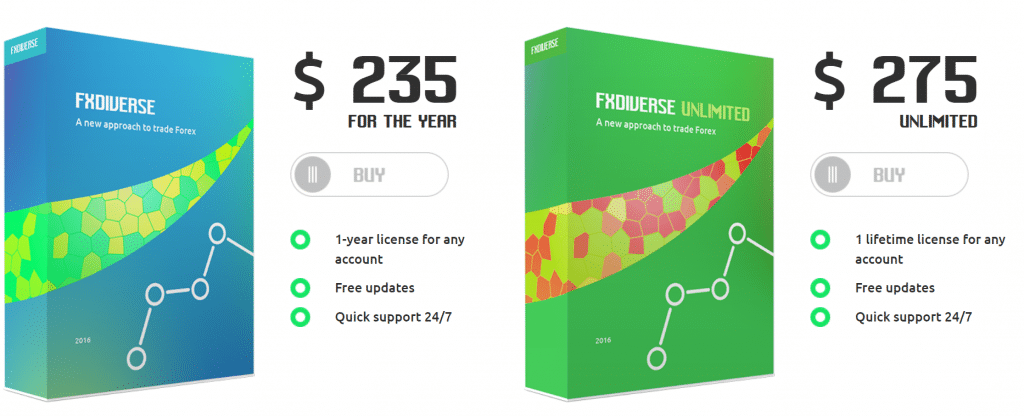 The main package costs $235 and includes a 1-year license for an account, for $275 we'll get a 1-lifetime license. The seller provides the 30-day money-back guarantee.
Summing up
Advantages
Good profitability in 2015-2016
Proven trading results
30-day money-back guarantee
Disadvantages
Horrible profitability on the main currency pairs EUR/USD (-$1560), GBP/USD (-$2050)
Wery weak monthly gain with the overwhelming high risk of ruin
Very high drawdowns
Little currency pairs are traded well
No trades performed in 2020
No backtest are provided
No strategy explanations are provided
Very high price comparing to results
Very low profitability in 2019
Very low win-rate
Stop-loss and take-profit features don't work properly

It's a great robot to avoid. Yes. You've read correctly. It's been kinda good robot a lot of time ago. Now, the robot is a scam and very dangerous program to run on the real account. The robot can't trade well EUR/USD and GBP/USD the most common pairs. The devs expect that people won't want to work with them, right? They knew the problem and don't provide free updates with solving it. So, they don't care about you and your money why should you care about them?

Would you like to try out trading with an Expert Advisor?