Red Hawk is a Forex EA that works on the Metatrader 4 and 5 trading platforms. As per vendor claims, this EA has been built based on the track record of several months where it generated stable profits while keeping the drawdown low. It is a fully automated trading system that is extremely simple to set up and that can trade using variable risk settings.
On the MQL5 page of Red Hawk, the vendor has explained how the system works and what settings it uses for placing trades. We can see the links to the live trading results, the recommended broker, and the recommended VPS. The vendor has also explained how the risk can be set on this robot and has provided us with some backtesting data as well.
Red Hawk has been developed by Wim Schrynmakers, a trader based in Malta who works for Profalgo Limited. From his MQL5 profile, we can see that he has in the past developed systems like Gecko, Grid King, Night Owl, AutoGenEA, Momentum EA, etc.
Features
Red Hawk trades during times when the market is quiet, using a mean reversion strategy. Currently, it runs on 9 different pairs, namely USD/CAD, EUR/AUD, AUD/JPY, AUD/CAD, EUR/GBP, EUR/CHF, USD/CHF, GBP/USD, and EUR/USD. The vendor recommends running this robot during the M5 timeframe.
Since the strategy demands swift execution and low spread, it is advisable that you use a decent ECN broker. It is mentioned that Red Hawk does not use risky strategies like Martingale and Grid, but we don't have sufficient information regarding the actual trading strategy. The vendor could have explained how the mean reversion strategy is used by the system since it would certainly have been appreciated by some of the more technically inclined traders.
How to Start Trading With Red Hawk
Red Hawk is available for $349, which is not very cheap in comparison to other Forex EAs on the market. You can rent the robot for 1 month at $110, for 3 months at $199, and for a year at $249. A free demo version of the system is available if you wish to test it prior to live trading. The vendor does not offer a money-back guarantee for this product.
This robot uses a take profit and a stop loss with every trade. In order to maximize the profits and minimize the risks, the system implements multiple trailing stop loss techniques. It has several in-built filters that cause it to cease trading when the market conditions are not favorable. As per vendor recommendation, you should not run this system on days when major global events are scheduled to take place.
No set files are needed for running this system since the settings for the optimized pair are already programmed into it. The GMT offset may need to be changed by the user, in case the broker has a different requirement. We also have the option of changing the fixed lot size of 0.01.
Backtests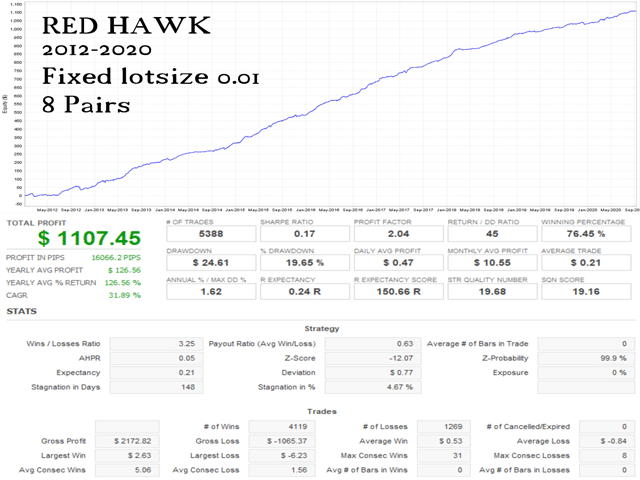 Here we can see the backtesting data for 8 pairs conducted over 2012-2020 with a fixed lot size of 0.01. A total profit of $1107.45 was generated during this period, with the win percentage being 76.45%. While the drawdown was quite moderate at 19.65%, the profit factor was above 2 (2.04), which tells us that the system manages to extract profits from most trades.
Verified Trading Results of Red Hawk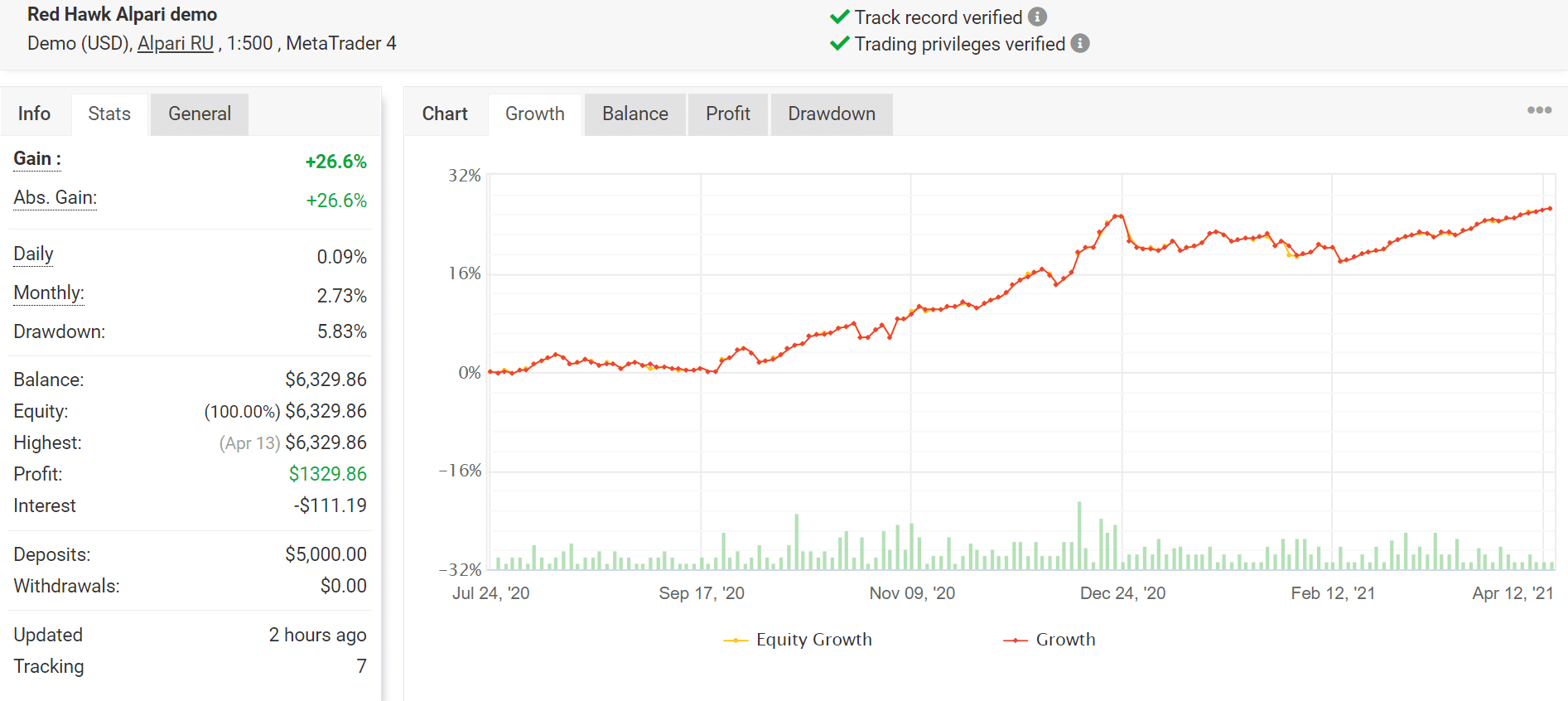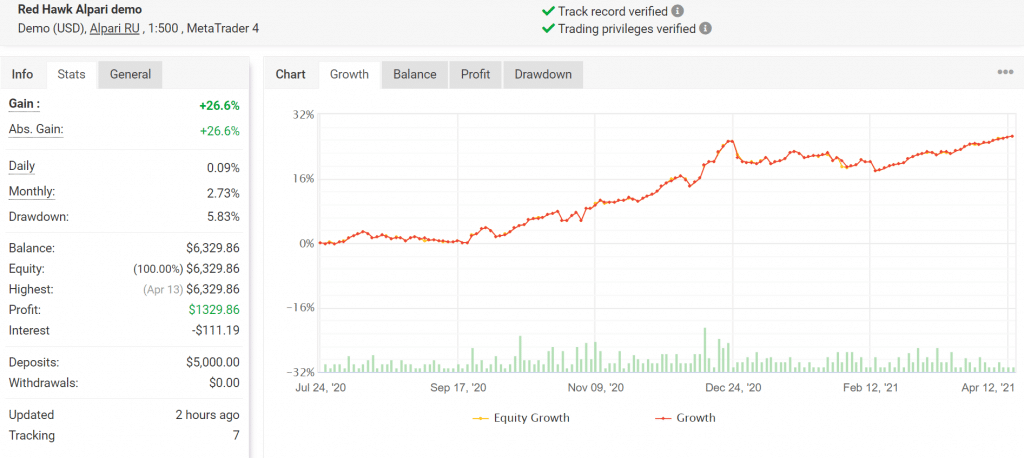 This is a demo account for Red Hawk that was launched on 24th July 2020. Currently, the net profit generated through this account stands at $1329.86. The daily and monthly gains are 0.09% and 2.73% respectively, while the drawdown is incredibly low at 5.83.
Out of 378 trades placed to date, the system has won 271, which means it has a win rate of 72%. The average win is 6.12 pips/$14.89, while the average loss is -8.47 pips/-$25.28. It has a profit factor of 1.49, which is less than what we saw in the backtest, but still pretty decent.
Customer Reviews
There are no customer reviews for Red Hawk on the web, and this tells us that the Forex robot hasn't got much of a reputation as of now. Since it has been released quite recently and has only been trading for a few months, it might take some time before people get to know about it.
Is Red Hawk a Viable Option?
Advantages
Verified live trading results
Trades in 9 pairs
Low drawdown
Disadvantages
Lack of strategy insight
Short trading history
Conclusion
In the end, we would like to say that Red Hawk is a legitimate Forex EA capable of earning real profits. Both the live trading and backtesting results are satisfactory and show consistent profits being made. If there is any cause for complaint, it is that the trading strategy has not been explained clearly by the vendor.
Would you like to try out trading with an Expert Advisor?
Learn more about the best forex robots.