Sierra Chart and NinjaTrader are some of the oldest providers of online trading software with decades of experience in a range of financial markets, from futures to currencies.
Would you like to try out trading with an Expert Advisor?
Yet, have you wondered how both of these platforms compare; is one unequivocally better than the other? This article will be a brief comparative review of Sierra Chart and NinjaTrader and what we believe is the better option.
What is Sierra Chart?
Sierra Chart is a globally-renowned trading software package for futures, currencies, stocks, indices, and options. The developers behind the program established Sierra in 1996.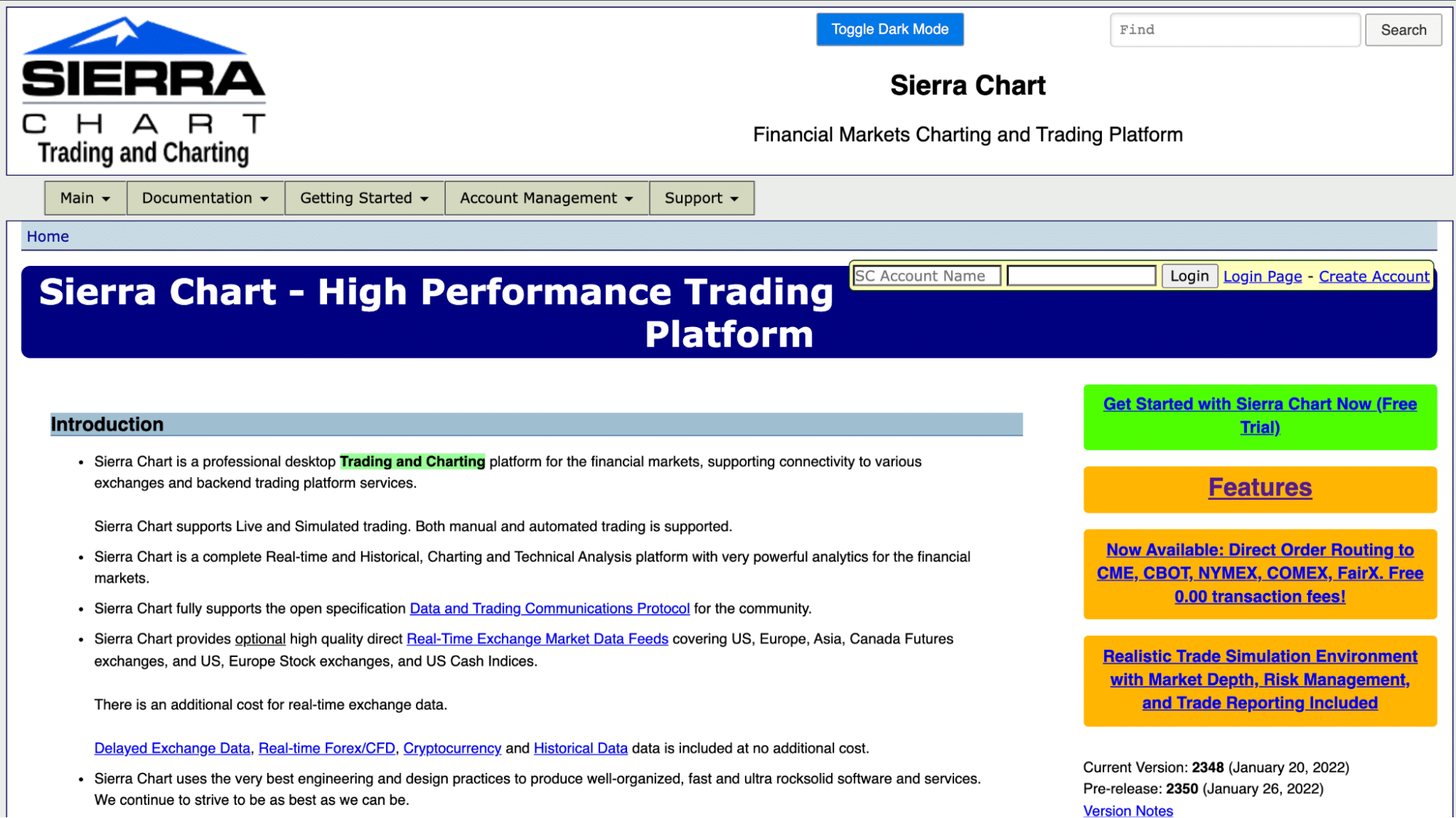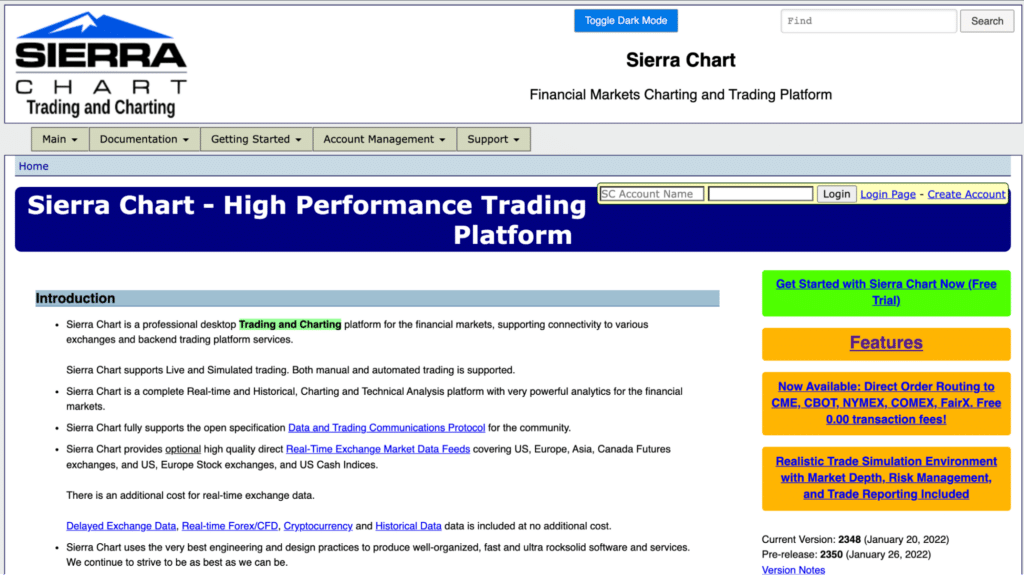 Aside from facilitating well-engineered front and back-end trading infrastructure, Sierra Chart also routes data services from numerous exchanges to its charting software.
The platform supports live, demo, and automated trading with powerful real-time and historical analytics. Sierra can be integrated with a host of brokers in the online trading niche.
Package-wise, new clients can get a 15-day trial with access to all of Sierra's trading services. However, those marked as 'external supported service' aren't available in the free trial.
Their paid plans range from $26 to $56 monthly (or $124.8 to $268.8 every six months), depending on the number of additional features.
What is NinjaTrader?
Unlike Sierra Chart, NinjaTrader is both a platform and a futures brokerage regulated by the National Futures Association. NinjaTrader Group, the software developers behind NinjaTrader, founded this project in 2003.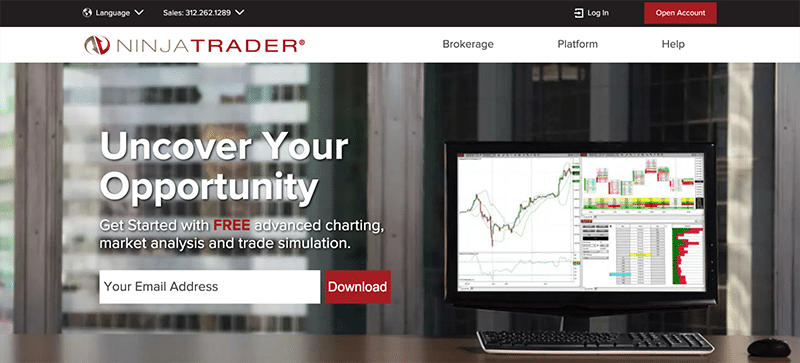 This state-of-the-art charting platform natively supports forex and futures. However, as NinjaTrader is integrated with other financial services providers (TD Ameritrade, FXCM, CQG, Forex.com, Oanda, Interactive Brokers, and City Index), you can access many more instruments.
NinjaTrader is free to use whether trading through its own brokerage or others. However, users must purchase three-month, six-month, or yearly subscriptions for premium features like enhanced depth of market, VWAP, volume profile indicators, etc.
Alternatively, one can buy a one-time lifetime license for $1099.
Advantages of Sierra Chart vs. NinjaTrader
The main two advantages here are the wider broker access and the technical superiority. Consider the points below.
Wider broker access: NinjaTrader is integrated with six brokers. However, according to Sierra Chart's website, 22 brokers support their software. 
Yet, many of the companies partnered with Sierra are lesser-known names in the industry than Oanda and Forex.com partnered with NinjaTrader.
Technical superiority: Sierra Chart and NinjaTrader are highly sophisticated trading software packages. Yet, based on viewing tens of user reviews, the consensus suggests Sierra has the upper hand on features and an intuitive user interface.
This might explain why Sierra is more expensive and insists on having a computer with better specs. However, it's worth mentioning that it's hard to objectively determine which software is better features-wise as it all depends on your experience level and needs.
Advantages of NinjaTrader over Sierra Chart
Overall, we believe NinjaTrader offers more significant advantages over Sierra Chart: much more cost-effective, no trial period, flexible broker integration, and more welcoming computer requirements.
Sierra Chart does fall short in all these key areas.
Cost: One of the biggest benefits is that NinjaTrader is cheaper than Sierra in the long run. Sierra only provides monthly and semi-annual plans for their special features. 
This is because the developers believe as the software is updated over time, the costs would need to increase accordingly. On the other hand, NinjaTrader is a lot more flexible in this regard.
You can pay monthly, quarterly, semi-annually, or annually. Despite being expensive initially, the one-time $1099 lifetime lease works out much cheaper over time. This is perhaps an amount worth paying if users intend on using NinjaTrader for years.
No trial period: This aspect extends from the previous point. You can use NinjaTrader without cost indefinitely (assuming you don't need the special features). 
Sadly, Sierra is only free for 15 days; further free usage has to be requested and is provided under certain conditions.
Flexible broker integration: Unlike Sierra Chart, NinjaTrader also provides brokerage services directly (albeit only for futures). Therefore, it would be more convenient for futures traders to have their platform and broker under one roof.
Alternatively, users can access more markets from the other brokers partnered with NinjaTrader.
Welcoming computer requirements: The latest version of Sierra Chart only works with 64-bit operating systems. On the other hand, the newest version of NinjaTrader functions with both 32-bit and 64-bit PCs.
Trading automation and backtesting with Sierra Chart vs. NinjaTrader
Sierra Chart and NinjaTrader both allow for building automated strategies and backtesting capabilities. Let's start with the former.
NinjaTrader's programming language is the general-purpose C# for automated trading strategies. On the other hand, Sierra Chart uses its proprietary language called ACSIL (Advanced Custom Study Interface and Language), based on C++.
Programmers see C++ at a lower level of C compared to C#. In backtesting, both platforms are highly impressive for traders optimizing their strategies in live market conditions.
Each software provides intricate bar-based and replay functions in this regard. Yet, we feel NinjaTrader is more user-friendly in backtesting as you can use their demo account indefinitely without a fixed trial.
Costs and fees
Overall, NinjaTrader is probably the cheaper bet than Sierra Chart when considering platform costs. As already mentioned, Sierra Chart doesn't provide long-term plans for their software, making it more expensive to rent in the short term.
Contrastingly, NinjaTrader is far more accommodating.
Sierra Chart
NinjaTrader
Account minimum deposit
Varies according to the connected broker
$50 (forex); $400 (futures)
Platform costs
$26 to $56 monthly (or $124.8 to $268.8 semi-annually)
Free (but added monthly quarterly, semi-annual and annual leases for special features)
– $1099 lifetime lease
– $720 annually
– $425 semi-annually
– $225 quarterly
– $60 monthly
Trading costs
Varies according to the connected broker
Starts from $0.35 per micro contract; various spreads on forex
Deposit/withdrawal fees?
N/A
Yes, varies by method
Inactivity fee?
N/A
Yes, $25 every month
Summary
Our final verdict concludes that NinjaTrader is more user-friendly overall than Sierra, particularly on cost. The other massive benefit is no trial period exists with NinjaTrader, whereas it does with Sierra.
Sierra Chart may be more suitable for experienced traders looking for specific features not found elsewhere and can afford the relatively high rental costs. On the other hand, NinjaTrader seems more accommodating to both beginner and advanced traders.
Would you like to try out trading with an Expert Advisor?