About
Fore Signal is a free signal providing service with a unique concept in the niche. It is unknown where the service is based but their main server is located in Germany. It is providing their signals and listing current trading positions on the front page. Their goal is to create an interest in the website by providing the free signals and then to earn via advertising or by upgrading to the paid plan which includes the delivery of the signals to your email account. So, are their signals good? Can they help me?
It is important to know that the signals are also provided via Twitter, Facebook, and Blogspot. You can start following their Twitter account and you will not need to subscribe to the service. Their webpage does not provide us with lots of information and it does not look very professional. Well, a lot of important information is missing. We do not know who is delivering signals is it a professional trader, a group of traders, a forex robot, or just a forex enthusiast.
Fore Signal website runs under different names providing the same signals. These other online resources are take-profit.com and live-forex-signals.com. Since the service might not be convenient for forex beginners, there is a separate section on the website which explains how the signals should be used properly, how to enter the trade based on the signals, and how to set take profit and stop-loss levels.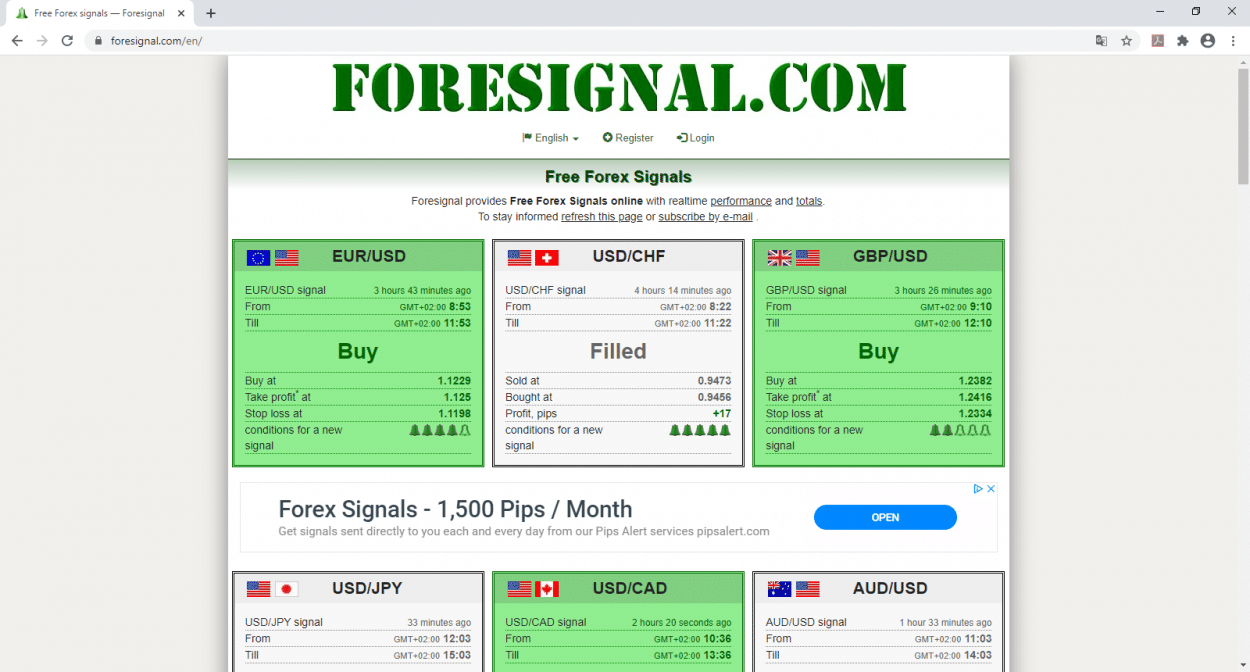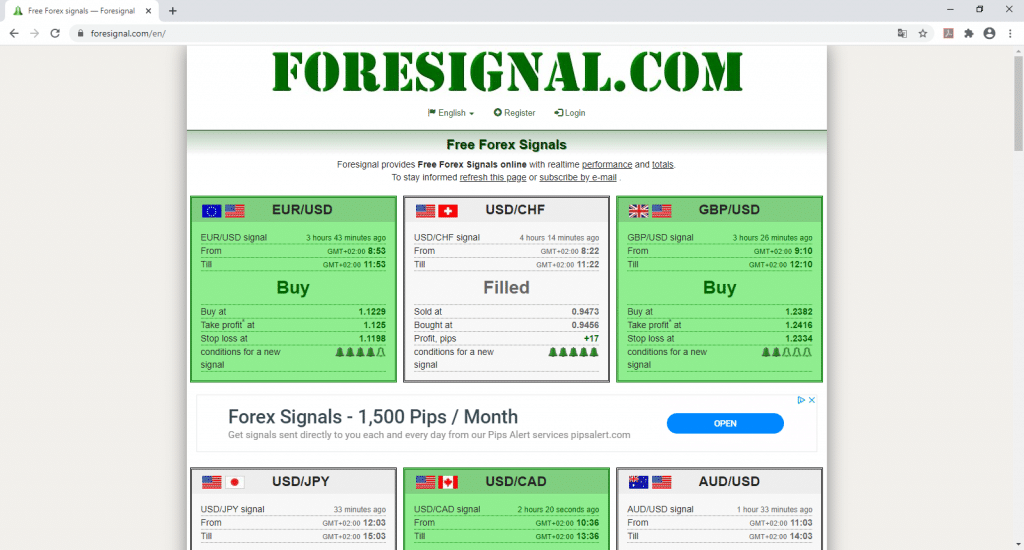 Pricing
Trading signals are available for free but the alerting system that is implemented as email notification service is available on a subscription basis. The price for a monthly subscription is $29, three months subscription costs $59 and six months option is available for $89.

Trading signals
Fore Signal provides trading signals for only nine forex pairs including EURUSD, USDJPY, GBPUSD, USDCHF, AUDUSD, USDCAD, NZDUSD, EURJPY and GBPCHF. It is unknown what trading strategy is used for generating the signals. We also do not know how the signals are frequent. For every signal, we can see the time when it was issued and the time till when it is valid. Every signal has its direction entry-level, take profit level, and stop-loss level. For the pairs that do not have an active trade at the moment information about the previous trade is displayed, its entry and exit price, and pip gain. Very interesting information for the pairs that do not have an active trade is the probability of the new trade.
The service does not provide a trusted track record that can be verified as it does not connect its trading account to the well-known account tracking services like MyFxBook or Fx Blue. They provide daily, monthly trading statistics. Also, you may see all previous trades grouped by pairs and by month. According to their records, they manage to trade profitable achieving respectable gains. The average monthly gain is between 3000 and 7000 pips. Since the service is free you can test the signals on a demo account to see if it works for you.
The service is available in six different languages including English, German, Russian, Italian, Spanish, and Portuguese. The supports available via email. The service has many reviews on the Forex Peace Army with an average grade of 1.9 stars, which is pretty low. There are many complaints about their past performance reliability, many reviews state that they have put the trades into their track record that they did not take. So their claimed trading performance cannot be taken into account. Also, there are complaints that the signals on a free membership appear a little bit later.

Verdict
So, Fore Signal is providing forex signals for 9 different pairs. Free membership allows you to get the signal via their platform but alert notification via email is available only as a paid option. The signals are also available through social media. It is unknown who is delivering the signals and what trading strategy is being used. They do not provide a verifiable track record and there are many complaints about their reliability. They do provide an unrealistic track record in their format. Their website is basic and it is lacking some important information. Therefore, for all the reasons stated I cannot recommend you using this service.