About
Pips Alert is a forex signal service and a trading community that was founded by two traders back in 2014. Since then, it has expanded its team to 15 professional traders. Their idea is to create a platform that is providing useful information that would improve a long-term trader's performance. It is also offering free education to community members. Today it counts 923 enrolled students and 2732 community members from 43 different countries. They claim that they have earned 50830 pips in 2018.
The service claims that their traders have years of experience in the forex market and that they have to pass a rigorous 9 months evaluation before being certified to send signals. They say that the signals are generated by the group of 15 traders that have in total 98 years of trading experience. Well, this sounds impressive, however, they did not mention or promote any trader name. They advertise as they are earning over 4,500 pips monthly. The signals are sent mostly during the London and New York session and can be sent directly to the MT4 platform.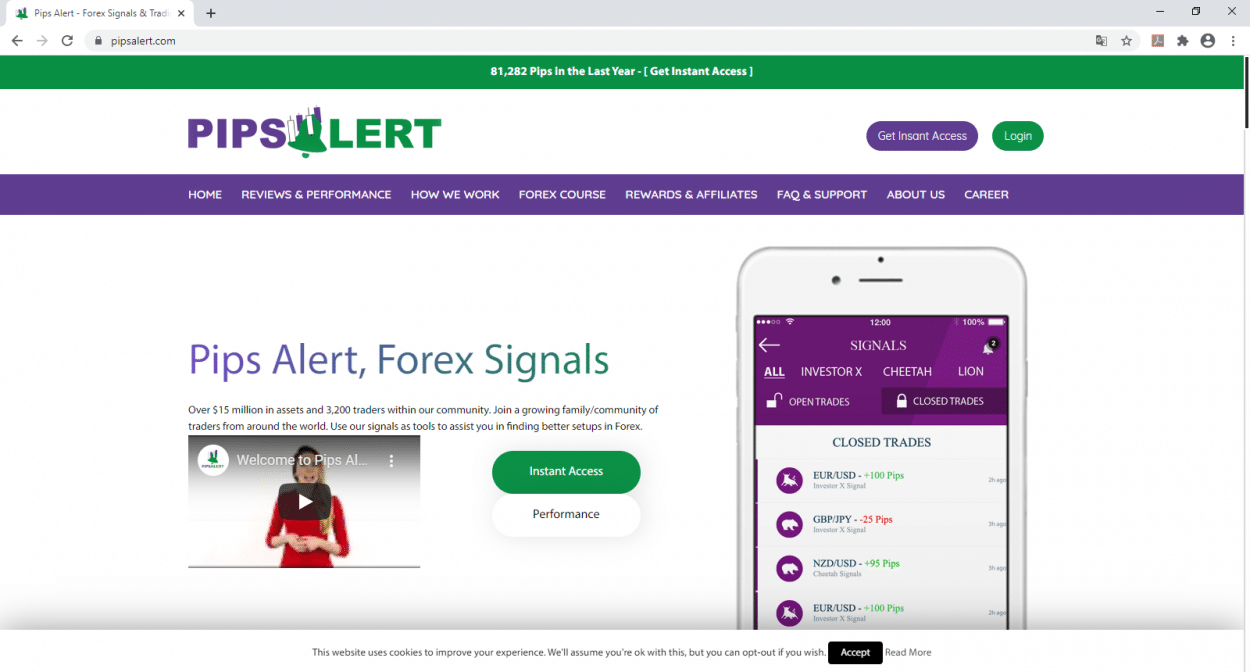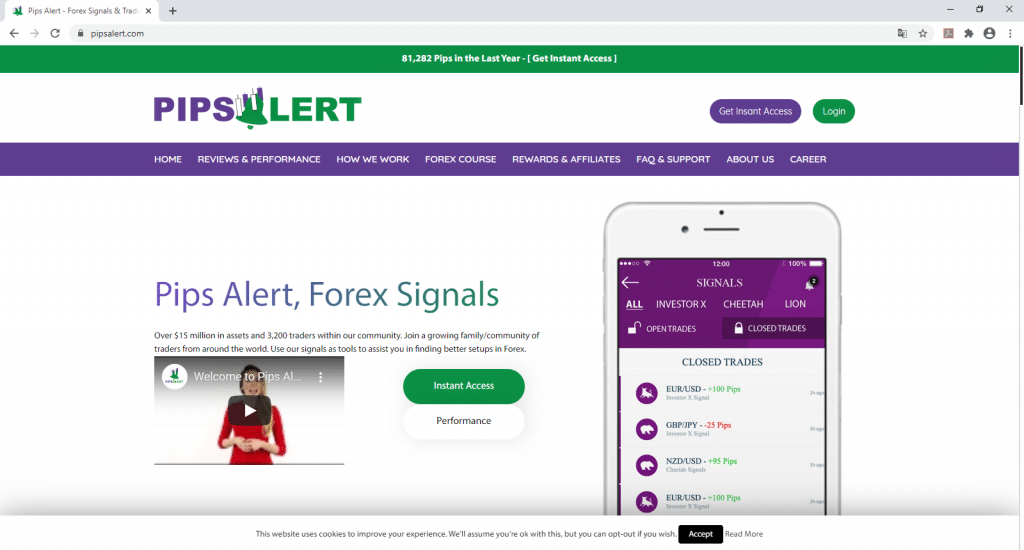 Pricing
Access to the community is available on a monthly subscription basis for $59.95. They are promising to send 15 to 20 signals per week. The signals sent by their groups of traders are targeting a monthly gain between 1500 and 3000 pips. The service offers a 14 day paid trial. They accept credit cards and PayPal.
Trading signals and education
All community members will get access to a free online trading course. It has over 450 minutes of video materials that will teach you about the foundations of forex trading including money management, market analysis, and trading psychology. In the introductory section, you will learn about forex basics, proper account management, and proper technics of practice and how to improve as a trader. In the trading strategy section, you will learn to use trading mechanisms that work. A lot of emphases is put on trading psychology as there is a separate section about the growth. There is also a separate section for scalpers where scalping strategies are being presented.
The service is not offering a complete insight into their past trading performance, so I cannot tell you anything about the quality of their signals. They are only listing some of their past trades in a rather unorganized way. They show the trading performance on their website, claiming that they have earned 15 000 pips in the past 5 months which is impressive. However, it is impossible to verify those claims since they do not have the trading account connected to the respectable online services like MyFxBook or Fx Blue. I have searched over MyFXBook and I did not found any connected account. Well, it raises doubts about their claimed performance. From the trades that are listed on their website, I can confirm that they are trading forex, commodities, and indices. Every signal comes with an entry price, stop loss, and take profit level. Nothing is said about the trading strategy they use. The signals are issued during London and New York sessions. The trading signals are available as email and SMS alerts. When you are logged in into the platform you will receive a desktop and browser notification as the signal occurs.
The service has customer support available via email. It is fast and responsive and has good customer feedback. Pips Alert has a 3.9-star rating on Forex Peace Army from 14 reviews which is a good rating. On other resources, you can find more both positive and negative reviews. The trading course has mostly positive reviews, however, it cannot be said for the signals.
Verdict
So, I cannot recommend you using this service since it does not provide the track record of their trading account. Though they are making impressive claims about their trading results, they cannot be verified, so I cannot take them into account. Moreover, the claim that the signals are provided by the group of experienced traders is also suspicious since they did not mention any name. The service is available on a monthly subscription basis. On the other hand, they offer very good free educational courses that include trading strategies. The service has more positive than negative reviews on the Internet.