What is FX Blue?
FX Blue is a well-known Forex resource that has been founded back in 2009. It is an online service and a trading community that is providing analytical tools to traders that want to analyze their trading results with professional charting. It allows you to share your trading performance. Their tools are beneficial also for brokers and for developers. The service is completely free and it is compatible with many different trading platforms.
To start using the FX Blue services you will need to register. This process is simple, it requires email and mobile phone verification. Upon the completion, you will get access to FX Blue Live service and you will be able to use 36 different utilities and 7 developer tools for MT4 and MT5 trading platforms that are available for download.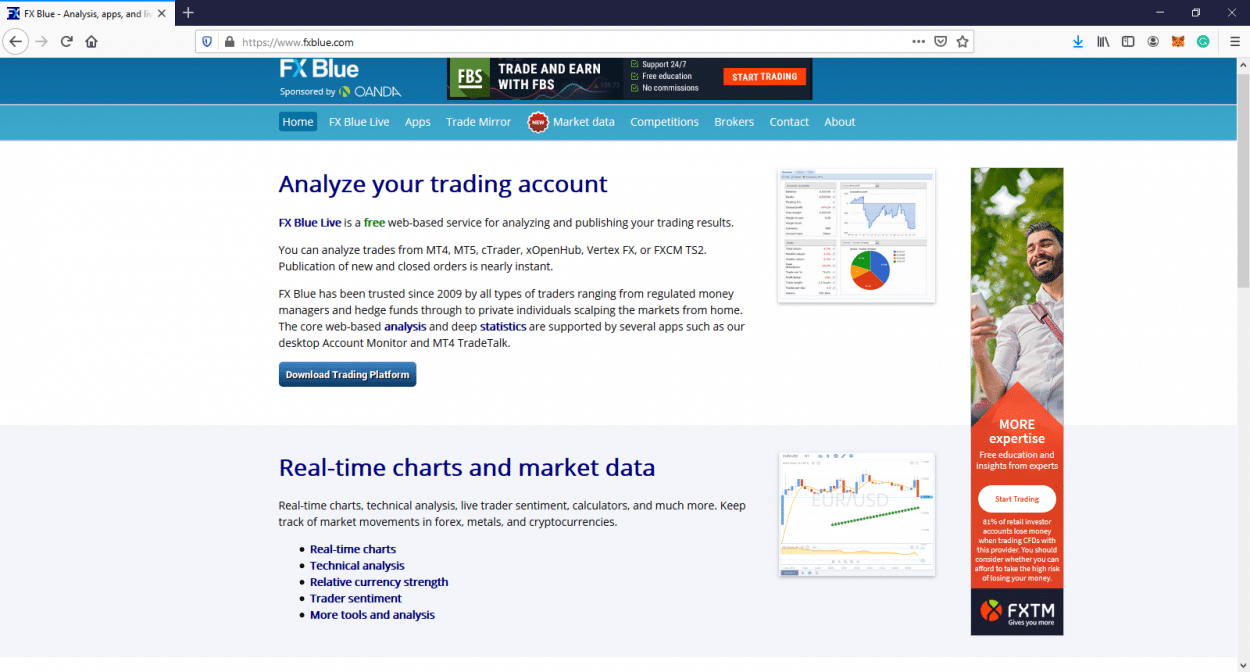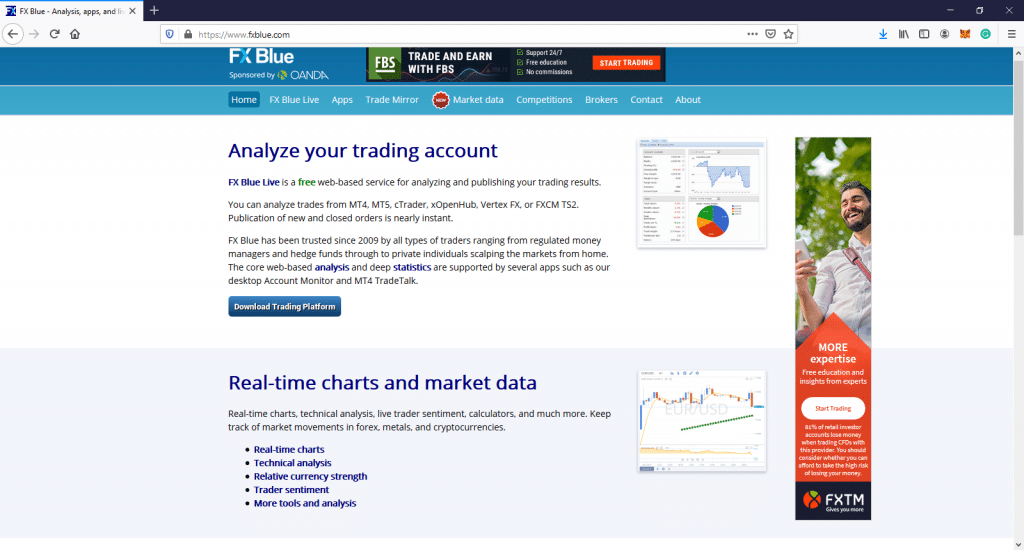 FX Blue Live
FX Blue Live service allows you to publish and analyze your trading account history. It is compatible with MT4, MT5, cTrader, xOpenHub, Vertex FX and FXCM TradeStation trading platforms. After the trading activity, the publication is almost instant. While the trade is active it is updated as frequently as every minute. It represents serious competition for MyFxBook. The service allows you to publish account data for a specified period. The account statement report offers general information about the account, trading statistics, and risk information. It allows you to choose 54 different charts that picture different aspects of account balance and profitability. All trades and orders are recorded in the separate section available for further analysis. It has a separate statistical section where you have more than a hundred filtering options that will help you to determine every aspect of your trading performance. The risk section provides statistics only for important profitability and risk parameters. All information can be downloaded in excel format. For every user, you can see his profile and portfolio of published trading accounts. Moreover, you can embed FX Blue live analysis and statements into your website using widgets.

Utility Expert Advisors and Market Data
FX Blue offer different trading utility expert advisors and custom indicators for MT4 and MT5 trading platforms for download. It has its own version of a trading simulator that can be useful for testing your manual trading strategy. It works in MetaTrader Strategy Tester. Trade copier duplicates order over different instances of your trading platform. A trader sentiment tool will tell you what is the community's opinion about certain trading instrument direction. Price action news displays event information in your trading platform. It also offers the Renko chart generation utility. Other utilities will monitor your account data and alert you about changes.
Market Data section is a set of web-based tools that are also available as widgets for embedding into your website. It includes Real-time charts for different Forex. Metal and Crypto instruments with hundreds of indicators and fifty charting tools. The Technical analysis informs you about the sentiment over different technical indicators. Market overview tells you what is price action over different time-frames. Tick chart, Currency strength, Correlation matrix, Trader sentiment, Currency heat map are also available. The session map informs you about the active trading session. Quote board displays current trading instrument quotes while many different calculators will help you in your trading decisions.

Support
FX Blue support can be contacted through their website. It is fast in response. They have a very helpful FAQ section that presents many different questions that you might have. Some brokers have integrated FX Blue services in their trading platforms. Generally, all tools that are provided are more suitable for experienced traders. The company is constantly increasing its portfolio of tools and services and it provides them for free.

Conclusion
So, FX Blue is a company that has been in business for more than a decade. It is providing many different and very useful tools and services for Forex traders. All products are available for free, something that is very rare in the Forex industry, so I recommend it to everyone. FX Blue Live is a web tool that allows you to publish and analyze your trading account. Their product catalog counts for more than thirty utility expert advisors for MT4 and MT5 trading platforms. Market Data that include charts is provided in the form of widgets that can be embedded in your website. The constant release of new applications will certainly give FX Blue a leading role when it comes to analytical trading tools.